This text is a result of massive work in the course of which we have interviewed all the Ori team members. Every conversation turned out deep and warm-hearted. Some were eager to extend on their ideas, meticulously explaining their side of the story, others would just shoot a couple of words, but so carefully chosen that they make the heart melt.
The answers revealed the unique personalities of our wonderful team members. Truth be told, after going through each of the recordings, it was impossible not to fall in love with every single one of them — due to the elegance and incredible power, subtlety and generosity. Huge thanks to everyone for the trust and courage to open up and be direct.
We are immensely proud of our fantastic team, because these people are strong and wise, with a powerful magnet in their hearts. It turned out to be a wonderful picture, a mosaic composed of unique shades. Our strength is in complementing each other, growing together. Within our team there's a constant exchange of experience and ideas, and of course mutual support. Inspiration emerging from the collaboration of unique and bright personalities in one team nourishes us so generously that we just have to share it with you.
We sincerely think that every single one of our team members deserves to be on the cover of the Esquire magazine and the Rules of Life feature!
We'll start with the replies we received when we asked our colleagues to describe the Ori team in 3 words. Let it be a trailer for those who like concise editions, but please remember that there's a big story behind every word.
Ori team in three words
The Story of Ori. How did you start working here?
IRINA
I have been with Ori almost from the very first day, it was all emerging in front of my eyes, in my hands.
NIKA
I noticed Ori were hiring just by chance, and I didn't know much about the wedding sphere back then. But now I can see how lucky I was not to start working at a hotel, like I planned, but to join Ori. There hasn't been a single day since, when I wouldn't be happy about starting a new working day.
EVGENIYA
I've been with Ori for almost 4 years now, and I celebrate every year with the team, it's our tradition. Having received the offer, I didn't accept it straight away, but took a break and went to Svaneti for a week, because there's no better place to think than the mountains. I realised it is a huge responsibility, and if I decide to commit, I'll go all in. I agreed. At the time there were just the three of us, and now we're a team of 20 brilliant specialists with Ori being the biggest wedding agency in Georgia. Every single day I am happy to walk into the office — my job has become my lifestyle, and it's a source of joy for me.
IRMA
I didn't really expect to stay here for a long time, but at the very first interview I liked the warm attitude and never wanted to leave, and I am still very happy about it.
SALOME
I have started working at Ori recently, but I have already gotten used to having loads of new impressions from this job every single day. It was all very new and unusual for me. When I came to Ori for the interview, I didn't have a clear idea of how the work of a wedding agency is organised, but now I can confirm that it's all much more interesting than I could've ever imagined.
ELENA
It was a little scary in the beginning — millions of new details and people. And what's more important — there's no room for mistakes. But because the team accepted me as a new member of their family providing all the care and support I needed, it was much easier to work and learn.
POLINA
I sort of inherited the job at Ori from a close friend. Even before my first interview she would show me videos from the wedding ceremonies, and the beauty together with the thrill of the moment made me want to cry! And then it unwrapped naturally — Georgia opened its borders, we were showered with requests, and I joined Ori to share news about our new projects and life of the team on social media accounts and our website, and it makes me happy.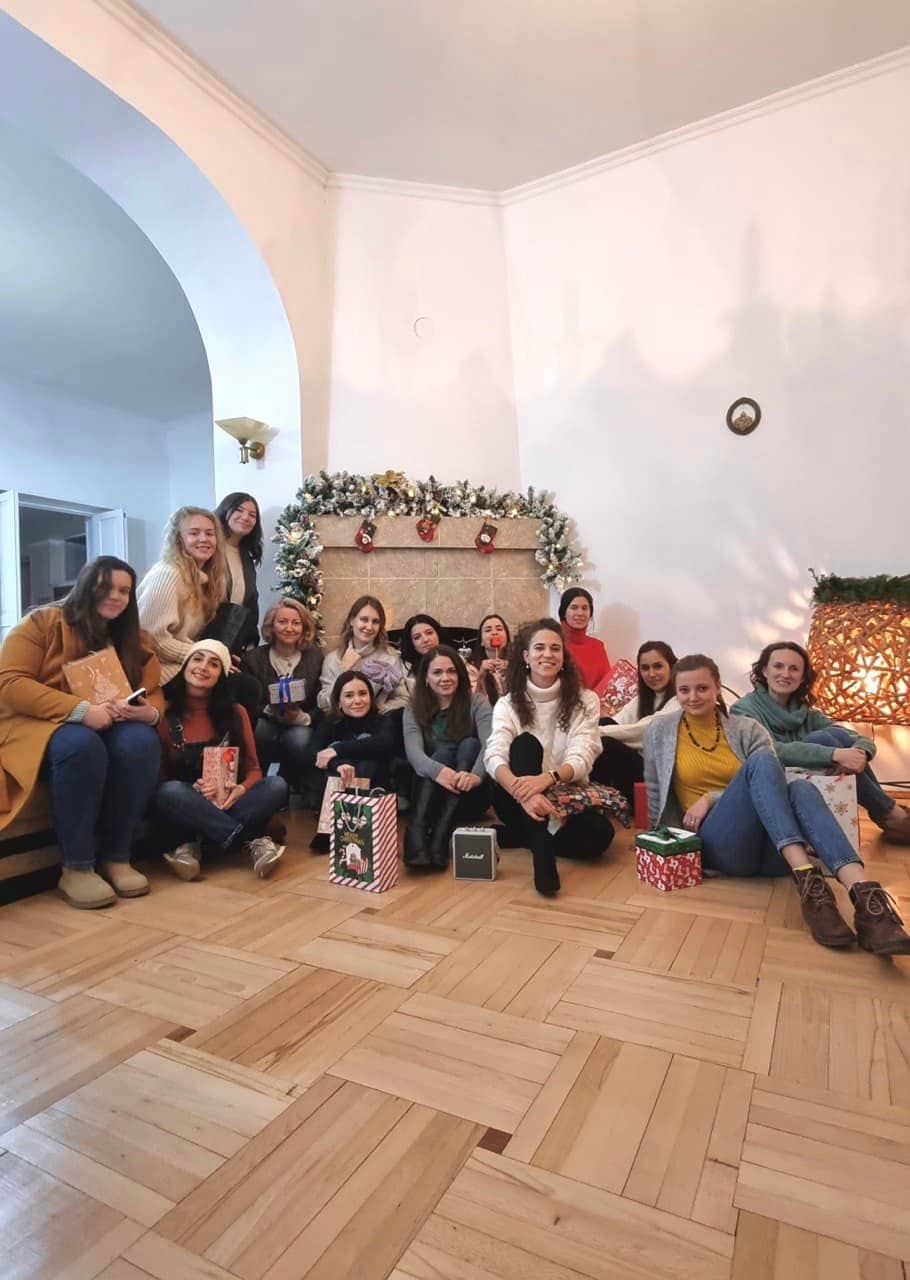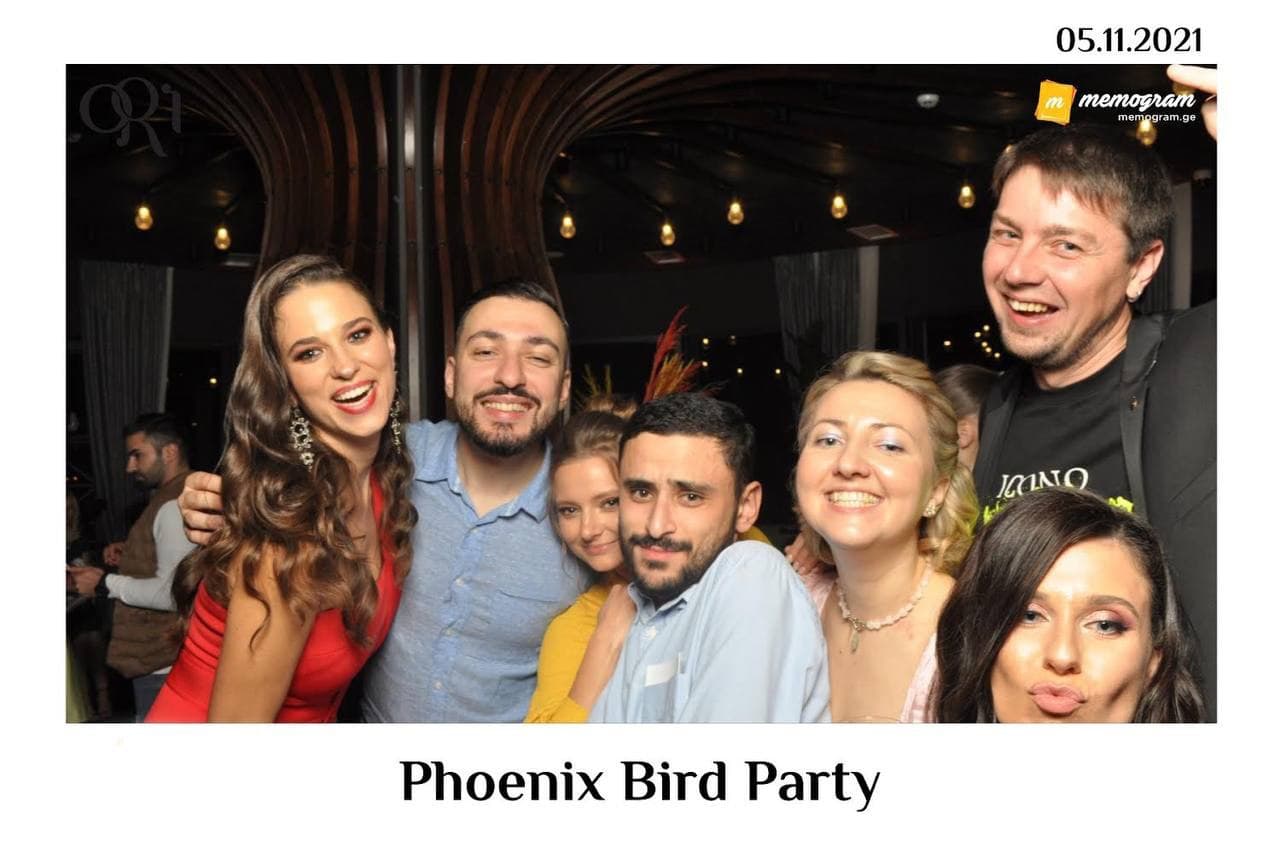 NADIA
My story of working with Ori started with a dream of having Georgia as my home and an interesting job in organising events, and so my dream came true!
OXANA
It all started in an interesting way: I saw Evgeniya's post on Facebook. She was looking for an HR-specialist to join the team, so I decided to help and replied. After our conversation Evgeniya sent me a job offer, even though we haven't really talked about the details much at the first interview, and my reply was solely with an intention to help. And now it's been almost a year since we started working together.
GALYA
I came to Ori in the middle of the pandemic, and by that time I was really starving for projects to keep me busy. It surprised me a lot that in the sphere which was never really in the scope of my immediate interest, something was going on even in these difficult times.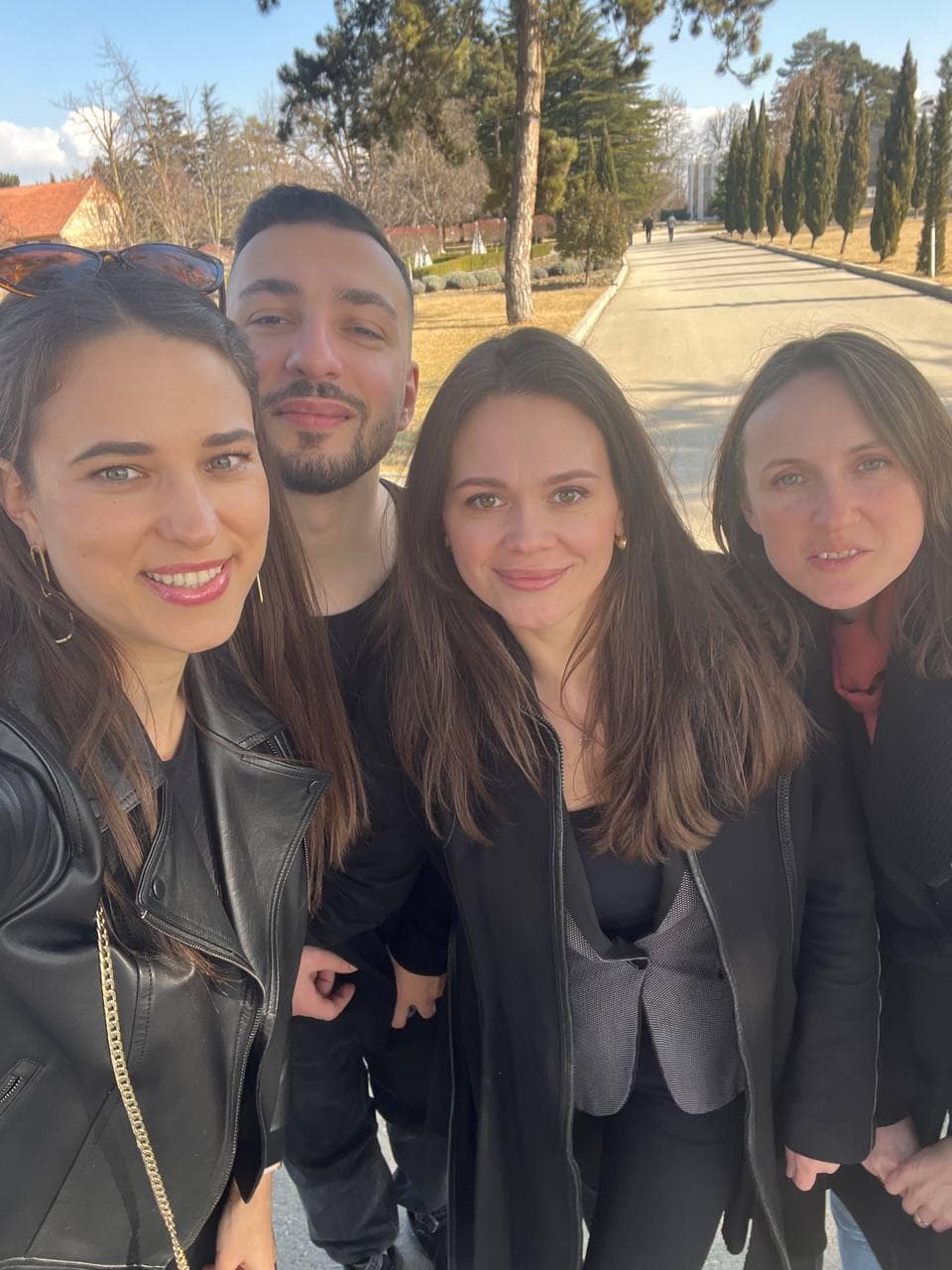 VERONIKA
I have very warm memories about the time when I started working for Ori because back then I have only just moved to Georgia and the blending in was not going so smoothly. I was actively looking for a job but couldn't find the right one. At the interview I immediately felt we're in tune with each other. It also caught my attention that on that day in the office everyone was looking very smart, wearing dresses, and it made a very good impression on me. The wedding planners were buzzing about, it was in the middle of the season in July.
LIKA
I could never have imagined myself in the wedding industry. And it is the only company where I had more than 2 interviews — it made me even more interested. And it helped me understand even better that it is exactly the place where I want to be.
MARIAM
My first memory — being extremely happy to start working here, it was something that I really wanted. At my previous job I have never felt so much support, and here it appeared right after the interview — I knew I had someone to rely on.
LANA
I joined the team in the beginning of the wedding season, when all was beautiful, exciting and beginning to awake after a long time of silence. The season was a very active one, and many things were new to me: the team, the character of work, it was very responsible and at a high level, that's why the time flew by.
Dispelling the stereotypes
SALOME
I may have believed in the biggest stereotype myself — that working for a wedding agency is somewhat boring, too much fun and no real action. But you know what, there's plenty of action here, more than enough!
ELENA
Being a wedding planner does not entail just showing up at a celebration and keeping it all under control. There's an insane amount of work, patience, understanding and stamina behind a beautiful finale.
POLINA
In movies you would often see just one wedding planner who is orchestrating different elements of the celebration, when in reality a wedding is a result of the whole team's work, accumulated experience, colleagues' advice in complex situations, moral support and mutual help.
Watch our backstage video with two big projects of season 2021
NADIA
After working in the bank sphere it seemed like something lightweight, in a good sense, a never-ending party. However, behind these celebrations that we're organising on a day to day basis, there is a grand and long-time preparation, plenty of numbers, reports, stress, business meetings, emails, calls. And the whole team's work is aimed at the final result, so it's not really as much fun as it may seem.
OXANA
People would usually think that we're matchmakers.
Others consider a wedding planner as a person who makes a couple of calls and then just stands by your side — it would actually be a sign of an extremely high level of competence, because it actually means that this person has taken care of everything in advance.
GALYA
Many people think that a wedding is only about decorations, but it's not true. Besides, we are a destination wedding company after all, wedding tourism of sorts, that's why we function on a much broader scale and the cases we have are somewhat different.
VERONIKA
The format of weddings has changed overall. Bride and groom should be just bride and groom and not planners of their own wedding. It should be about telling a story, there should be a concept. It's not only beautiful, but also with a deep meaning.
LIKA
Everyone thinks it's a never-ending celebration and confetti. When in reality it's an enormous amount of work and immense responsibility, as well as a chance to give a person that unique and most precious emotion and memory on that one and only very special day. This memory depends on us by 80%.
MARIAM
My friends think that it's a super fun job — and it is true, but it's also hard work, but only a little bit. If you plan out everything nicely and have your checklist ready a month in advance, on the day of the wedding just your feet get tired.
LANA
There's plenty of stereotypes. The first association is with a never-ending celebration, beauty all around, like in a movie, where everyone's happy and looking great. And it's only a couple of people who would know how much work it is in reality.
IRMA
Working here is not so easy and it's not only flowers, clouds and rainbows, it a great amount of work.
Working here means being Responsible with a capital letter. You become a part of life of a person you've never met before, and you're communicating for a long time discussing the most important day in the life of a couple.
NIKA
The main stereotype is that everything about weddings is lightweight, when in reality an immense amount of work remains behind the scenes.
Many clients also tend to think that when you're working with a wedding agency, you have to kiss all your money goodbye. It's just not true, since our goal is always to fit in the budget the couple has requested.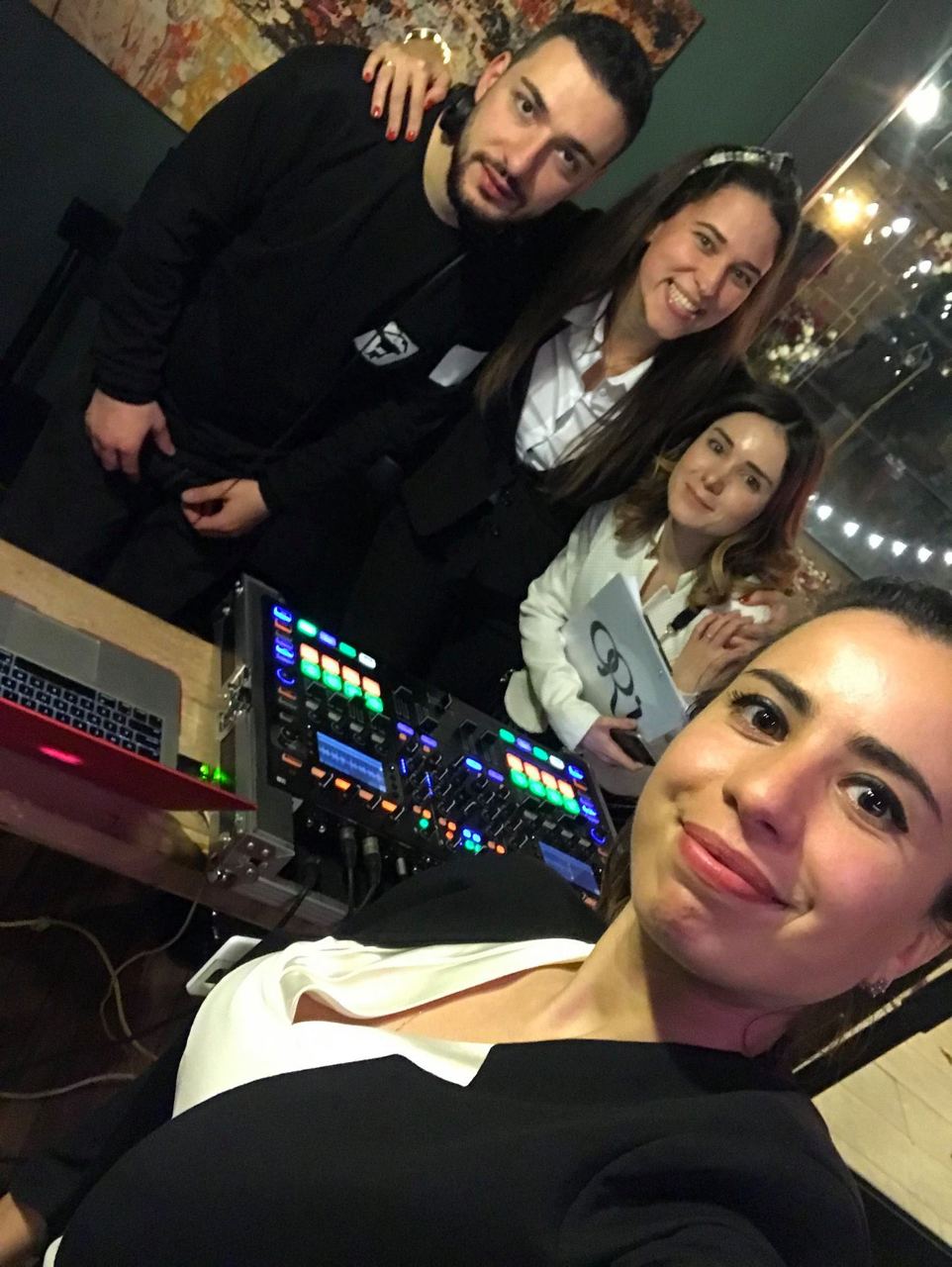 IRAKLI
There's this idea that a DJ working at weddings is playing commercial music, pop, and it is used as a good reason to close the doors of nightclubs to him, he's denied access to underground music, and as a DJ you would have to invent a new name for yourself to start all over again. This idea is quite strong in Georgia, but my goal is to prove it wrong. In my opinion no-one can line up music better than a DJ working at weddings. Not a single DJ working at Bassiani or Khidi would be able to perform at a wedding. I have absolutely no regrets about joining the wedding industry, because it just suits my soul so much better. And I love having a team to work with.
EVGENIYA
People often think that weddings are fun and quite easy, because we're witnessing a celebration every day. But it's quite stressful for the whole team. We are to prepare an event for people, who are located in a different country, it enhances their fears and worries. Our life is about emotions, and at times hot arguments leading to breakups are happening in front of our eyes, and we just can't be indifferent to that.
It's hard work even though in the end we get a very pretty picture, but the way to reach it is very hard. Sometimes we don't get any proper sleep for days in high season, but we keep our spirits up always.
About the team. Who among the colleagues amazes you and what traits of their character would you like to adapt?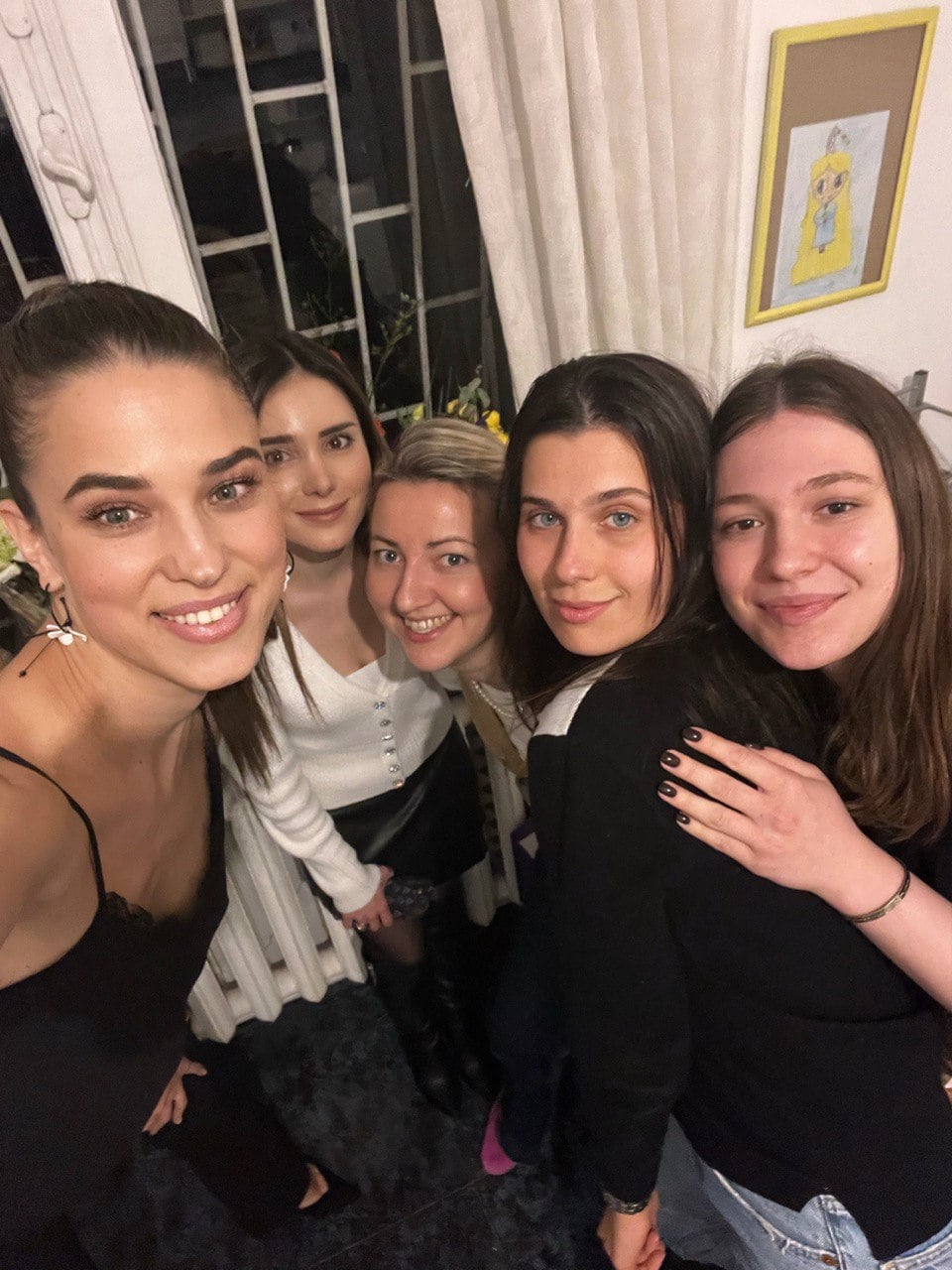 IRA
The cheerfulness of Mariam, because every time I see her in the office I smile back at her, and I also really like the calmness, peacefulness, harmony and just the general vibe of Polina.
SALOME
Every person in our team is amazing, all of them are successful and special, everyone has their own lifestyle.
ELENA
I cannot single out just one person, because we are all carefully selected here already, every team member is creative and smart.
POLINA
I'm amazed by how passionate and energetic Evgeniya is. It is in my nature to keep calm at all times, but still I think a bit of Evgeniya's enthusiasm would do me good.
I'm absolutely charmed by Irina, by her always well-thought answers, class and style in everything she does.
I was very pleasantly surprised by the girls who joined the team at about the same time as me — Oxana with her friendly nature and the talent of involving everyone in the common process, and Nadia with her dazzling sense of humour and inspiring approach to any task.
NADIA
Everyone is amazing in her own way.
Nika has my great respect — she's like a sophisticated mechanism, that is operating with numbers and pushing incredible tasks forward. She's the person who holds many things together in her hands. She managed to organise work in her department in a way that it runs like Swiss clockwork.
Evgeniya is the person who unites everyone, no matter the situation around and in the world. You can feel that strength behind her smile and positive attitude, and she cheers everyone up! She bravely takes on big tasks and makes sure they are completed, but more importantly — she keeps our spirits up.
Irina is on top of all the latest news, and she delivers projects of the highest level.
Oxana's goal is to see real potential in the candidates who come for the interviews, and assist in further building our team.
Our «creative department», Polina, is a person with a very subtle sense of taste and style, which is impossible to hide. To present things nicely and do it with style — that is something not everyone is capable of.
OXANA
We have a fantastic team, because it is comprised of unique people who can speak 5 languages, travelled all around the world, worked for incredible projects. You could learn something from any of them, every person is sophisticated in her own way. It is a very strong and interesting team, and the one who amazes me the most is Evgeniya, who has built this team.
She has worked out her very special style of management that I admire: with her you can feel support in every aspect, and at the same time you sense that she is a true leader by nature. She gives us a chance to express ourselves, and not to be scared of initiatives. She teaches you to take up responsibility and grow.
I would like to adapt a little from everyone. For instance, Evgeniya's perfectionism and energy, Nadia's positive attitude, Anya's meticulousness, Irina's empathy and Polina's skill of setting the boundaries.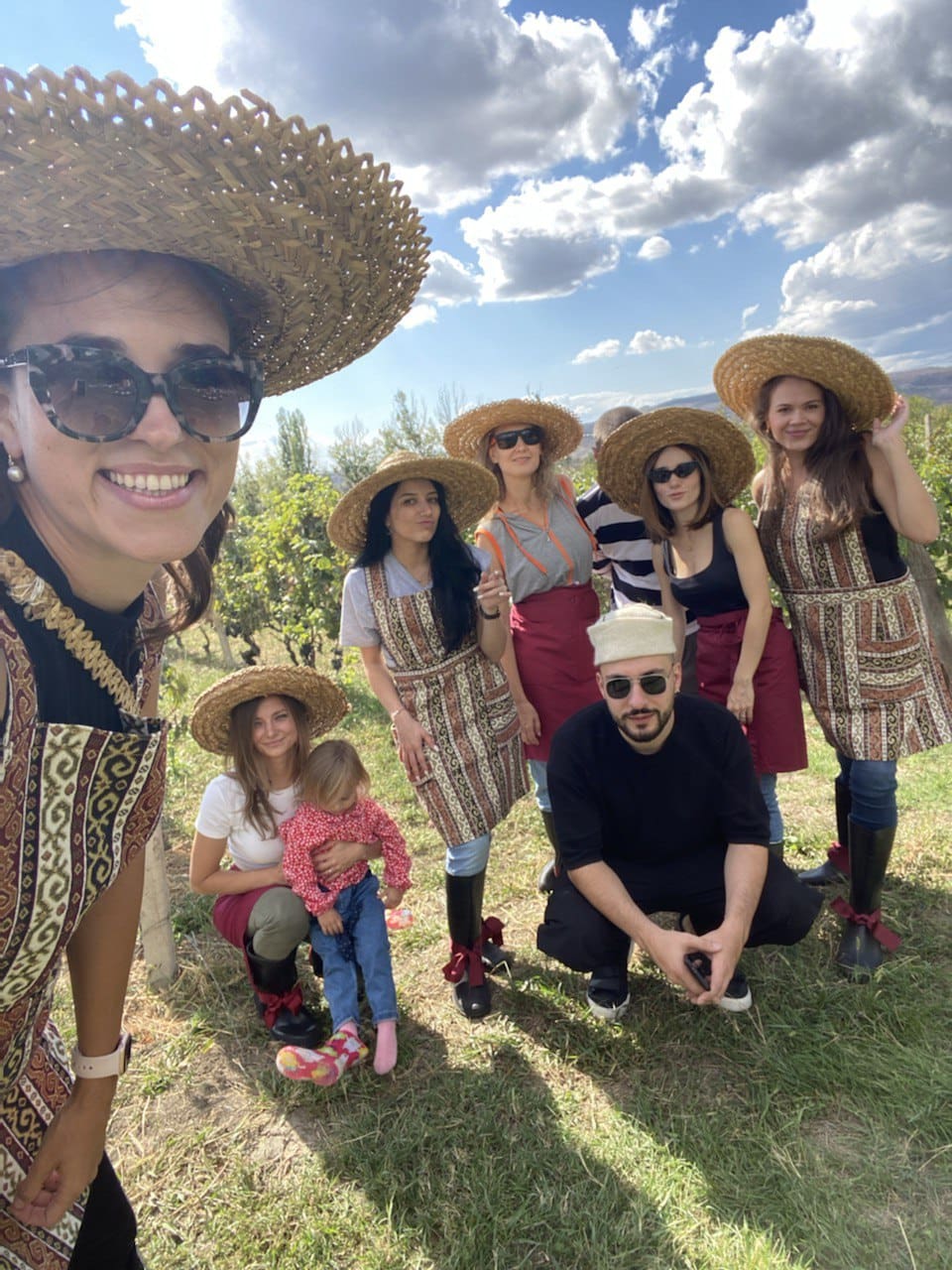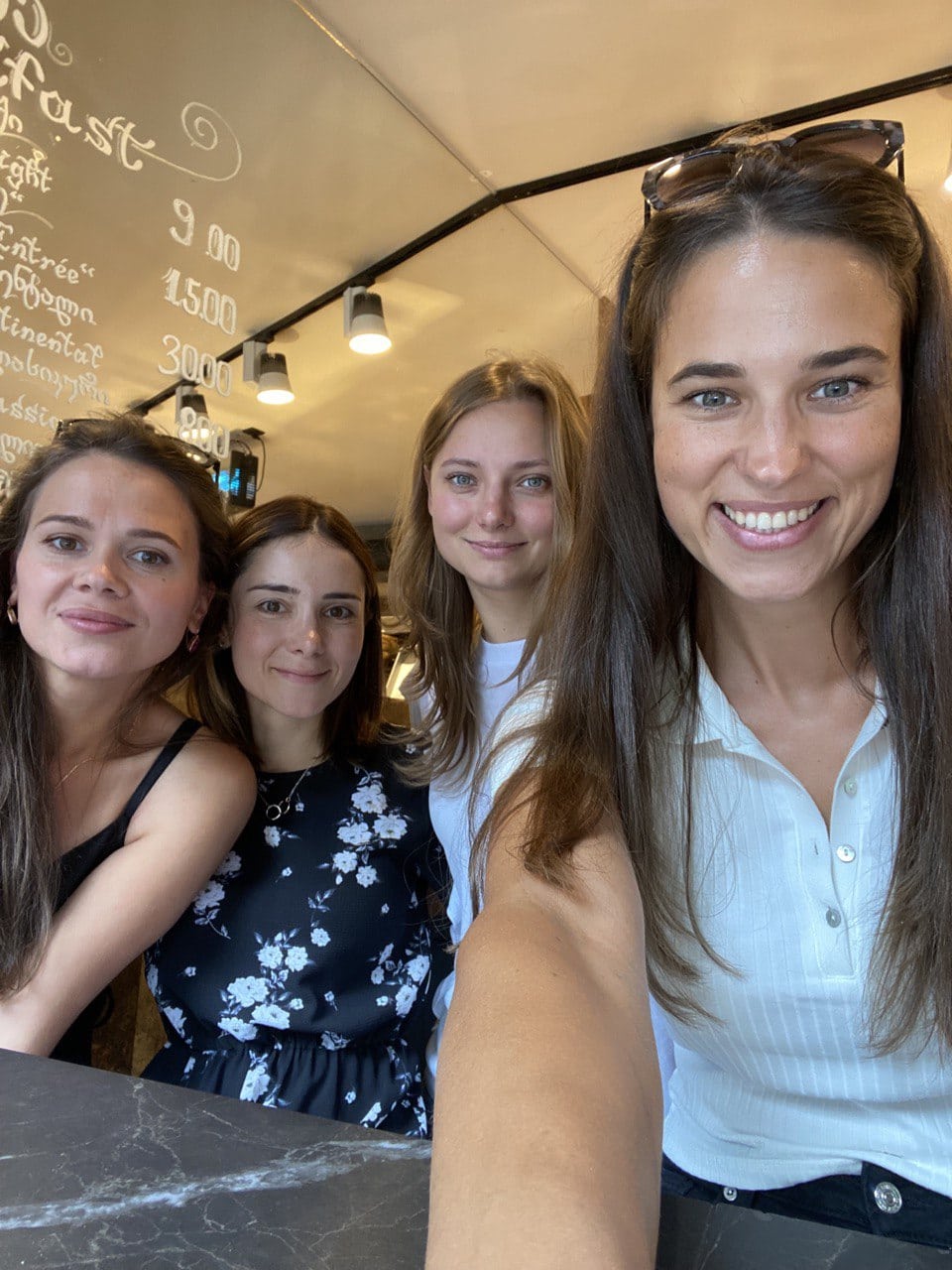 GALYA
Ira, for how passionate she is about her job. It's always fascinating to listen to her stories, because it inspires, and she's very attentive to detail.
Nika seemed a little strict in the beginning, however she's extremely dedicated to her department and would always support us, she's always fighting for justice. She's also attentive to detail, remembers everything and takes it into account.
Irma for the way she's extremely warm with her clients. And even when she's loaded with tasks and feeling tired, she always strives to act out of a couple's best interests and find a way to offer exactly what they need.
VERONIKA
I have always found strong women amazing. There's an interesting story behind every girl in our team. Very cool people are working here, and I can feel that I've found exactly the right place for me. Without even noticing or realising it, every one of us teaches me something. I was initially extremely impressed by Nika who has travelled all around the world, Evgeniya and Oxana with their fantastic education.
And I will always mark out Nika, my boss. Even though I have learned a lot myself, completed numerous trainings, it's this particular person who has become (and will always be) a golden standard of client service for me. The knowledge I received from her is very precious indeed. There's not a single «situation» with a client that she wouldn't be able to navigate in a way that the mistakes are forgotten.
LIKA
Anna is very sharp. Irina is all grace and aesthetics, she has guts, even though it's not so obvious with her fragile feminine appearance, and the same is true for Lena.
I like seeing a good example, but I don't like adapting. My style is to constantly improve what I have, to be excellent in it, but do it exactly my way.
MARIAM
Evegniya inspires and amazes to a very high degree. From the very first moment I met her, I realised I want to be just like her, because she always knows everything and will always help. Even in the most complex situations, she's always there for you, even if you're not right and missed something out. She would do anything to help correct the mistake and provide support.
IRMA
I am amazed at and very much respect my boss Nika. I like her personality a lot, and I think her expertise is fantastic. At the same time she knows very well how to draw the line between personal and work-related.
ANNA
Everyone is amazing. Every single girl is very special. I love how every one has her unique personality and has achieved amazing things in life. Everyone has interesting experience. Everyone is different and can surprise at any given moment.
NIKA
It is Evgeniya. This person inspires me by how incredibly hard-working she is. I follow strong people. It is extremely important for me that the person above me is higher, stronger and more ambitious. Many of Evgeniya's qualities amaze me — her communication skills, ambitions, engagement in all the processes, leadership skills, and besides all that she is also a very good, open, sunny person, and it's a pleasure working with her. Besides, she is extremely stylish, and it's a great source of inspiration.
IRAKLI
The person I am impressed with the most is Evgeniya. She amazes me with her being put together, determination, kindness and a true talent as a friend, the ability to accept and care for the problems of her friends, as if they were her own, and to help people who really need it at the moment. She is lots of fun and surrounds herself with good people.
EVGENIYA
I am always amazed at how these fragile girls can bear all this and organise events. Where does all this inner strength come from when in high season we almost never have days off. Being strong and flexible is extremely important in our job.
We are not a small team anymore, we've grown a lot. All our team members are unique, and I always strive to hire only those who have the same energy, I rarely look at resumes and end up choosing with my heart. In every person working with us I can find the traits that amaze me, and there's a special place in my heart for all of them.
The most precious for me are those with whom we started this thorny way, the way of growing and developing our company. They have taught me a lot and were by my side from the very beginning, that's why I'd like to make a special mention of them.
Dmitry was the person who offered me this job and taught me a completely different way of thinking, a different perspective, a philosophical point of view, and it has helped me a lot in this job.
I sincerely admire Nika, we were working side by side when we started. Her attention, sharpness, strictness, perfect memory — I feel like I'm lacking these qualities sometimes. Our sales department shows excellent results (for Georgia and according to other countries' standards), and it's what we're proud of, and it's mostly the outcome of Nika's work.
I would've never survived without Irina's support. She always provides answers to my questions, even at 2 a.m. on a weekday. She's the kind of person I can always rely on even if she's not physically by my side.
There's not a single event that doesn't involve our DJ Irakli, he played an important role in the story of our company, he helped me blend in with the locals and supported me when I only just started working with Ori. He was patient and meticulously explained the technical details to me from the very beginning because he wanted me to be fluent with it. Now we speak the same «technical» language and work together on organising light and sound at our events and we can understand each other really well. But since we're talking here about the things we admire in people, then, Irakli, you are the best of sons I have ever met in my life. They way you take care of your mother and love her, that's incredible! Your kind and caring heart is a true gift to your nearest and dearest. I really wanted to say this to Nino, but I will just say it here, since I have a chance.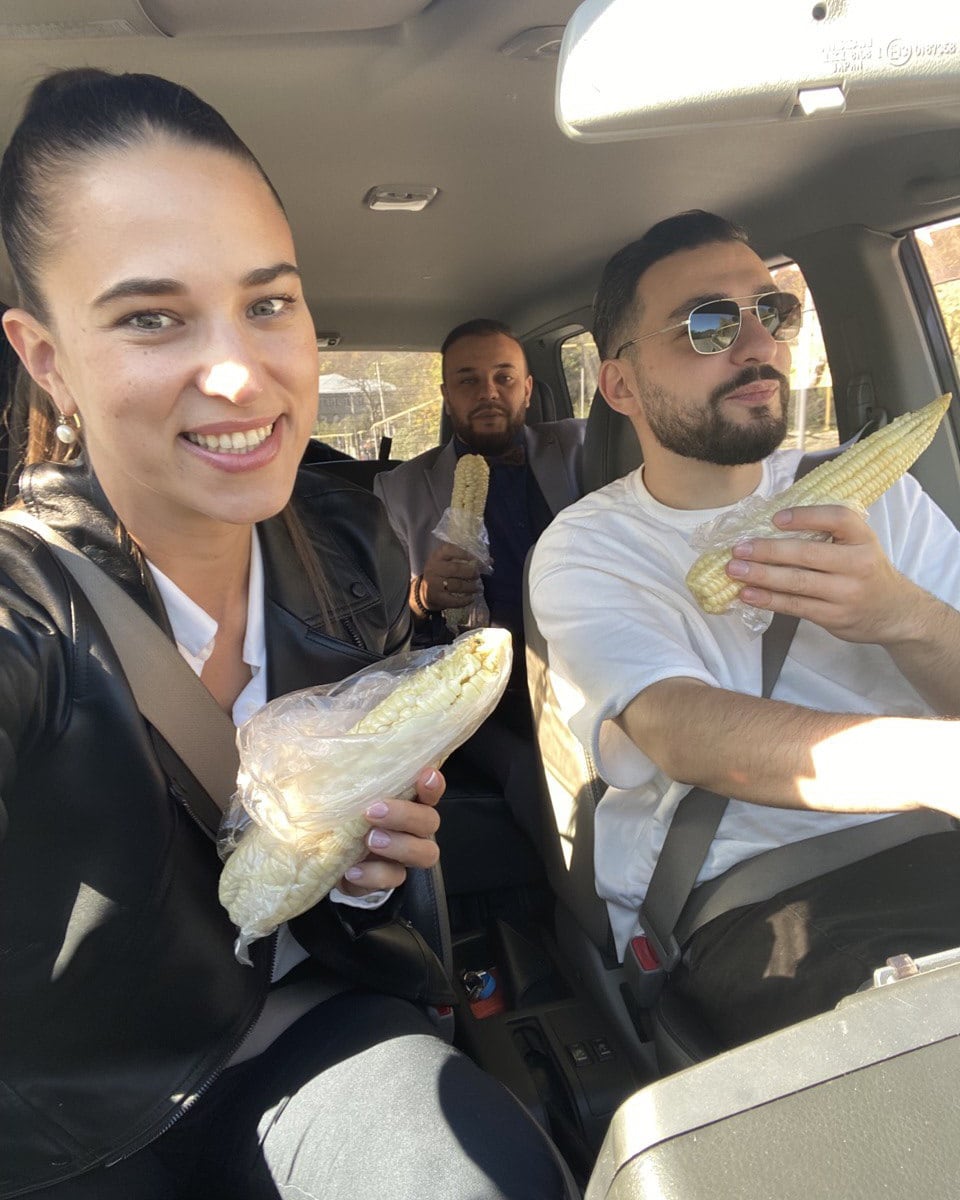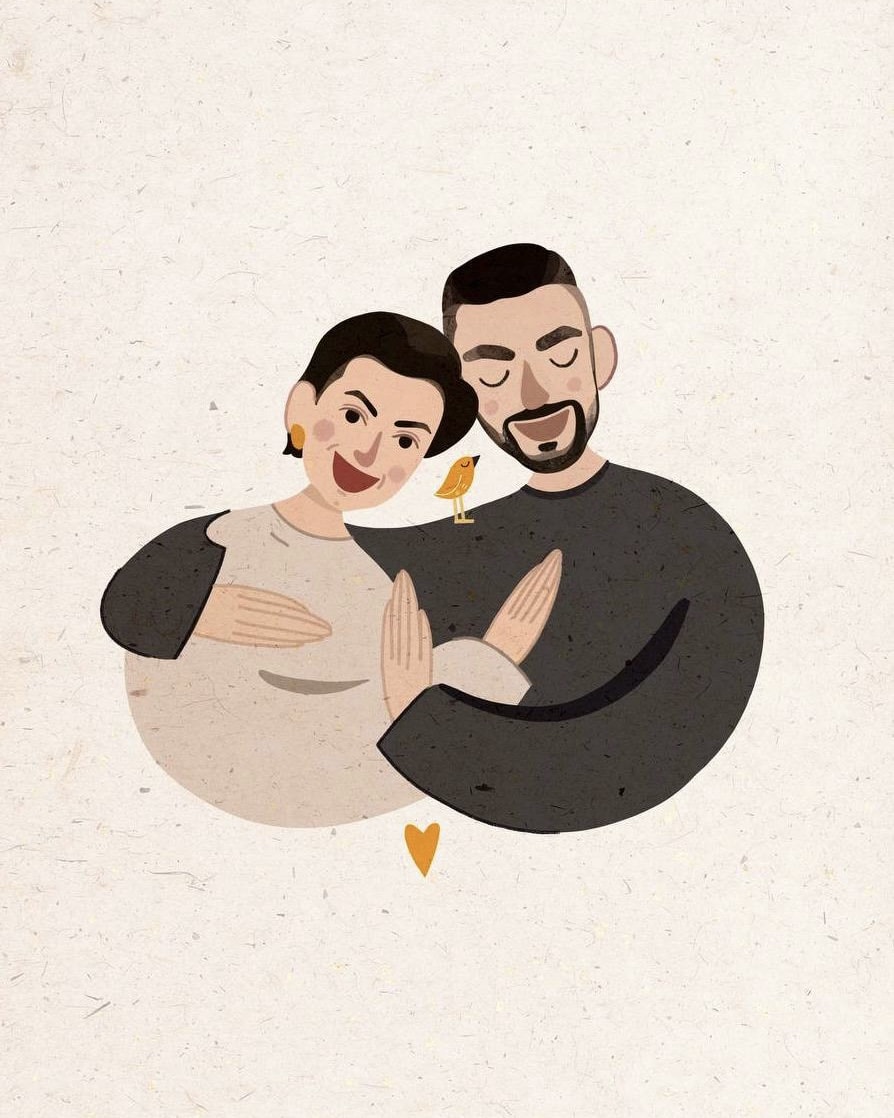 About the team that formed in Ori
SALOME
For me it is the first job where the team is really close-knit. Here I learned about the corporate ethics. Before that I used to work on my own or in a small and not particularly friendly team.
ELENA
Today I can say with certainty that I am working in the best team of professionals.
POLINA
Relationships in Ori, it is a long story, almost like a family saga. There are lots of incredible stories and adventures that the team members, especially the «old» ones remember. And the life of the team is really brewing, so the «new» team members also have quite a lot of stories to tell already. We love getting together to have fun and enjoy our time with each other.
NADIA
It's a great team, all thanks to Evgeniya and Oxana, well, actually to all of us, because we are all very different, but still we are together. Every single person is very interesting, with a very special story, background, twist, if you will, and it is extremely inspiring! We learn from each other. We are all humans after all, and we rely on each other, that's why a team is so important! And mentally we're a great match altogether.
OXANA
It's a team of workaholics. Our couples are in different time zones, and not everyone is ready to dedicate their personal time to clients who cannot take a «no» as an answer. People working at Ori are fanatics in a good sense and enjoy it immensely. That's another reason why we don't have a turnover.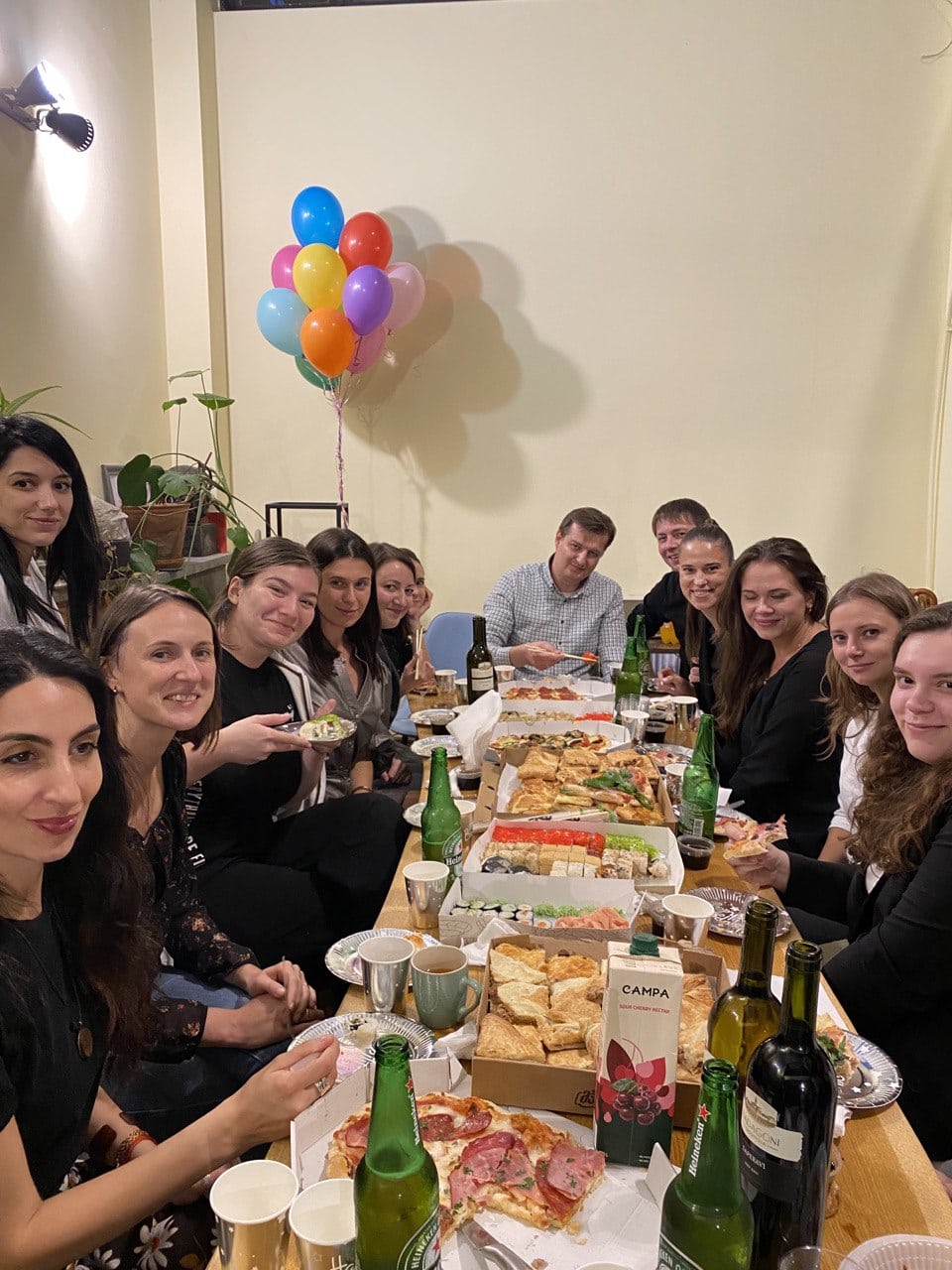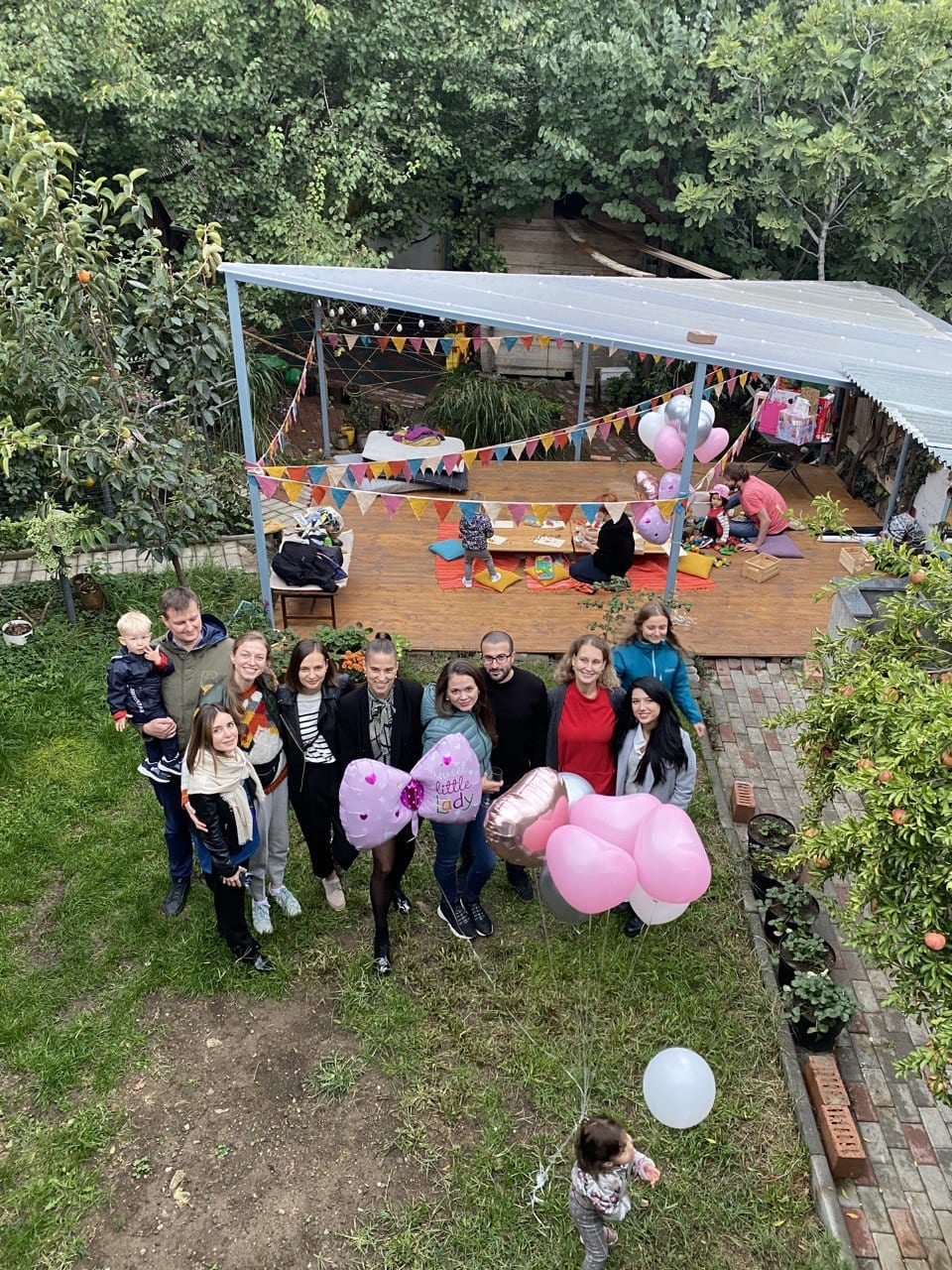 GALYA
This team is perfectly sized in my opinion, because we are not too many, but we got to know each other well, and at the same time there's plenty of variety so to say.
It's like there's a common magnet, and every new person gets attracted to it. We match well in interests and outlook on the world. We're growing, but our essence remains the same.
VERONIKA
People here are more educated and sophisticated, than in my previous team. It is probably because of the experience and attitude to life, knowing how to accept everything that life can offer. Here I feel I'm in the right place in terms of ambitions. People here are stronger, and it's a very important indicator: it means I'm growing.
LIKA
It is the first all-female team I'm working with. Ori is a group of very strong and emotional women, who can put themselves together in just 5 minutes. They are Iron Ladies who still look feminine and fragile. It's a paradox of sorts. I was lucky to join a team of strong people.
MARIAM
A perfect team. Here I am working with the people who inspire me so much, it makes me feel like I'm capable of anything. I like to brag about the fantastic people who are working here with me.
LANA
Our team consists of lovely people, and I am very happy to have become its part. Every person is very special and interesting, and I can learn from each of them. And the 24/7 support of the team is a great gift.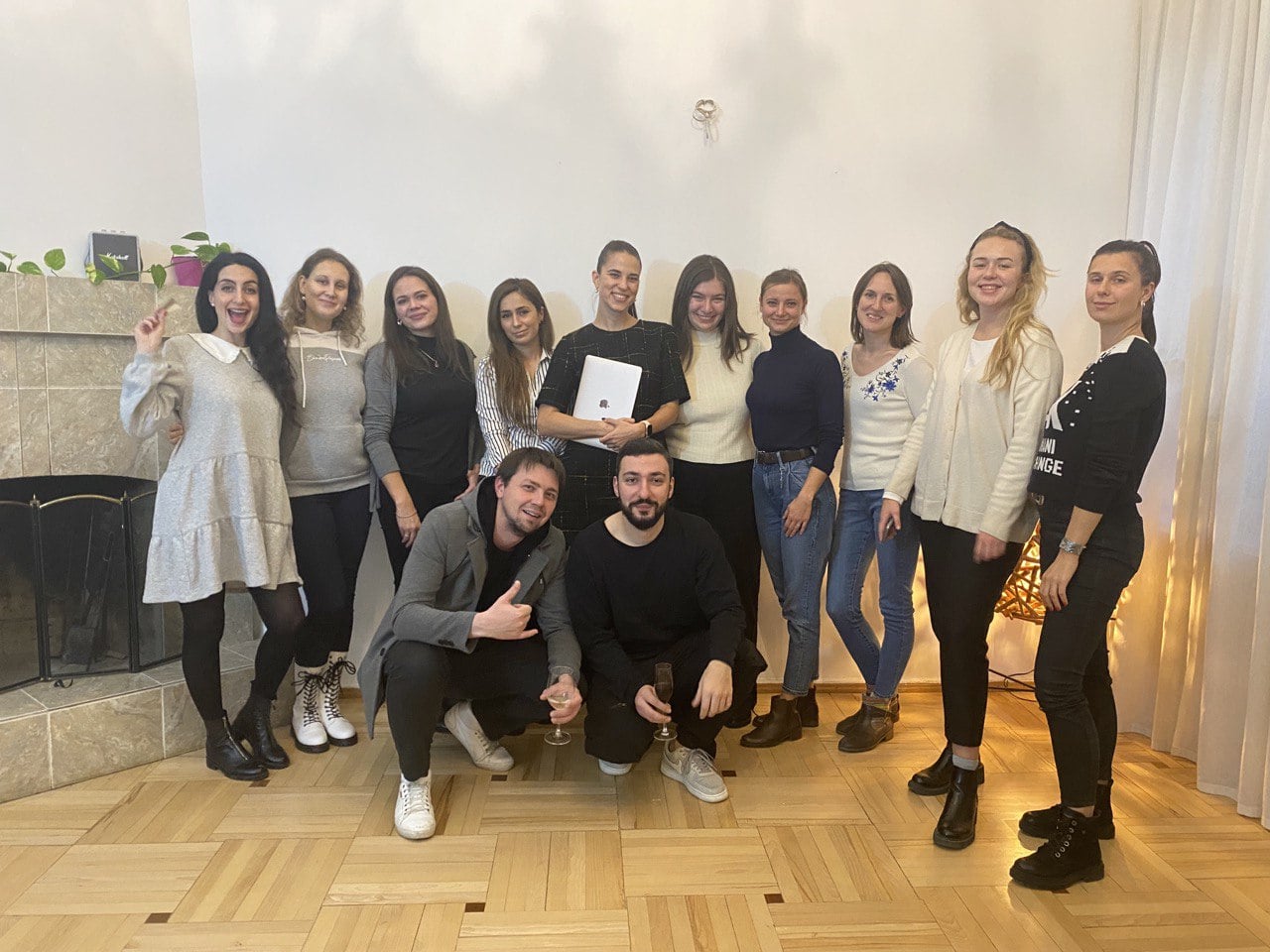 IRINA
In my opinion there are no random people here, and those who cannot match our vibe, just don't stay for long. I am particularly glad that I was here from the very beginning of the company. We spend more time with our colleagues than with the family, and work comprises about 80% of my life.
NIKA
I am truly enjoying the company of the people around me here. They are very comfortable to be with, we share the same vibe. It's like a mini family. There wasn't a single time when I wouldn't be enthusiastic about coming to work. I can always feel positive attitude from my colleagues and our management represented by Evgeniya. It is the best team I have ever had.
IRAKLI
I am constantly learning something new from this team and here I am craving for knowledge. We're building the wedding industry in Georgia and that's why we have to know all aspects of our profession, follow all the details and keep up the highest level of services. I really enjoyed doing a workshop for the team, even though I was nervous. And now that I'm talking about the technical details with my colleagues, and they know exactly what I am talking about, it's very cool, really. And I want to grow even more, so that I can conduct more workshops in the future, share new skills with the team and get fantastic emotions myself in the process.
EVGENIYA
I always say that God definitely loves me because I am extremely lucky with people. I always meet those who make a great impact on my life. I am surrounded by people whose integrity, interests, good manners and ideas amaze me. I have found the strength within to build this team and tie it together so that the people could feel that there's a whole team behind their backs and they will always get help when they need it.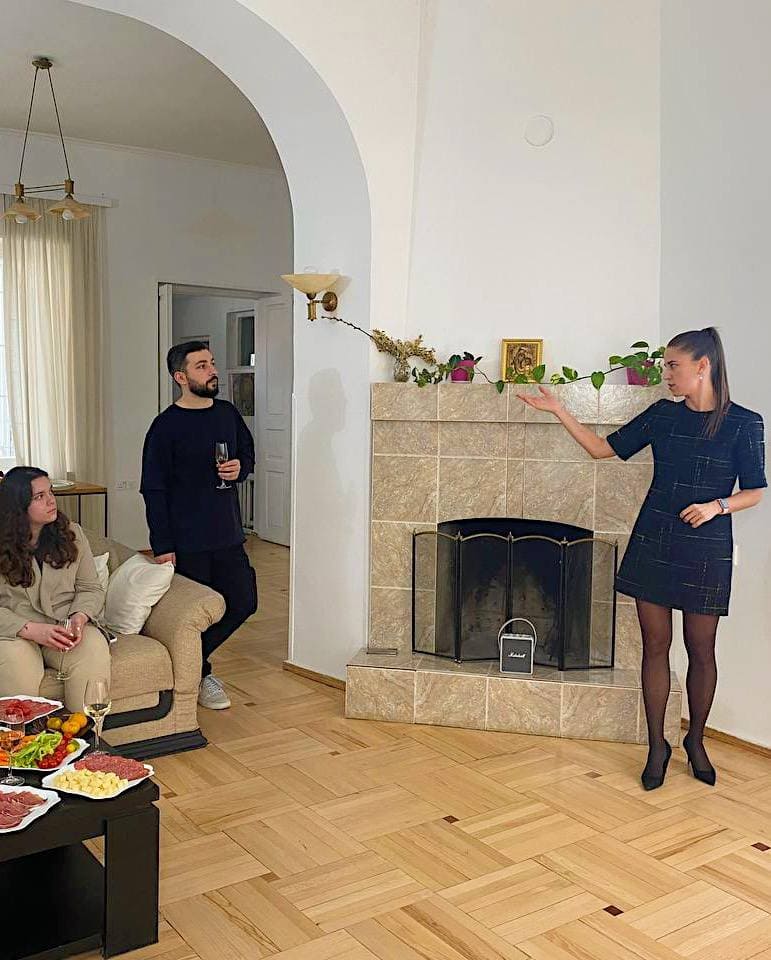 About Friendship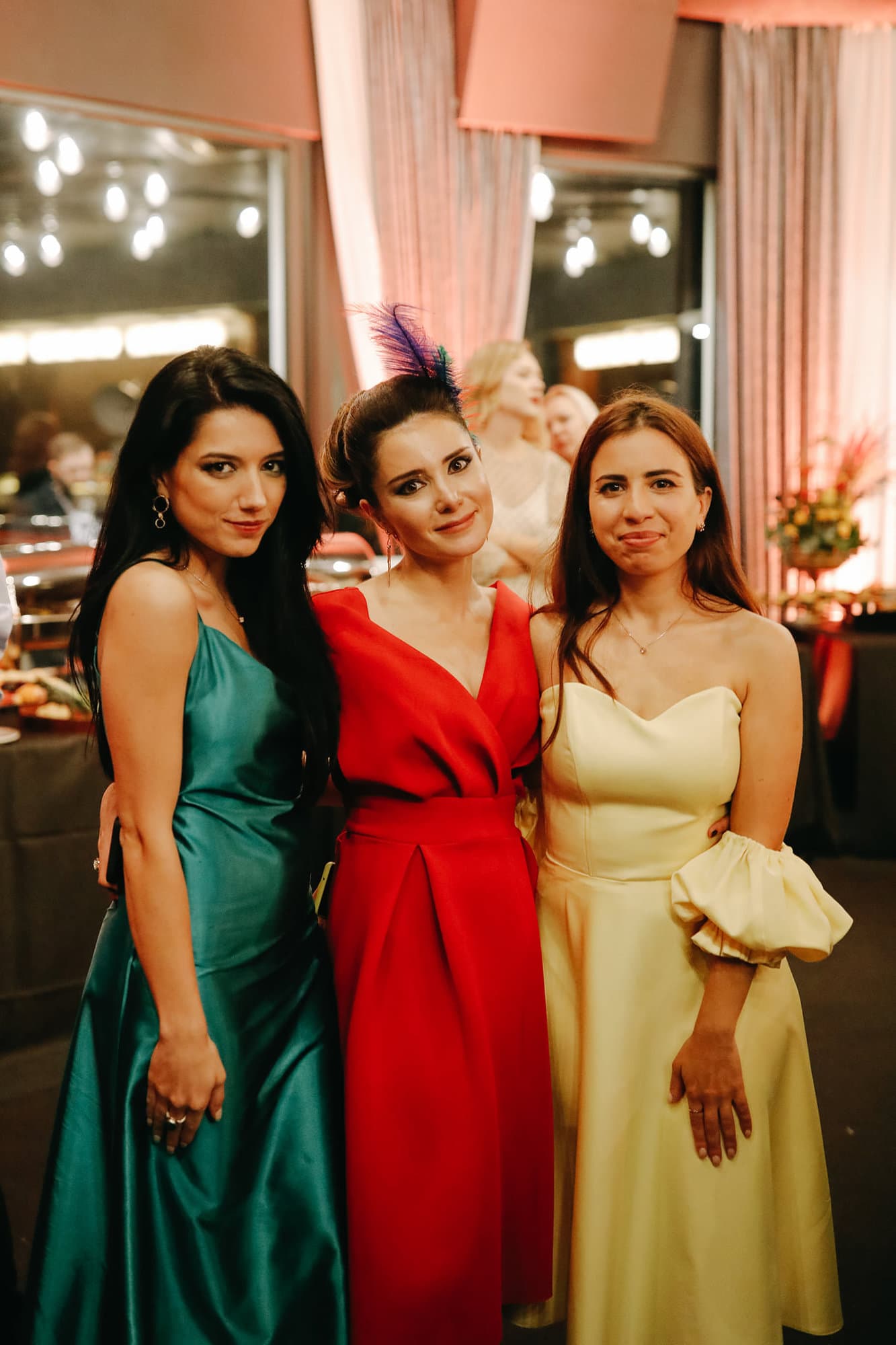 ELENA
I have certainly acquired new friends during the years when I was working for Ori, and I realised their meaning in the difficult times of COVID to a full extent.
POLINA
At some point of my life in Tbilisi I felt like enhancing my social life and I managed to find exactly what I needed at Ori. New, interesting people, and each of them with a legend. When I'm assisting at projects as a coordinator  with different wedding planners, I get to know them better and from a new perspective. And at the office parties we have fun and leave the worries behind.
NADIA
This work had a great impact on my life, I could move to Georgia thanks to it. When you live in a country that you like, in the city that inspires you, and even more — work in a company that you absolutely love, — it just means the stars have aligned.
We can move the mountains, and do our best to be positive about everything happening around, support and cheer each other up.
Sure enough, I have found new friends here, and they are amazing people. We are a great match, and we can read each other's moods. We can tell the right moment to keep silent or, contrarily, express words of support. We meet after work too for a glass of wine, a chat and a good time. Thanks to our team, I blended in the life of Tbilisi rather quickly.
It remains the same for me — I still believe in friendship, even firmer. Friends are like buttons that hold everything together. A friend will support you until the end, knowing your better and worse sides.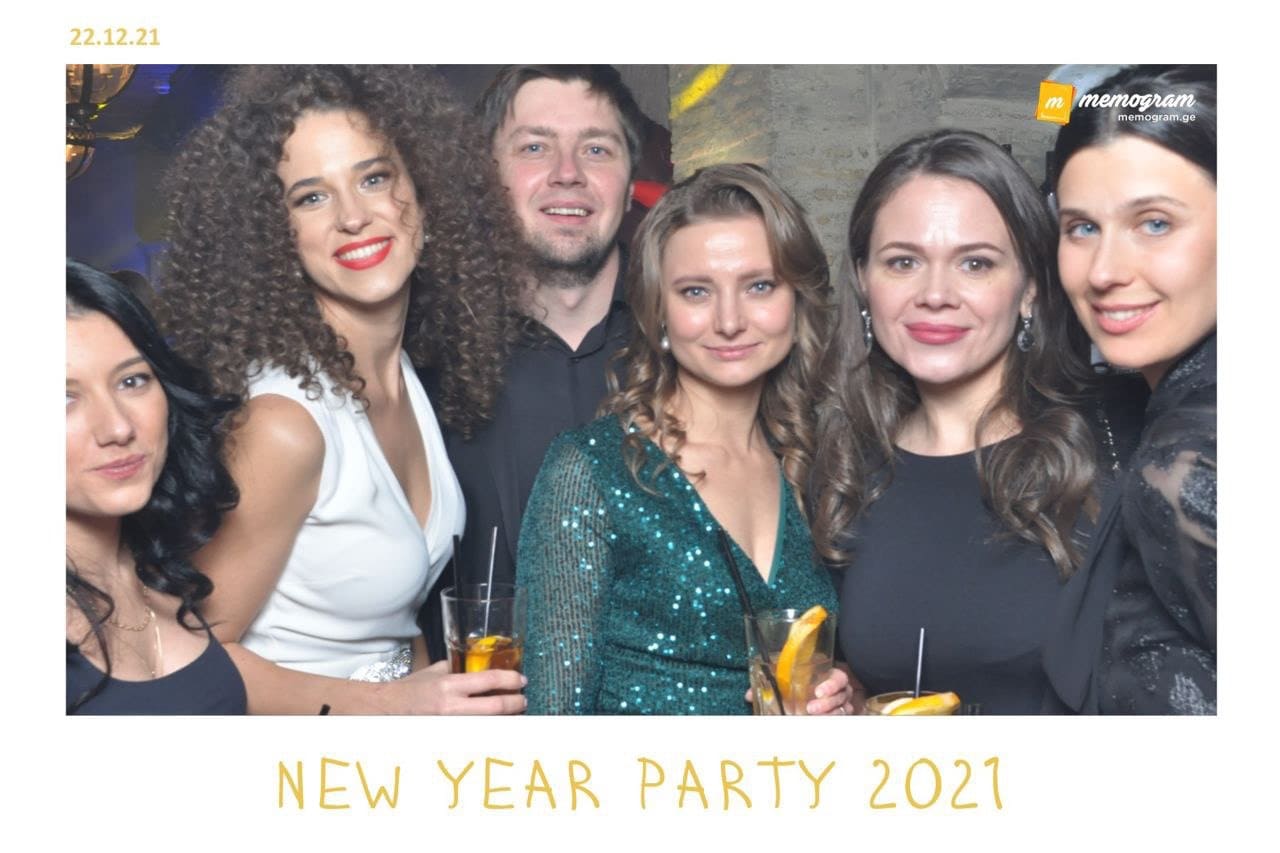 OXANA
Ori is more than just work, it is also friendship. Otherwise we just wouldn't survive.
GALYA
Here I can clearly see how mutual support works, when the colleagues come to my rescue when I need them most, and with a smile on their faces.
MARIAM
Here I can feel really strong support, as if there were 5 people behind my back, and it's just that others cannot see them. And I can feel that they are in contact with me, absolutely all of them.
IRMA
The understanding of friendship has clearly changed. I realised, that even if you don't see your friends every single day, you can still become closer and learn to value and respect each other's personal space.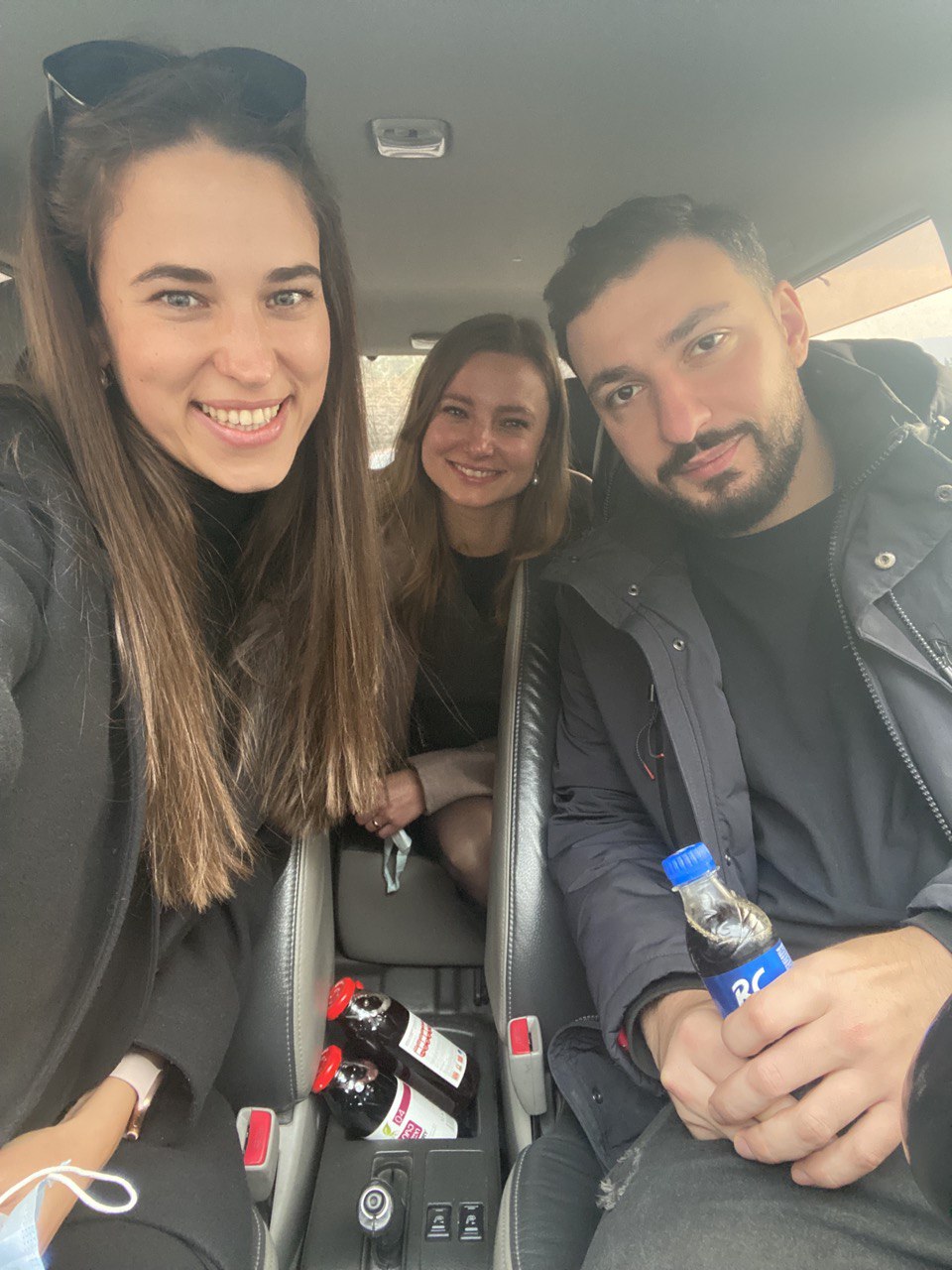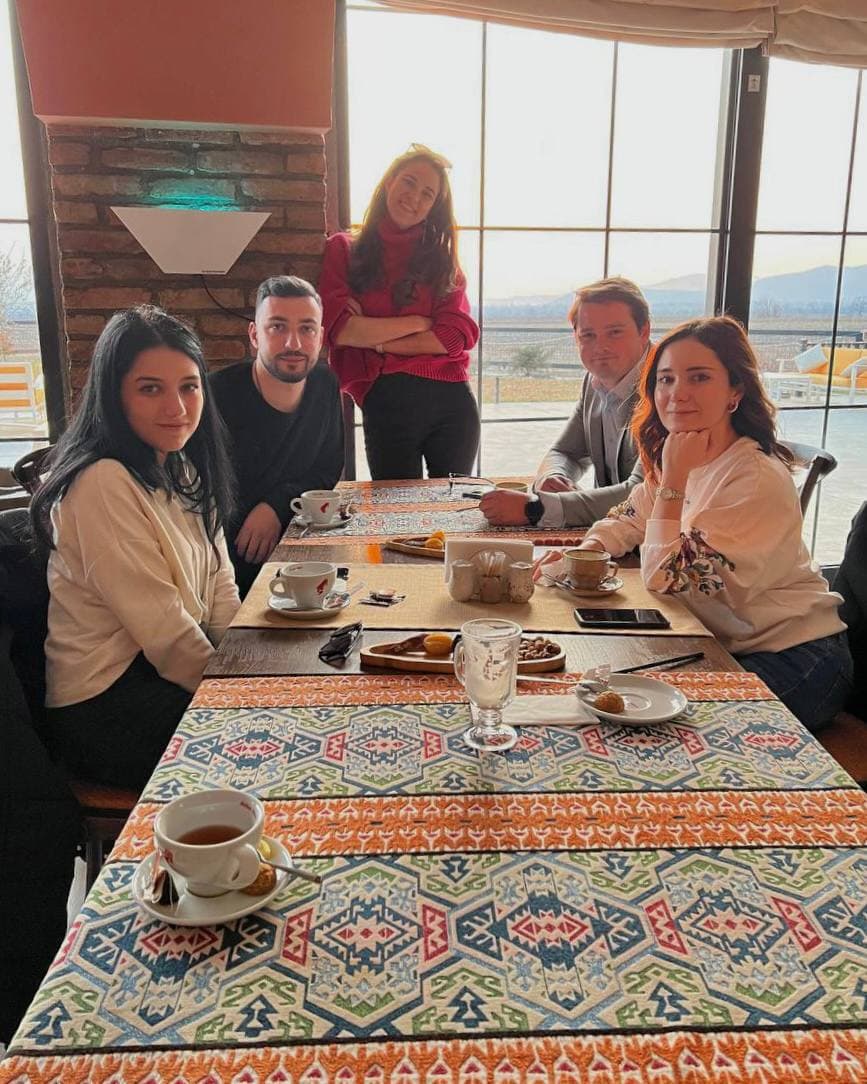 IRA
Of course there are people in Ori who I value greatly, like they say — to the moon and back. I put a very clear line between the time when we are talking like colleagues and when we are friends, and I am very happy I manage to do this. There are people in this team for whom I stand firm, and they are the same for me. We are actually really good at supporting each other.
NIKA
My life became more colourful with Ori. At my previous work place it has never been the case that people would get altogether, there were rather just small friend circles. And here we spend time together quite often to celebrate important events like birthdays, etc. We communicate a lot outside of office hours too. Our people have a lot of empathy, and I am very grateful to Ori that they became a part of my life.
IRAKLI
It was quite a difficult year for me, and that's when I felt immense support of the team thanks to Evgeniya, when everyone got together and became my rock. I appreciated it a lot and honestly don't think it will ever be the same for me at a different place. My closest friend is Evgeniya, because she is always ready to help, understand and support. I really love everyone here and my heart warms up for Ori.
EVGENIYA
I have definitely acquired friends here, and my understanding of friendship has shifted in a sense that now I prefer sharing to receiving, I would rather give than take, and see the happiness and emotions of people I love and cherish. We are grown up people, and at this age you have to accept people just as they are, and that's another reason why finding friends is more difficult, but I managed to do this, and finding friends was like finding treasure. The biggest mystery in life to me is how a human who is not related to you by blood, becomes so dear to you that you worry for him/her like you would worry for your mother.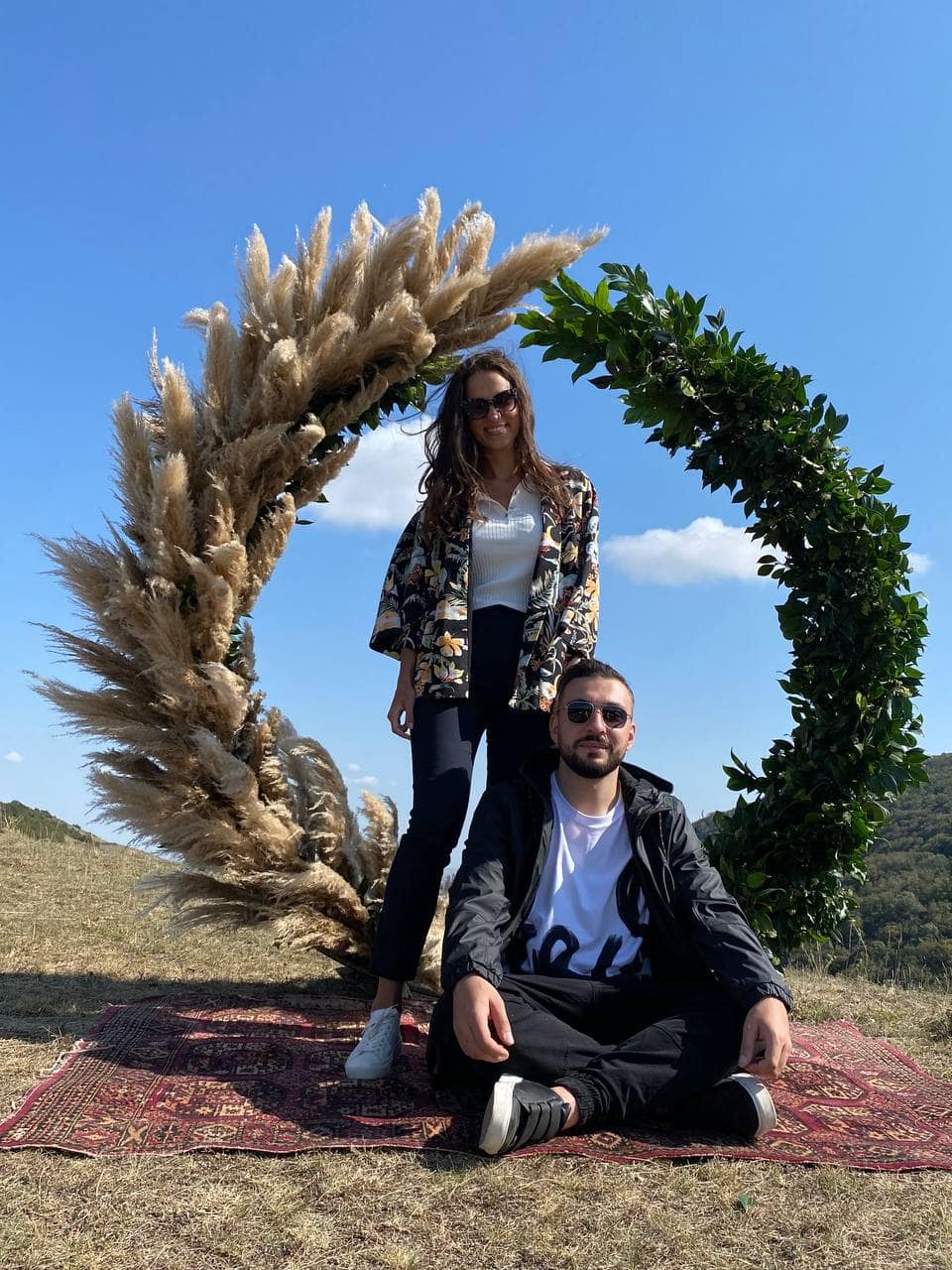 What we have learned, what else we would like to learn and how our jobs with Ori have changed our lives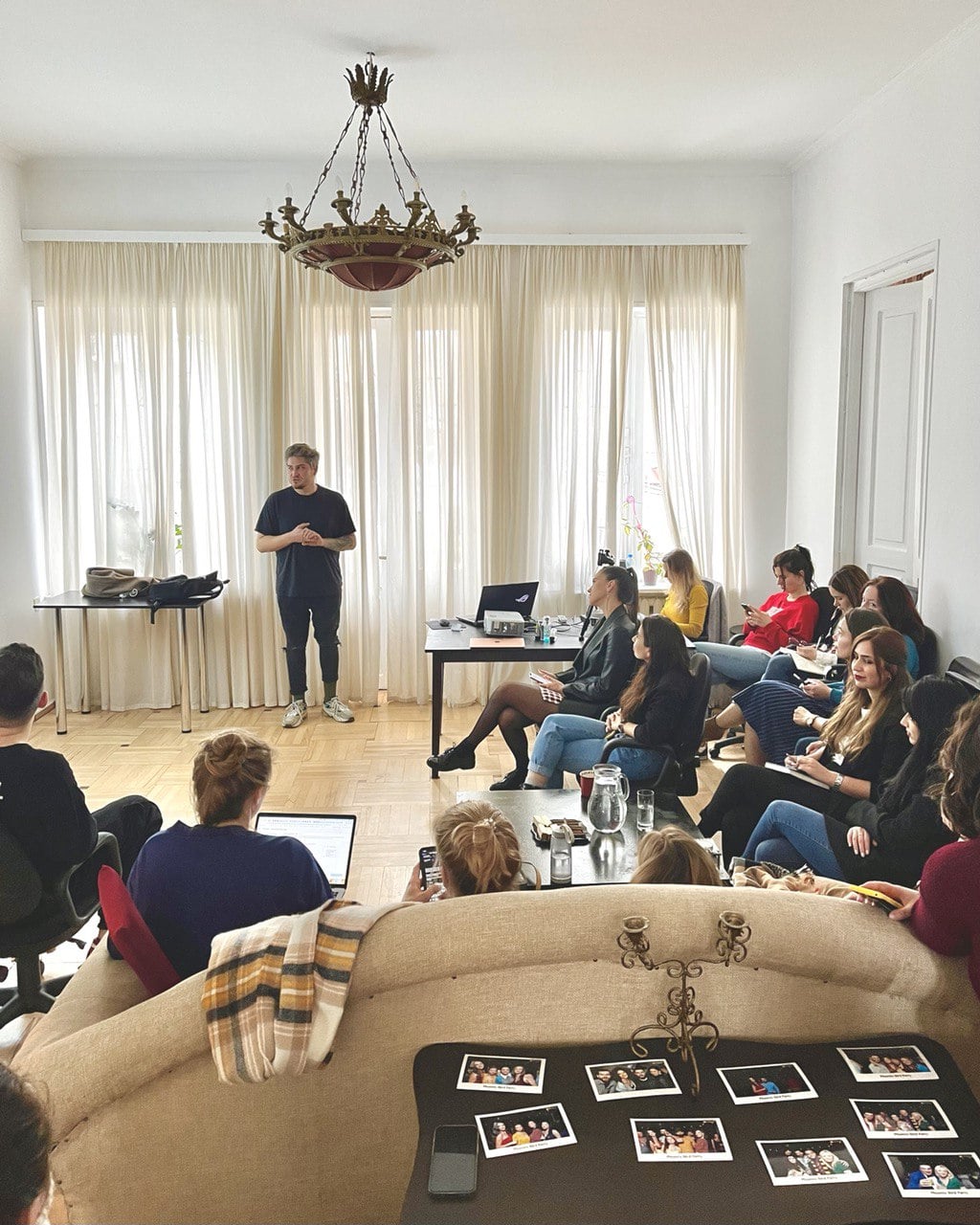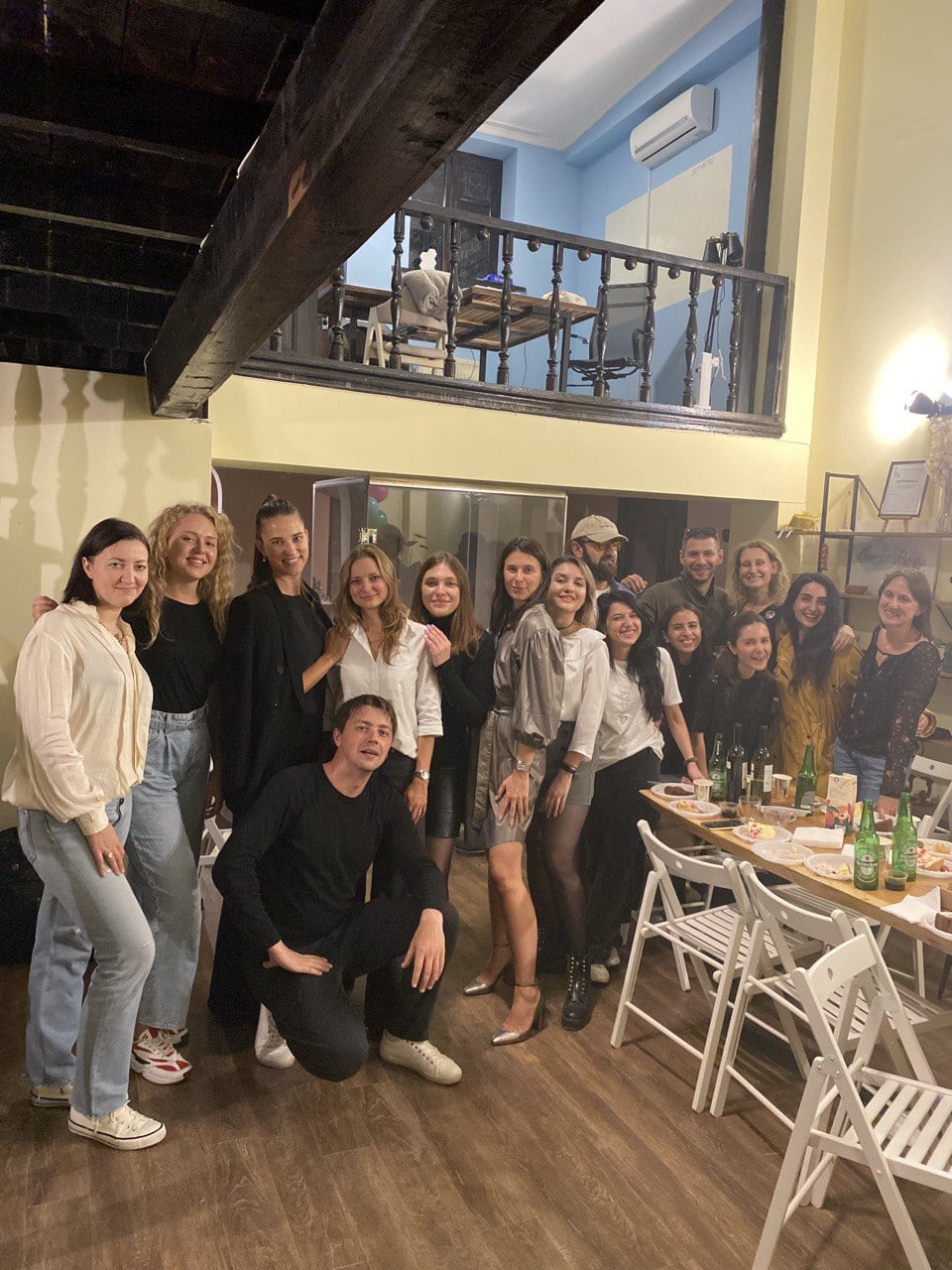 SALOME
I have learned to hold on to my colleagues, not to be shy to ask questions and not to be stubborn when trying to find a solution myself.
I wasn't very confident when I came here, I was a bit uptight even. And now I am much more open, patient and confident in myself and my decisions. I learned to double check everything a million times. And I have also learned about locations in Georgia I had no idea even existed.
ELENA
My way to Ori was a long and challenging one. This job has opened up many opportunities to me, some of my views have changed, and I learned to see the beauty around. Through being a wedding planner at Ori, giving people the unforgettable and beautiful emotions that will stay with them for the rest of their lives, I realised what a meaningful person I can be in somebody's life, and that I can create and gift memorable moments to people. I have nourished the responsibility, confidence, empathy, prompt decision-making and communication skills, as well as many other skills. My job has also given me a wonderful team, the people who are by my side in case of difficulties, and support means the world in our sphere.
POLINA
While I was working at Ori I learned to react even quicker, because it is important to report on our significant projects on the fly! Among the skills that I would like to develop is organising data — I am working with a huge volumes of photo and media, and I would like to explore the options of its effective and convenient storage.
NADIA
An event is like a puzzle where every minute is golden, and thanks to Ori my planning skills have improved. It has become easier to communicate with people I haven't met.
In addition to that I would like to learn how to organise bigger events.
Another thing is this job helped me relax — in a good sense. Meaning I have become more open and easy-going. Even though there's a lot of work, I am still comfortable at my workplace. It is important because we spend 8-9 hours here. And I'm feeling this way thanks to our team!
OXANA
At Ori I have learned to tame my fears and just go and do it, because here we have to make decisions quickly. I mastered the art of putting down a timing for an event, and I am actually applying it in planning my personal life — every time I'm preparing for a family trip, I can see a table in my mind with all the most important highlights of the day.
By the way, our sphere is quite special because you cannot just take a course for wedding planners and learn everything you would need to know from A to Z. That is why being an HR specialist I have to first learn how to be a wedding planner and only then I would be able to figure out the ways to make our team's job easier and more effective. That is why I am constantly in the state of learning, and honestly, I would like to to keep it this way.
GALYA
I received a lot from Ori professionally and it even made me look from a different perspective on the sphere I previously worked in — tourism. I learned to work with VIP-clients, objections, and seriously improved the skill of planning my day ahead step by step.
VERONIKA
Job with Ori is at all accounts a way of growing. Honestly, I have always considered myself a decent sales specialist, but now, with all the things I have learned from Nika, I realise that with this level of knowledge I could easily continue working somewhere in Europe. I would just have to study the product, and then I'll be skilled enough to sell even oil, really.
A crucial point is time management. Previously I could complete all the tasks in time, but the process itself was a mess. And now, even in my personal life, with everyday tasks, I am moving step by step and set the priorities correctly. I have learned to respect other people's time more and I stopped being late.
LIKA
I learned to pay attention to details. It's not the most exciting skill, but quite an important one. There are quite a lot of details at this job, and they require extra attention.
My attitude to holidays and important days has changed. One would probably expect that the holidays would become everyday routine with this kind of job, but contrarily, they have become more valuable.
Because of work I involuntarily witness different kinds of relationships within the couple, especially on the most important day for them — it's like accumulated psychological experience.
MARIAM
In spring 2021, before I started working here, I was sad. And then I began to smile again — in fact, right after the interview, I noticed it immediately and it surprised me.
I learned many things from scratch here. For example, approach to organising meetings with friends, celebrations. My friend used to take care of it before, and now it's me, because I know better how to do it.
My communication skills have improved, because now I can feel I have opened up to the world.
LANA
I have learned better self-control when it comes to emotions, especially if it concerns a project or communicating with a couple. In everyday life I am quite emotional. And here, especially if it's a force majeur situation, I do not have the right to show that something's not going as it was planned, because it is a special day for the couple and their guests, so I have to solve the problem with a cold mind.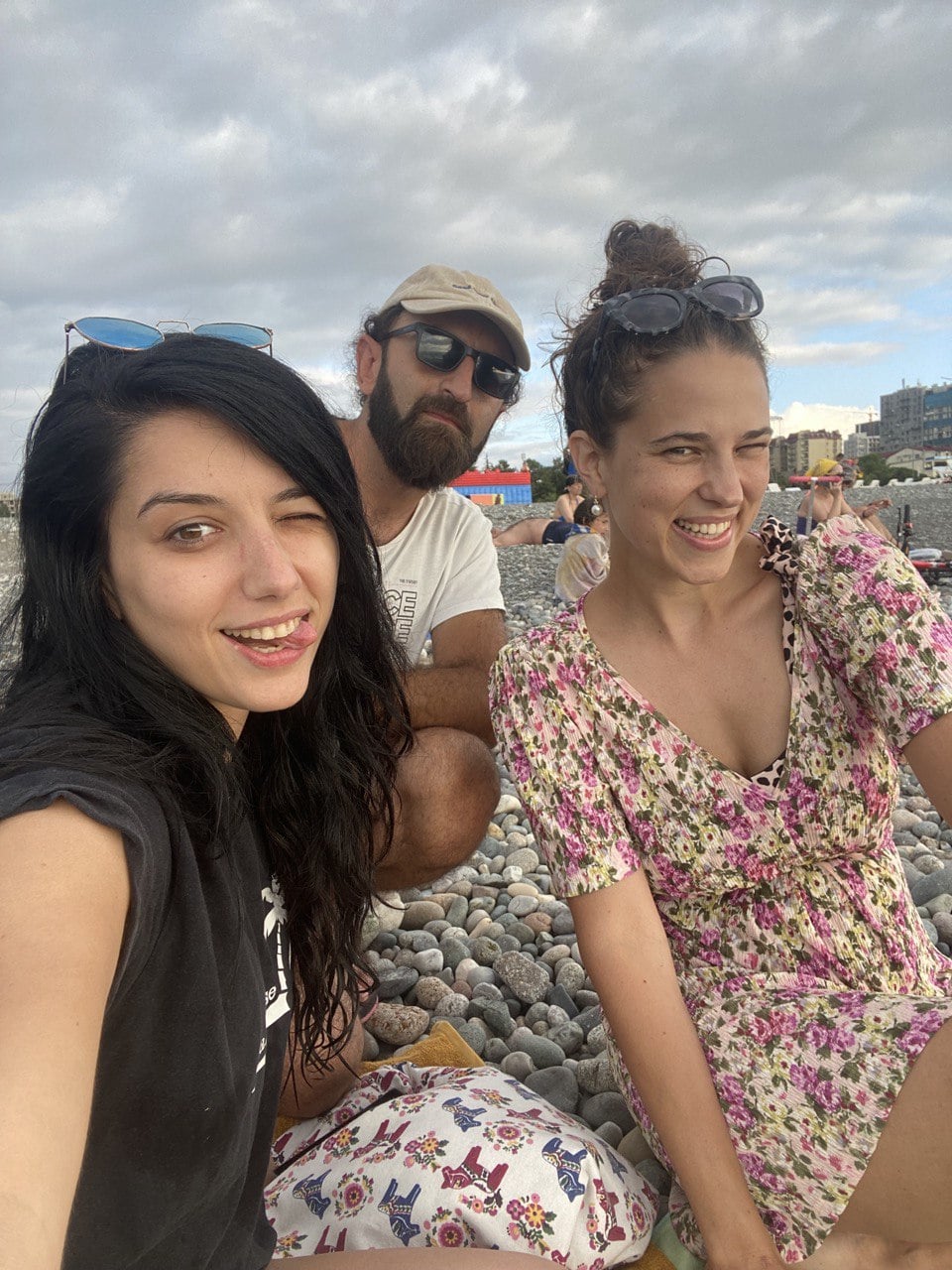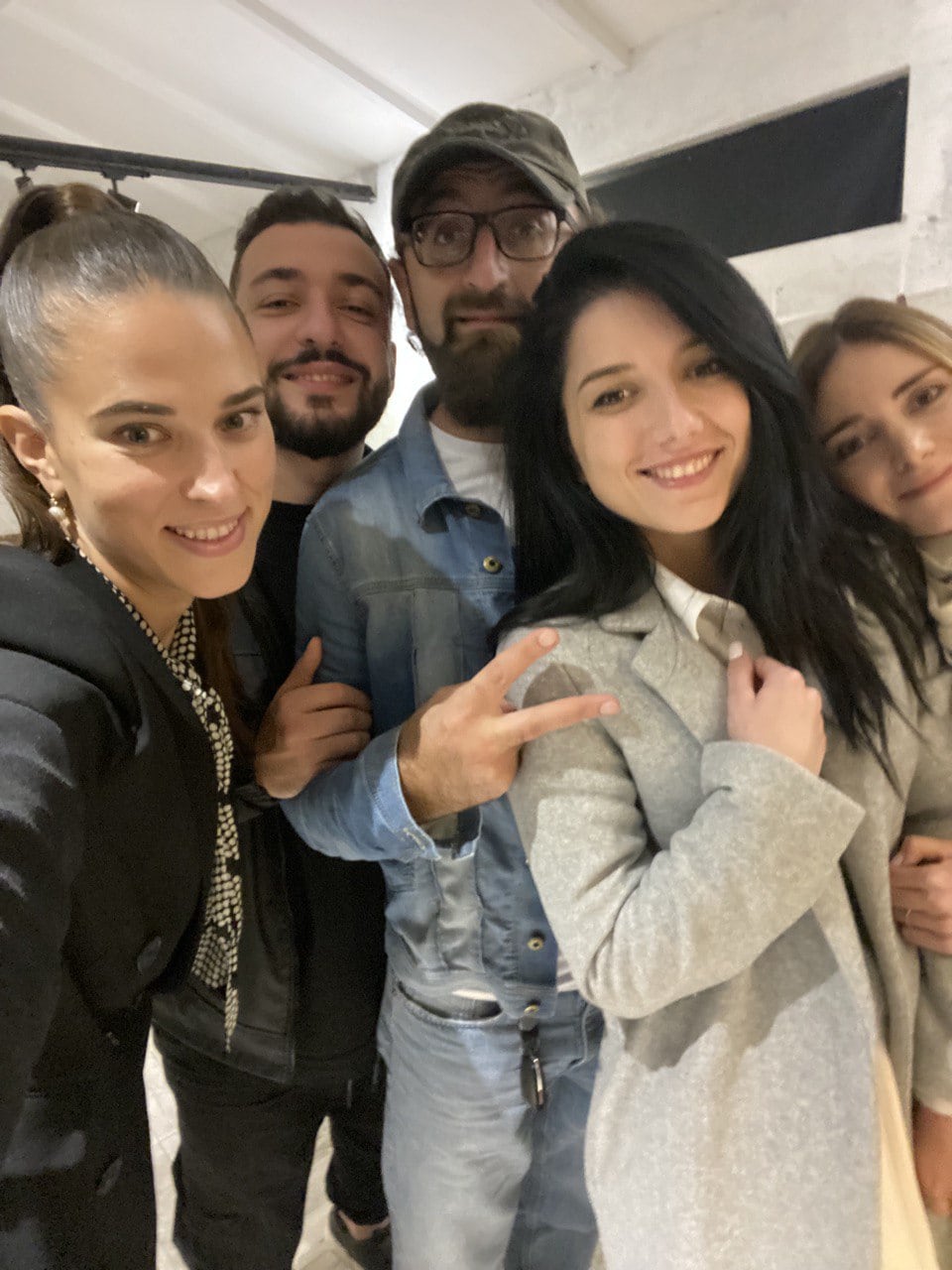 IRMA
Here I am constantly learning something new, also thanks to our workshops on all sorts of things, and it's totally worth it. I can already tell that it will help a lot in life.
In this time I have grown, my eyes opened on many things in this life, because new people from various countries and cultures help to learn. It's almost like visiting a different country, but in this case the other countries travel to visit you.
My life has truly changed a lot. I found a person to whom I got related, whose godmother I have become. I have found like-minded people and just those with whom I am comfortable. Here I have found the person I have grown to love deeply, my soulmate, that's why I can say I am very grateful to this company.
Job at Ori helps me become stronger, grow and take up more responsibility. We are doing a very good job all together, we are helping people.
ANNA
Every job has an impact on life, but it was Ori in particular to which I have dedicated all my free time, emotions and soul. Never in my life have I given so much to a job before Ori. My work would always be limited to my workplace before.
Every day I apply the skill of planning everything.
And I also perceive all the people slightly differently — I can accept them the way they are, understand their strengths and weaknesses and know how to react better in conflict situations — with the right attitude and words.
IRINA
I have become more confident, better to myself. I have grown to value every minute of my life much more and I will never spend it on anything that wouldn't bring me or my dearest people any joy.
In my life I apply communication skills, being precise, planning my own home-related or life-related tasks.
NIKA
I have learned plenty of things! When I was only beginning, we were using some basic programmes and didn't know much about sales techniques. Then I was growing with the company and my productivity was increasing. I became braver and more ambitious. We are hiring new people, making new plans, and it inspires a lot. I was trusted to manage a department, and even though I had similar experience before, I still had to master some additional skills.
I would like to acquire analytics techniques in the sphere of sales and management skills.
IRAKLI
I have learned and would like to keep learning to be more disciplined. It is the biggest skill that my work at Ori has given me. The essence is in always getting prepared for a wedding — it's a must. When working with other Georgian companies I was the first to do it, and now I cannot do without, this habit has grown on me.
I have learned to be on time — for the weddings and everything else.
It's only in Ori when I started feeling like I am a part of the team, where I do not only have a job to do, but also many friends, since we often get together, always send each other birthday wishes, remember the important dates of our colleagues, and always support each other. I like how it feels and it is indeed important.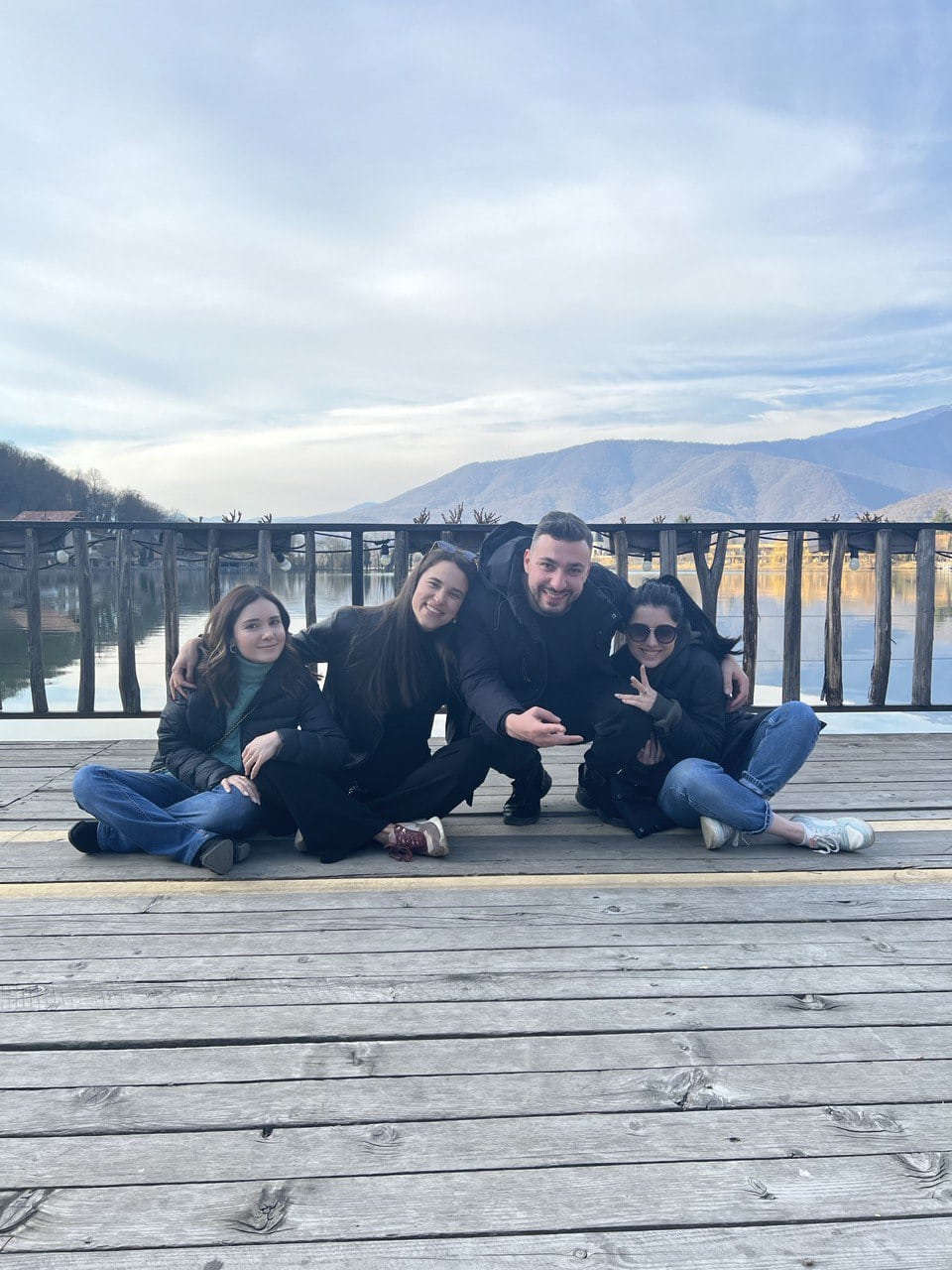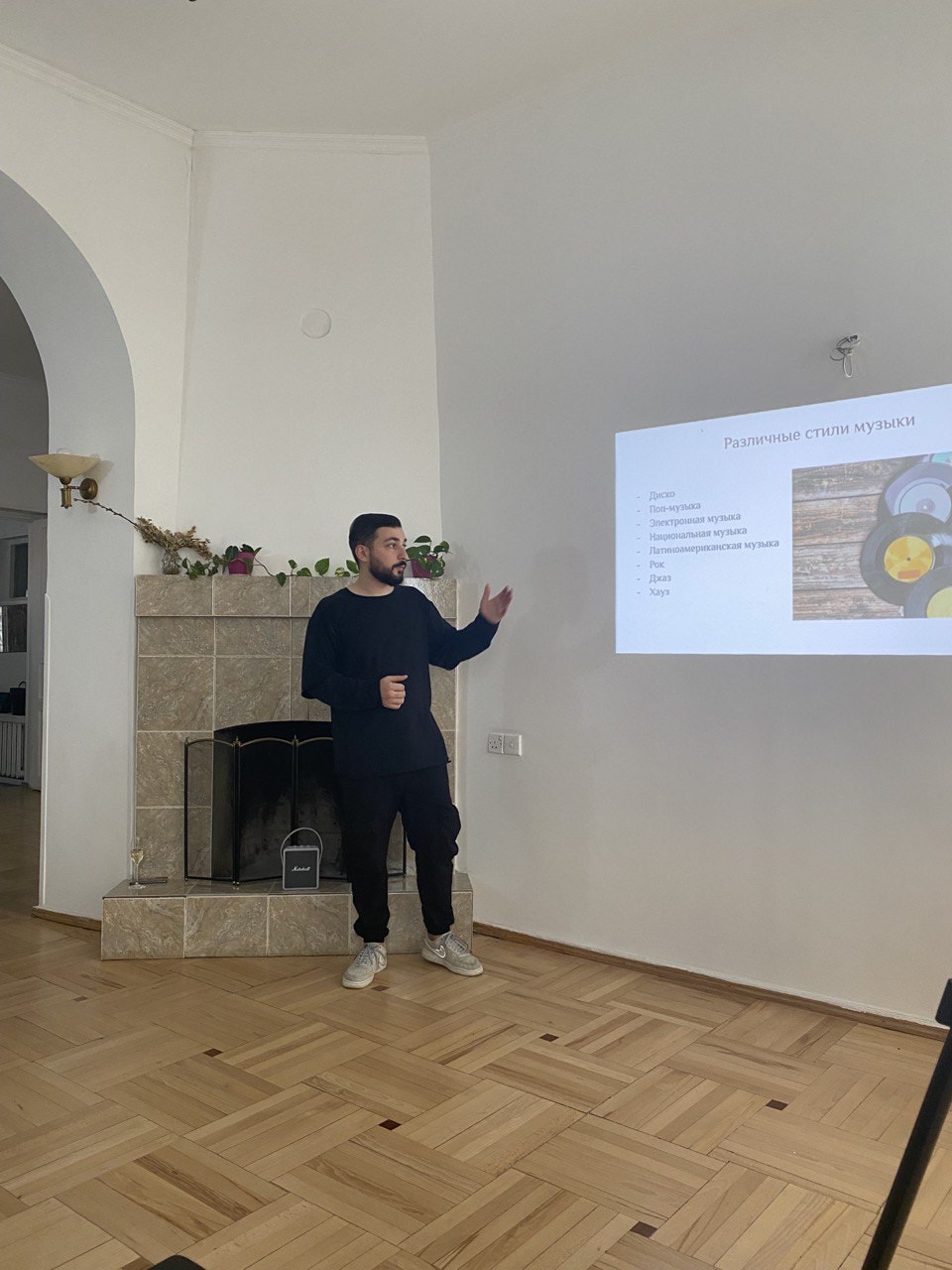 EVGENIYA
The most important thing is that I learned to be more patient. Accepting all kinds of situations calmly and understanding that there is always a solution. I no longer react as emotionally as I used to and immediately start thinking how it could be resolved. There are not so many problems, except for human losses, that can really scare me now. Now I know that the most important thing is to keep going.
I have also definitely acquired the skill of building a team and I think that I have succeeded in doing it. Now I would like to learn large-scale thinking, because we want to work in other countries too.
4 years ago I have just moved to Georgia and was a little lost, because Georgian culture is completely different to what I am used to. A good team was important to me, a good company with which I could be spending time outside of office ours. It was my dream, and it came true. People from work became my rock in personal life too. And I also want to be supportive for them. I am sincerely happy to see them when I come to work and sometimes I'm even sad at the weekends, because I don't see the people that are so dear to me.
Earlier I was thinking more about my own growth and development, and now I am constantly thinking of the ways to help my team grow. I think it's my purpose in life — showing people all the ways in which they can grow professionally, help them decide about the vector of development. I am very happy that our company helps a lot with it, and we are not indifferent to the destiny of our people.
The happiest moments in work
SALOME
Honest? I have never thought that I would be happy for somebody's weddings. But when I see photos of happy couples, with whom I was previously in touch to discuss the venues and the plan of the wedding, I am covered by a wave of serotonin.
ELENA
I am the happiest at the very end of every wedding day, when even after the most complicated project the couple comes up to me with words of gratitude and happy sparkles in their eyes. It is important for me.
POLINA
It cheers me up to get reactions and comments to the posts and stories on social media from the couples who have already organised weddings with us. It creates the spirit of community and warm relationships within it.
Recently I was a coordinator at a small wedding in Kakheti and spent the morning with the bride. We were quite a good match energetically and it felt almost like we were old friends. After the ceremony I was with the parents of the bride and groom. Since they are from different countries, my task was to provide simultaneous translation. My heart was melting from the number of kind words they said to each other and from how happily they responded to the chance to finally speak freely to each other. I was incredibly happy to be part of such happy moments!
NADIA
The final part of every project. The last hours of the evening, when you can see that everyone is relaxed and happy, and the content you feel within cannot be compared to anything.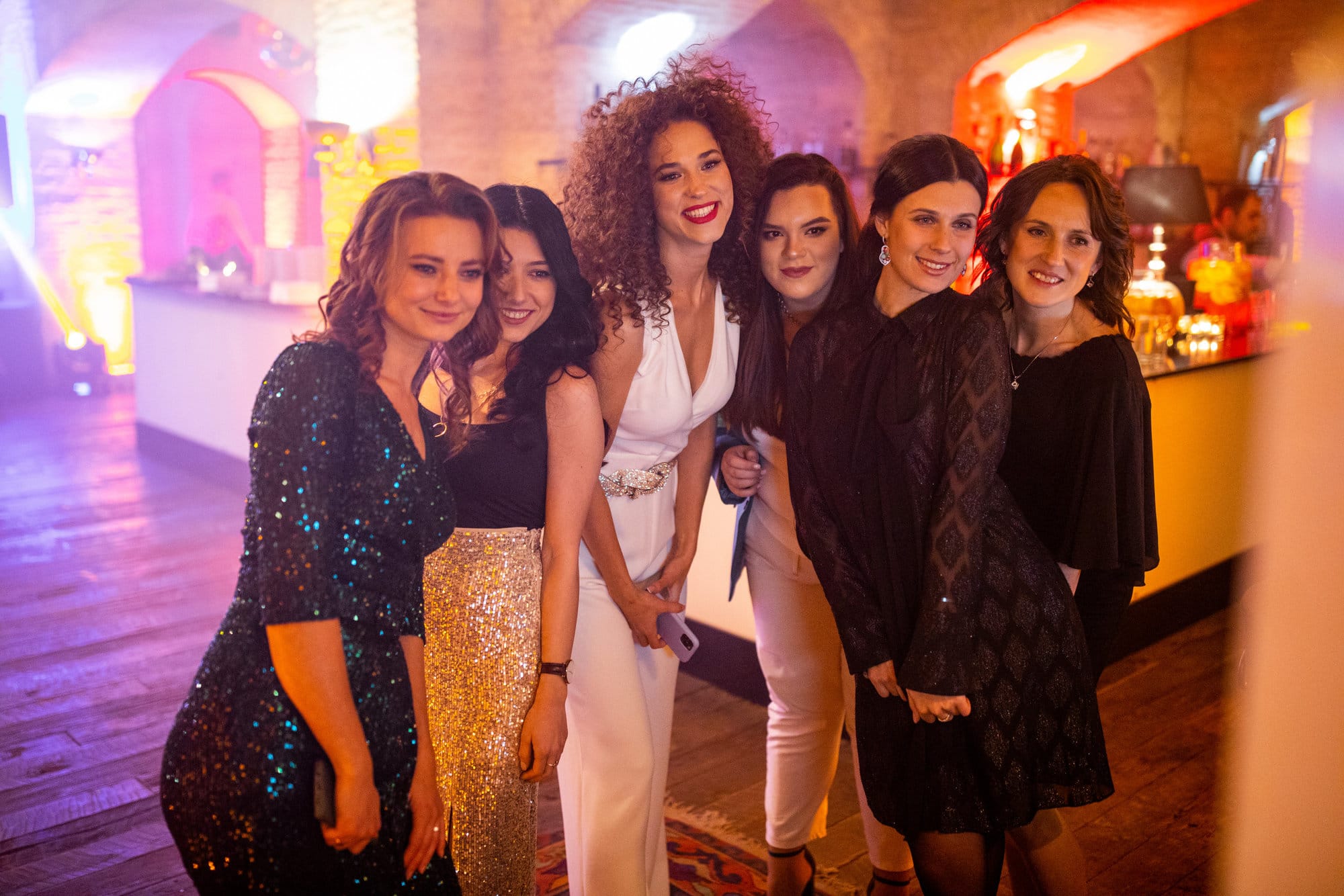 OXANA
I get very happy when we receive a review from a couple. Another pleasant moment is when a person we hired blends in and the team is happy to have this new person.
Another thing, is being a coordinator and seeing the backstage of the whole project. The most touching moment is the ceremony and a happy ending of the day.
GALYA
The first call with a couple is a transitional moment when the trust is established. One can also feel when people are in love, when they have a dream, and after the call I feel the urge to have the calculations ready with the inspiration that I have, to help this dream come true.
Besides, it is thrilling to see the first photos from the ceremony, when it's all become reality.
VERONIKA
I love seeing the couples and the first photos from a wedding, even just amateur ones, in our work chat. And knowing that after spending a lot of time choosing the arch, on the day of the wedding, the bride came up to it 20 times and said «Oh my God, it is so pretty!» So many emotions from one single element, and there's more ahead — it provokes admiration in me!
LIKA
I will never get tired of the ceremony. Everyone has completely different emotions. It is not only the peak of the wedding day, but also the satisfaction of the wedding planner because that's when you know that the most important thing has happened and that's what I've been working for all these months. At this very moment you can see the fruits of your work and happiness of people.
MARIAM
The ceremony. I love even the simplest ones — in the civil registry office. I am very happy for the couples, and I even want to cry, but I'm holding myself.
IRMA
Sure enough, it's when we are talking with the brides and discussing the wedding because it is the most important moment in life, and I am there just for that. I am still not bored with it, and every time the request is different.
ANNA
The wedding day. I always want it to happen in a way that the couple couldn't even possibly imagine. I want to overcome the expectations.
IRINA
The most pleasant and thrilling part is when the couple are writing the vows and then send them to me. Or when they fill in the questionnaire for the master of the ceremony, but they don't know what the other party wrote. Reading it, as well as seeing how beautiful the MC implemented it in his speech, is very pleasant.
I also love the process of choosing the wedding dress, when we're going to a wedding salon with the bride and she expects some advice, because it is very pleasant to be trusted with such an important mission.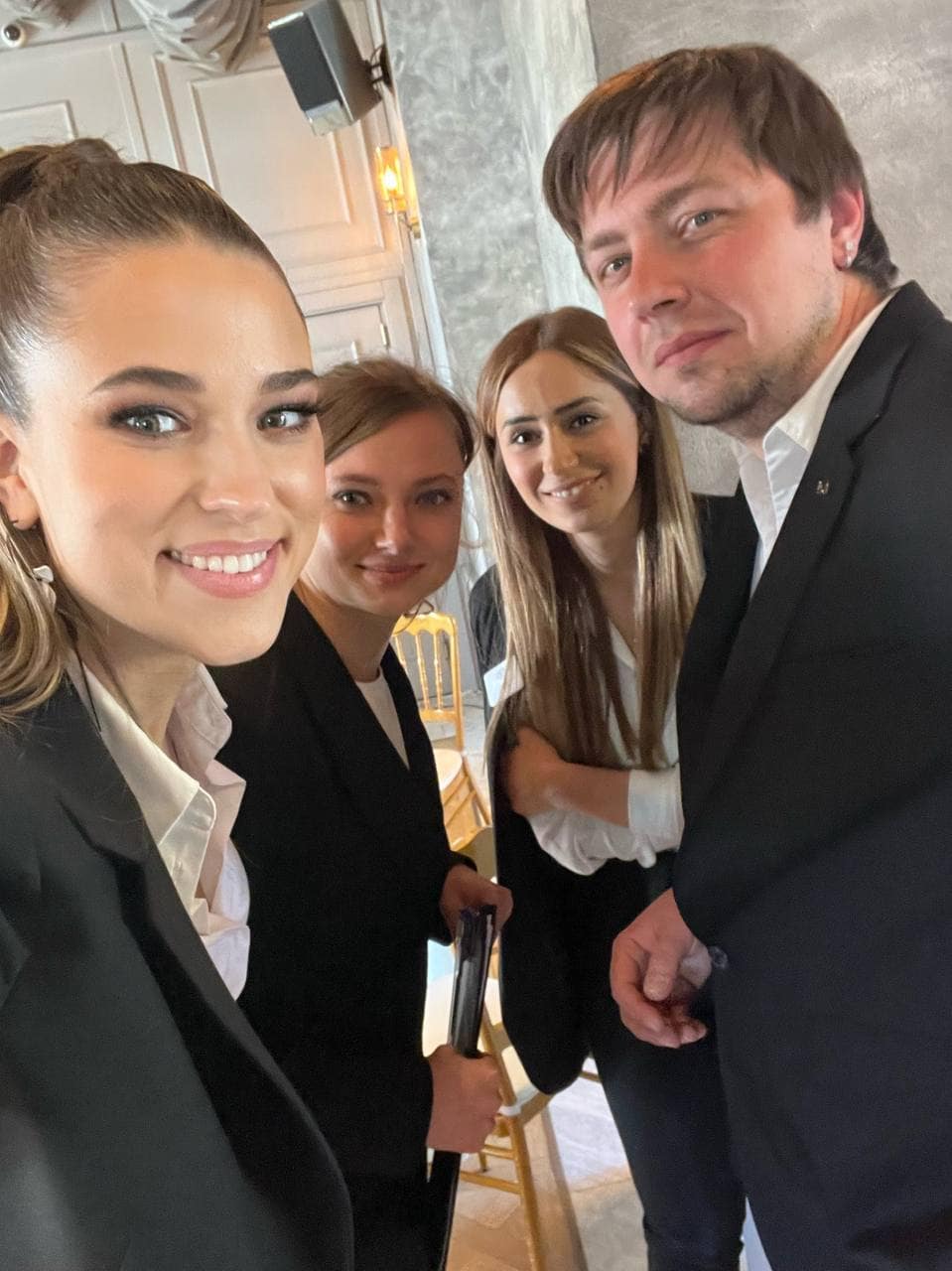 NIKA
There are not so many thrilling moments in our department, because we do not always get to see the results of our work with our own eyes. So the most thrilling part for us is when the wedding planners are sharing photos and videos of the wedding day, and you recognise your couples, and remember how you were first discussing it, and see them finally married. Or when reading a review you get a feeling that we also got to be a part of a new family emerging, and this realisation is extremely pleasant.
IRAKLI
The wedding ceremony and all of our staff parties. I always had to take part in organising staff parties wherever I was working, but it was different. Here the level is very high. Preparing for a staff party is a lot of pleasure for me because there will be people there who are very dear to me, and besides I cannot embarrass myself there, because all the guests are from the event industry.
LANA
When you know that you are being trusted wholeheartedly, when you see happy faces, when you feel their emotions, and truly worry for the couple and do everything to make it happen, because it will be a memory for the whole life ahead, the result is worth it. It is a true reward and happiness that you get as a result of your work.
EVGENIYA
For any person the most important moments are when you see the results of your work, and it is not only about weddings, even though arriving at the venue you can finally see everything you have given up on sleep for, the time of your life you have sacrificed.
At the moment I focus mainly on building and developing the team. When your colleagues are growing, they succeed, and send gratitudes and reviews to you after the trainings that you have organised, it is a great motivation.
And obviously our activities outside of office hours is another source of happiness. I am always glad to initiate common activities for all of us, and I am very happy to feel the support. It wasn't the same in the beginning, but then people understood me and became keen on it. They are sending gratitudes to me getting everyone together another time. It helps to relax, and there's a lot of feedback for me in it.
What we would wish to a new employee with Ori
SALOME
Do not be scared to ask questions. If you make a mistake, take responsibility for it. Do not be shy to ask for help. And always be extremely attentive to what you're doing.
Check everything twice and don't hope that it shall pass. A wedding is a lot of responsibility, and we must always be confident in the information that we're passing on. And the most important part is to be positive, you cannot do without it in our sphere.
ELENA
I would wish to be attentive, empathetic to people, eager to listen and being patient.
POLINA
I would wish a new employee to preserve the curiosity to this world, keep exploring new things, because in our job even the smallest lifehacks can be extremely helpful. Besides, I would recommend to take a chance to learn more about the cultures of different countries, because people from all over the world come to Ori, and it's an excellent opportunity to «travel» without leaving Georgia and your workplace.
NADIA
Just relax and be yourself, because we value sincerity here, only true colours. Listen to your colleagues' advice. Try your best in doing your work great, because our rating matters a lot and we have to keep up.
OXANA
It is important to understand that you'll be learning constantly, this process never stops.
GALYA
Just do it! Everything will be the way it's supposed to be. We believe in you and we're always ready to help.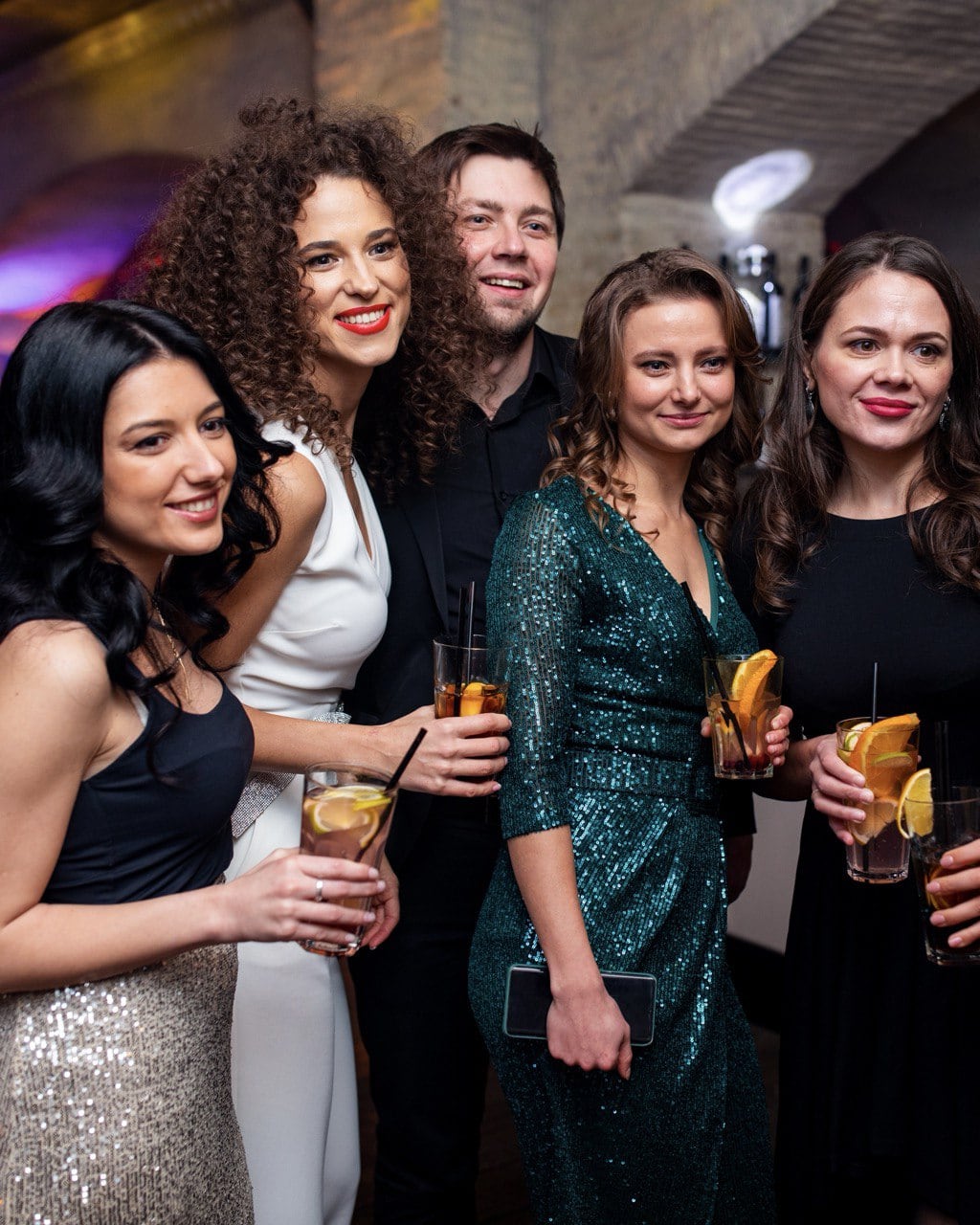 VERONIKA
Patience! You won't sell a big project on your first day of work, because it takes time to learn. Remember that it's important to respect yourself, respect the client, time and your management.
LIKA
Get to love your job from the very start. It's impossible to go on any other way, because it gradually becomes an indispensable part of your life. And you cannot treat your work just like work, you can only love it.
MARIAM
Congratulations! You are in the best team in Georgia! You don't even really need any of my wishes, you already got extremely lucky! 🙂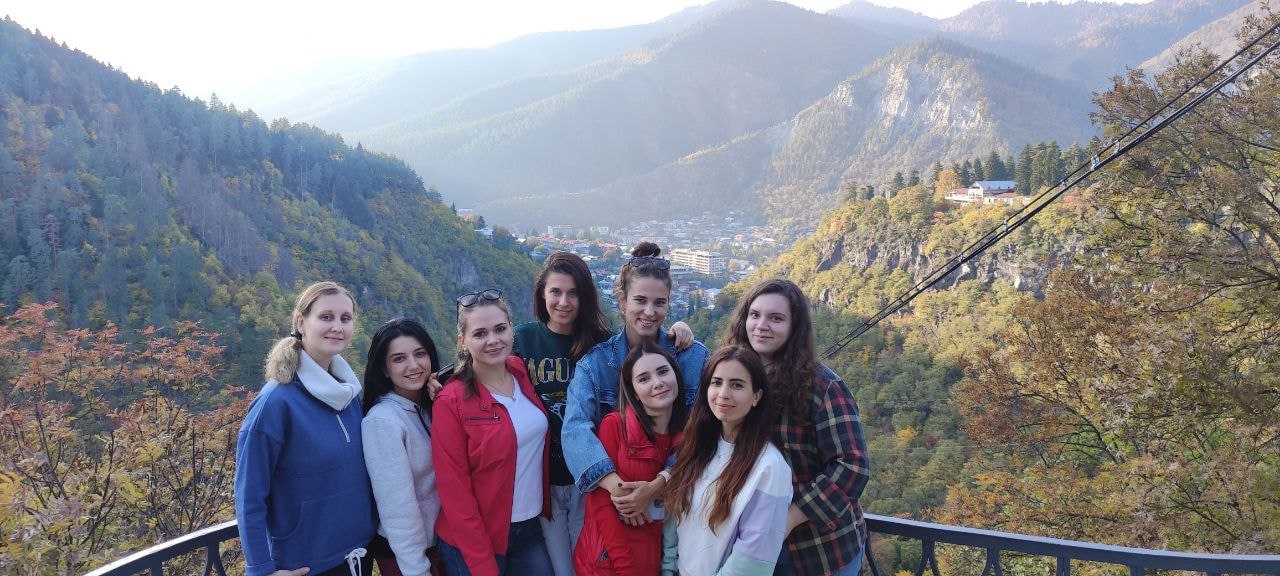 LANA
I'm wishing you success, happiness and pleasure from your work! I wish you not to loose inspiration in high season and in difficult situations. To have high spirits always. Don't forget about the balance between work and personal life, interests and hobbies.
IRMA
Run, if you don't understand how seriously you have to take work in this company. It's not only about communication, but you also need strong will. If you are ready for big and positive changes in your life, it's the right place for you. You will definitely grow here.
ANNA
I always wish resilience and understanding that this job is not easy, but lively, it gives lots of emotions and makes you feel alive. You don't have time to get stale, get stuck in the routine and grow stiff. These emotions constantly provide you with a feeling of freshness of life. Newbies do not really look into the future, they're looking at the short-term results, but not at what this work can potentially give them in the future. But if you're a little patient and hard-working, then you will see that it's only this work that gives you emotions that almost no other sphere can give.
IRINA
I would wish a new person in the team to fully realise how deeply he/she can dedicate him/herself to this job. It is extremely important, because this job is out of the ordinary.
You should always have your notebook with you and write things down instead of relying on your memory. Feel free to ask questions — we are always there for you, day and night.
A person who gets a chance to get their feet wet in this job, is extremely lucky, and you have to understand how lucky you are to receive this gift of destiny, to just get a chance to try.
I consider myself a very happy person, because I am one of these 2% in the world, who truly love their job. The only thing I regret is that I only got this chance when I was 30 years old. If I got it when I was 25, by now I would have been at a completely different level of proficiency.
NIKA
Be yourself, but also open up to people as much as you can, communicate and don't close up and don't be shy. Take part in our activities, and you will blend in very quickly.
IRAKLI
Open your heart and soul to the company and you will be able to get anything here. You are a happy lucky person if you're working at Ori.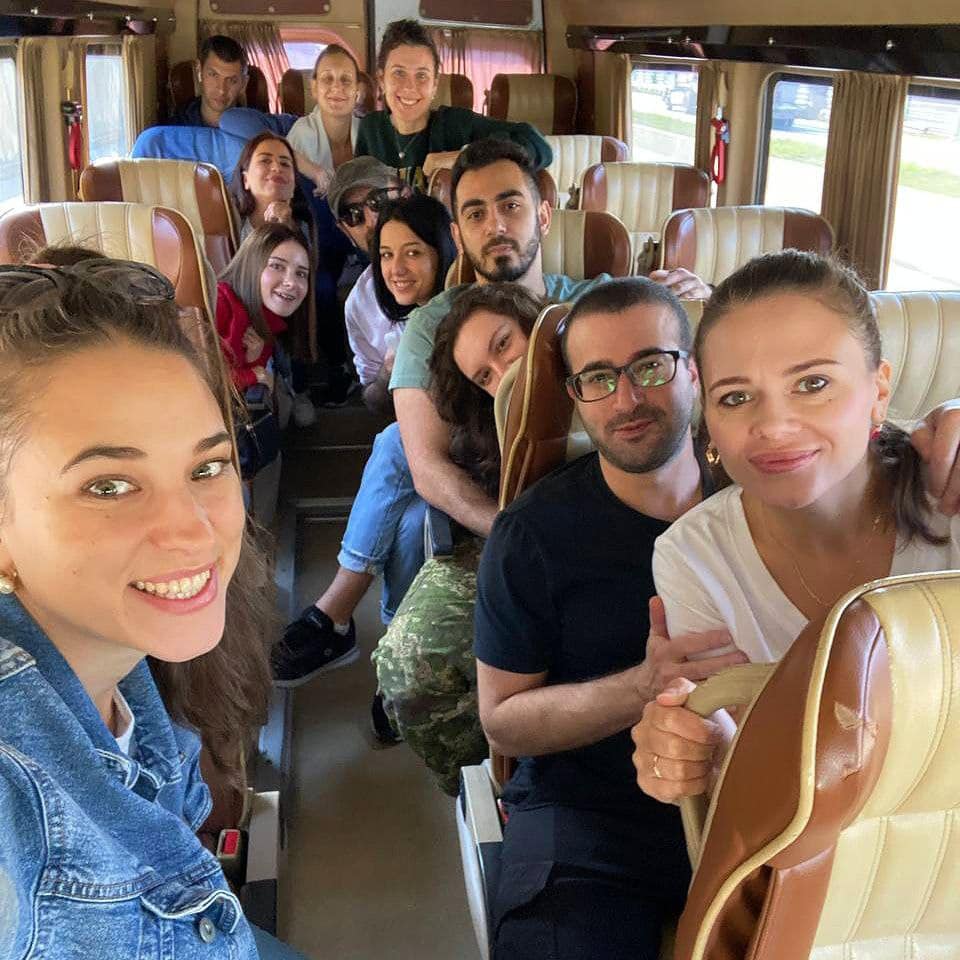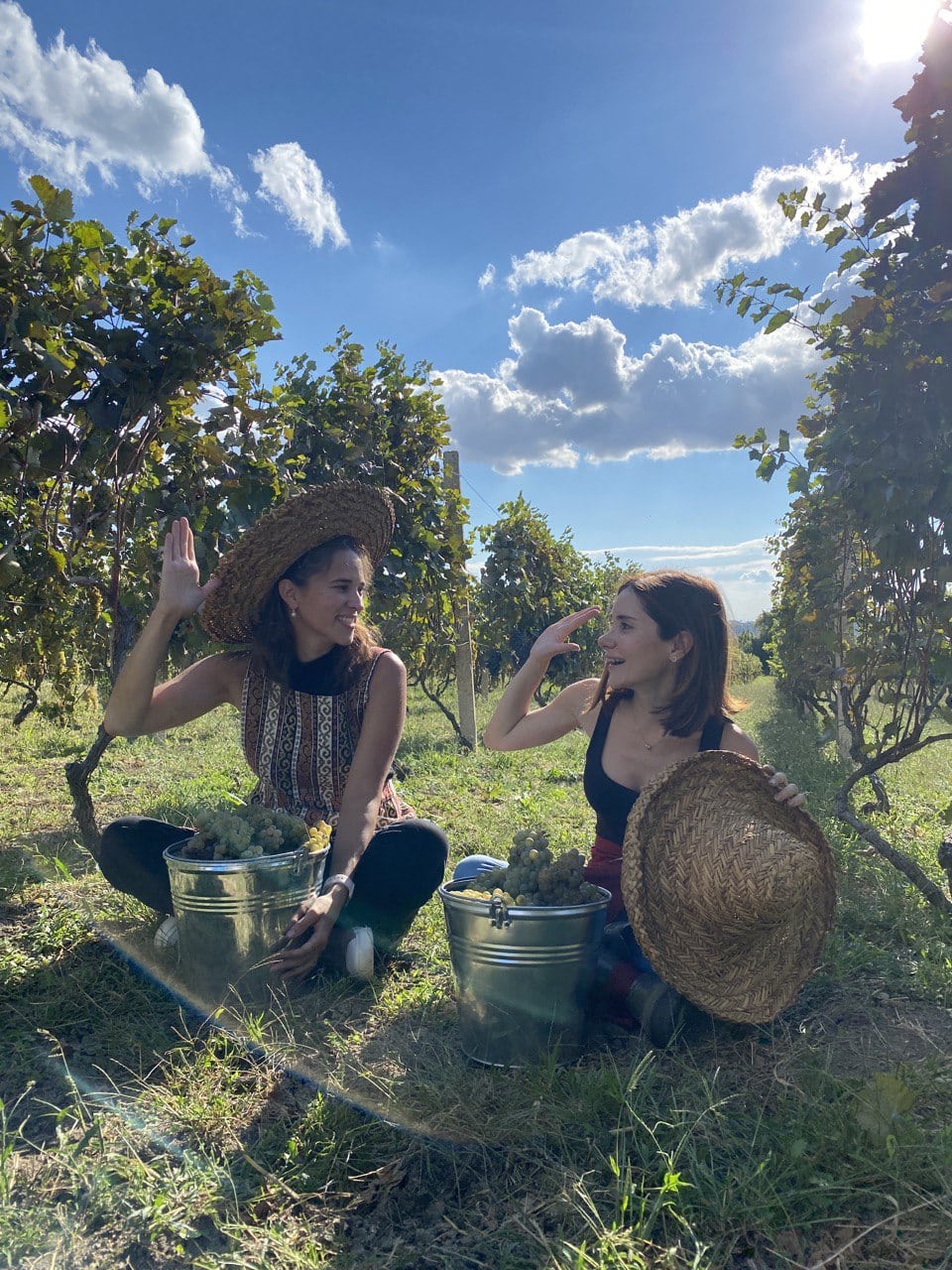 EVGENIYA
Catch lightning in a bottle and keep close to the team, because it's big luck for a person.
The most important thing for me in this job are people, their development and emotional state, that's why I would like to express my gratitude and love to the whole team and all our partners and colleagues!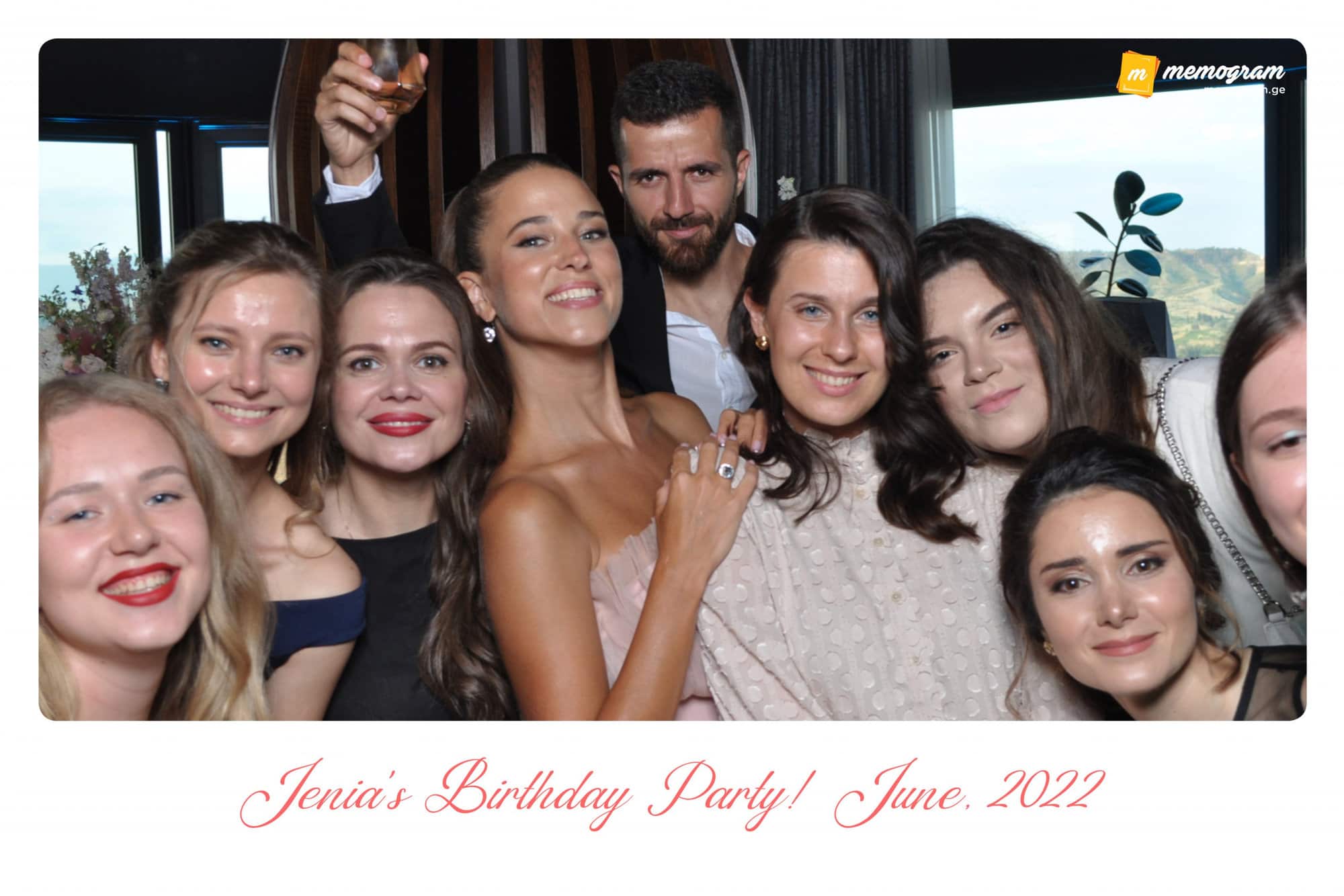 P.S.: I am the first to read this piece now with tears in my eyes from the amount of warm words said and the realisation of how much good we have given to people, how we have changed them for the better, how we have helped them find the work of their dreams and be among these 2% that Irina has mentioned earlier. I am happy that this whole idea and all our work were not in vain — and it is more than just a job for the whole team. It is a group of 20 people, and each of them has found something important, be it friends, inspiration, new skills or new dreams. Guys, you are all very cool! Thank you for being there! Love you. Your Evgeniya.