Immerse yourself in a world of sophistication and hospitality, where every detail is carefully considered to create the most luxurious and memorable day of your life. Whether you're dreaming of a white sandy beach wedding or a ceremony in a luxurious venue, the UAE offers a variety of options to suit the most sophisticated tastes.
Nikki Beach Resort and Spa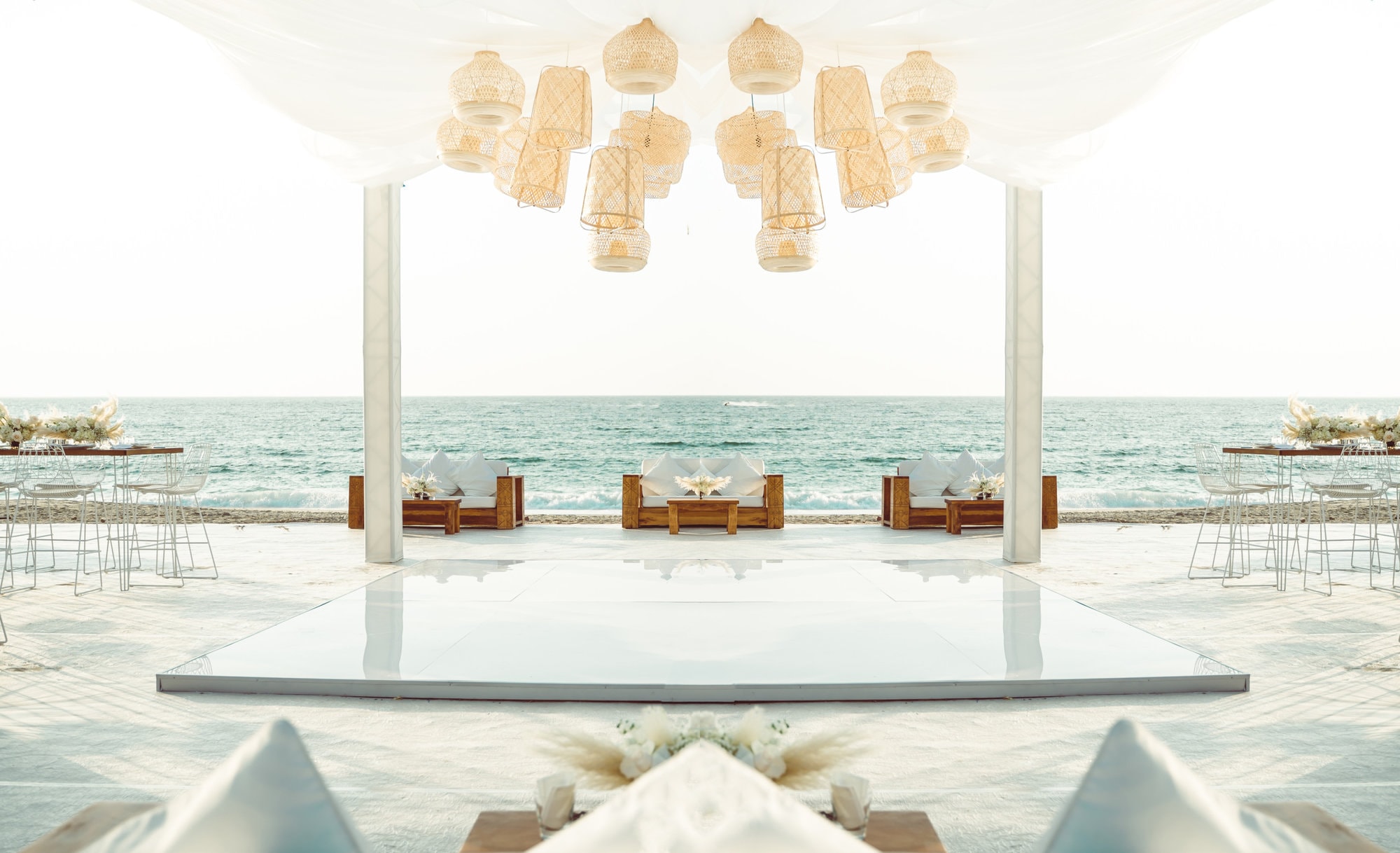 The resort is located on a private beachfront in Pearl Jumeirah, providing a beautiful backdrop for a wedding ceremony and reception. It has a reputation for hosting some of the best parties and events in the UAE, providing an extensive range of entertainment options for the wedding reception. The resort offers luxurious accommodation and top-notch facilities, including a state-of-the-art spa, fitness center, and multiple restaurants and bars. It can comfortable fit 70-80 guests for a ceremony and up to 180 guests for a dinner.
The Oberoi Beach Resort, Al Zorah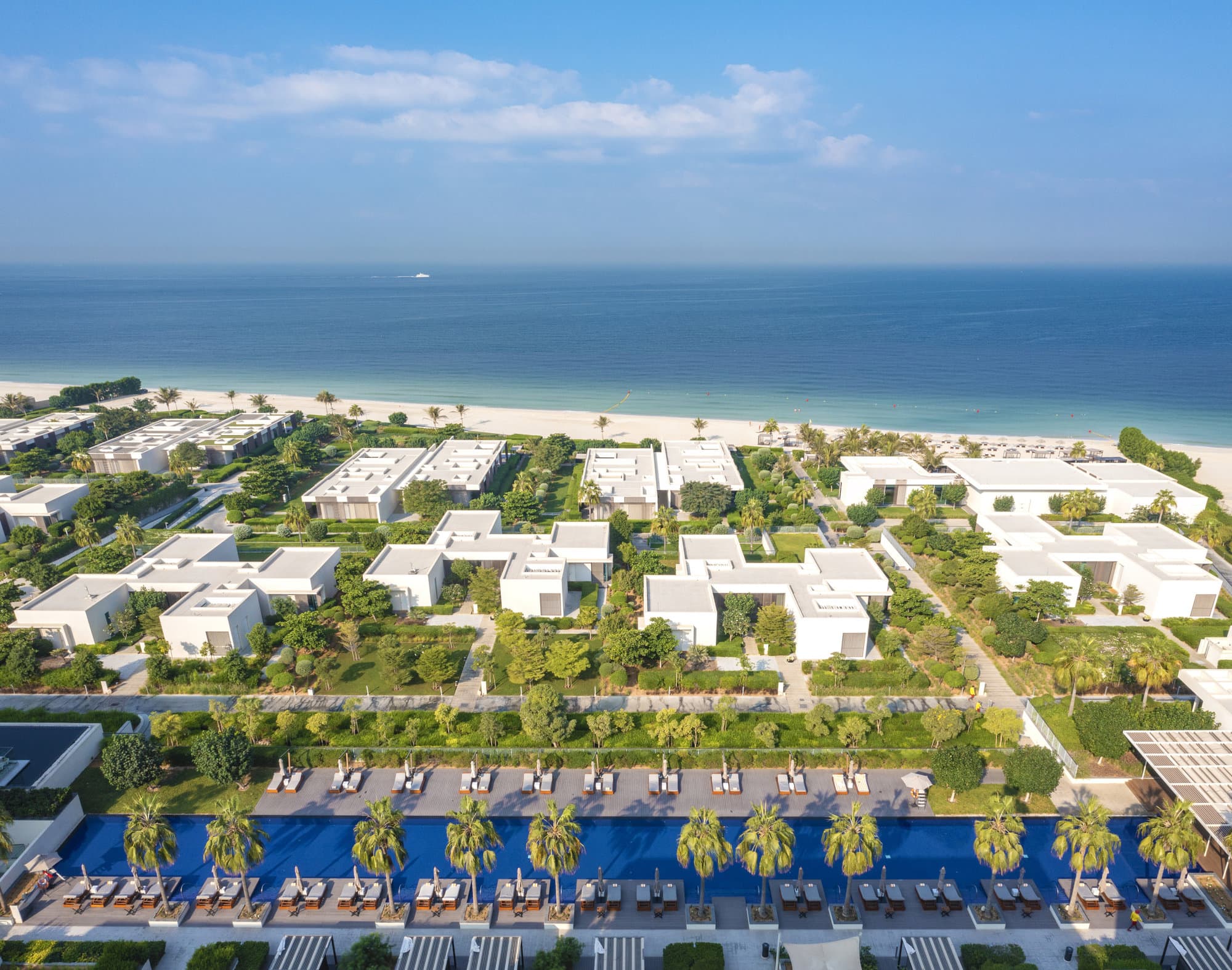 The Oberoi Beach Resort, Al Zorah is a luxurious wedding venue located in Ajman, UAE. Situated amidst a stunning natural landscape, the resort offers a perfect setting for a romantic and intimate wedding. The property features elegant and spacious rooms and suites with private balconies or terraces, offering breathtaking views of the Arabian Gulf. The resort also boasts top-class facilities, including an outdoor pool, a world-class spa, and multiple dining options, serving delicious cuisine from around the world. With exceptional service and attention to detail, The Oberoi Beach Resort, Al Zorah is an excellent choice for couples looking for a luxurious and picturesque wedding venue that can accommodate from 80 to 350 guests for a wedding.
Armani Hotel Dubai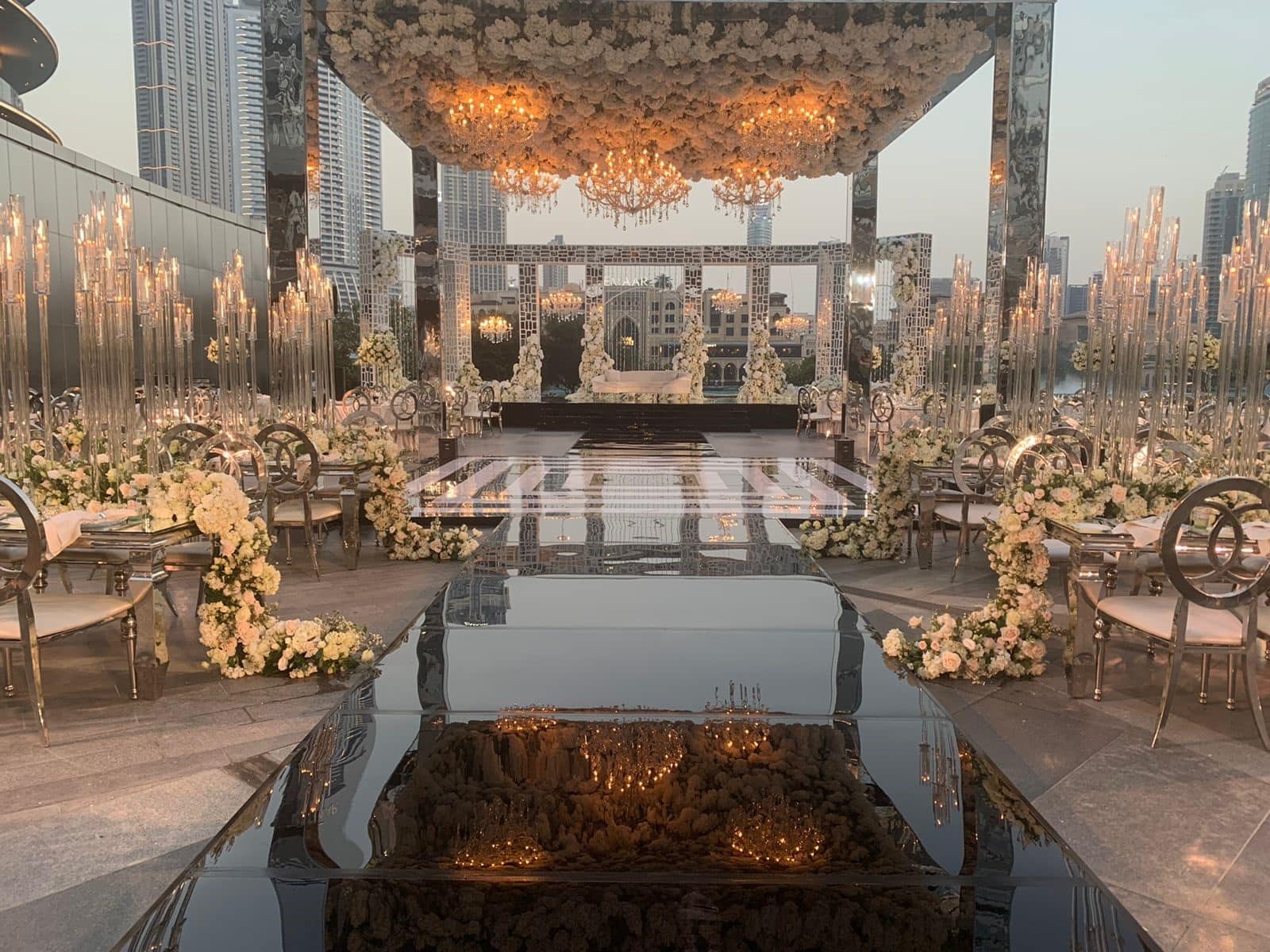 The Armani Hotel Dubai offers an elegant and sophisticated ambiance for your special day. Located in the iconic Burj Khalifa, the world's tallest building, this hotel boasts stunning panoramic views of the city skyline and Dubai Fountain. With its contemporary design and impeccable service, the Armani Hotel Dubai provides a unique and memorable setting for your wedding celebration. The venue offers various indoor and outdoor spaces that can accommodate both intimate and grand wedding ceremonies and receptions. From the stylish ballroom that can accommodate up to 450 guests to the exclusive terrace, each location offers a distinct atmosphere, perfect for a romantic and unforgettable wedding.
Emirates Palace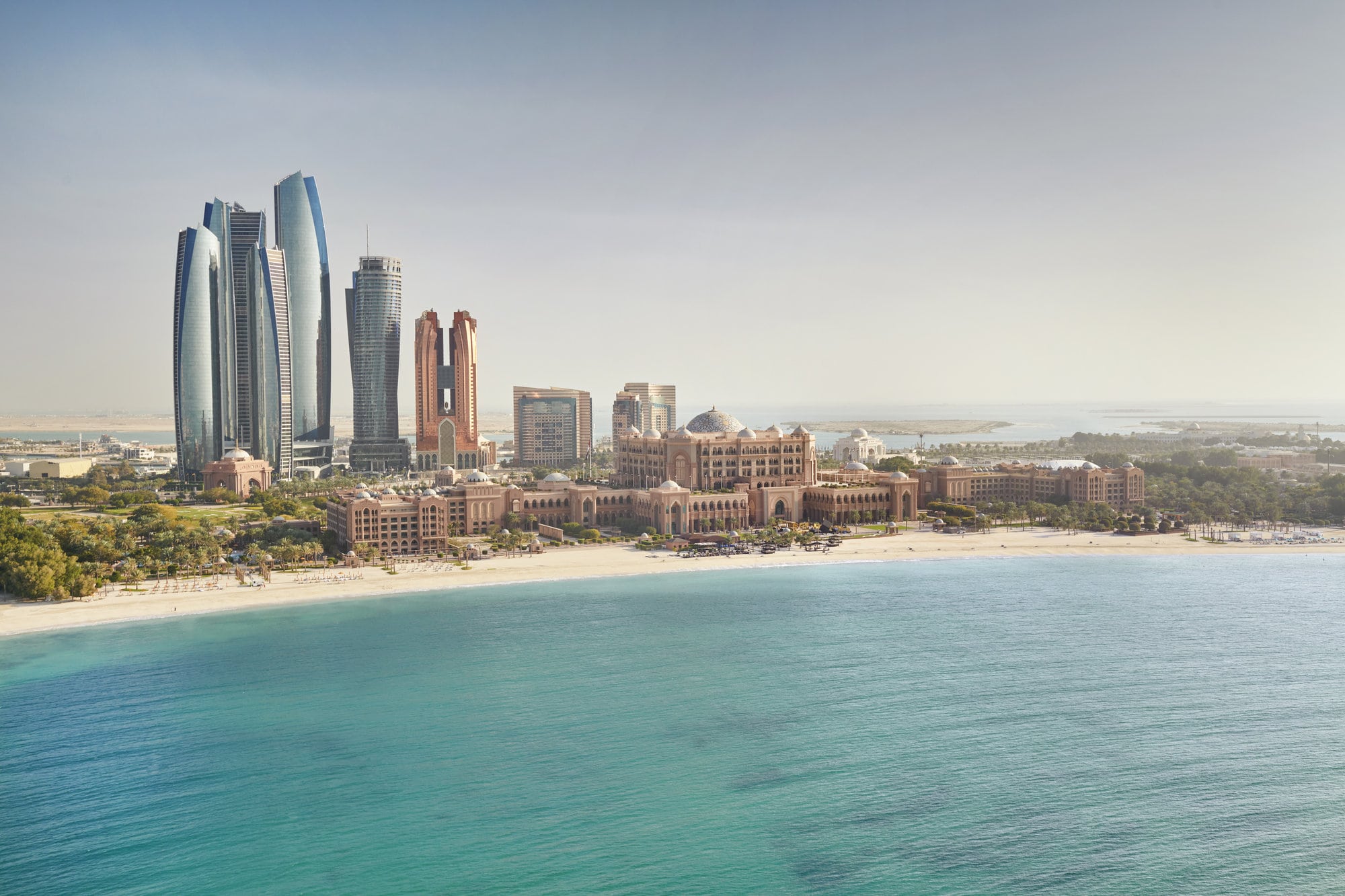 A spectacular wedding venue that exudes grandeur and opulence. This luxurious hotel offers a range of indoor and outdoor spaces for wedding celebrations, including the grand ballroom, stunning gardens, and private beach. The hotel's lavish interiors, exquisite cuisine, and impeccable service create an unforgettable wedding experience. With its iconic architecture, breathtaking views, and unparalleled luxury, the Emirates Palace Hotel is an exceptional choice for a dream wedding in the UAE for up to 1100 guests.
The JW Marriott Marquis Dubai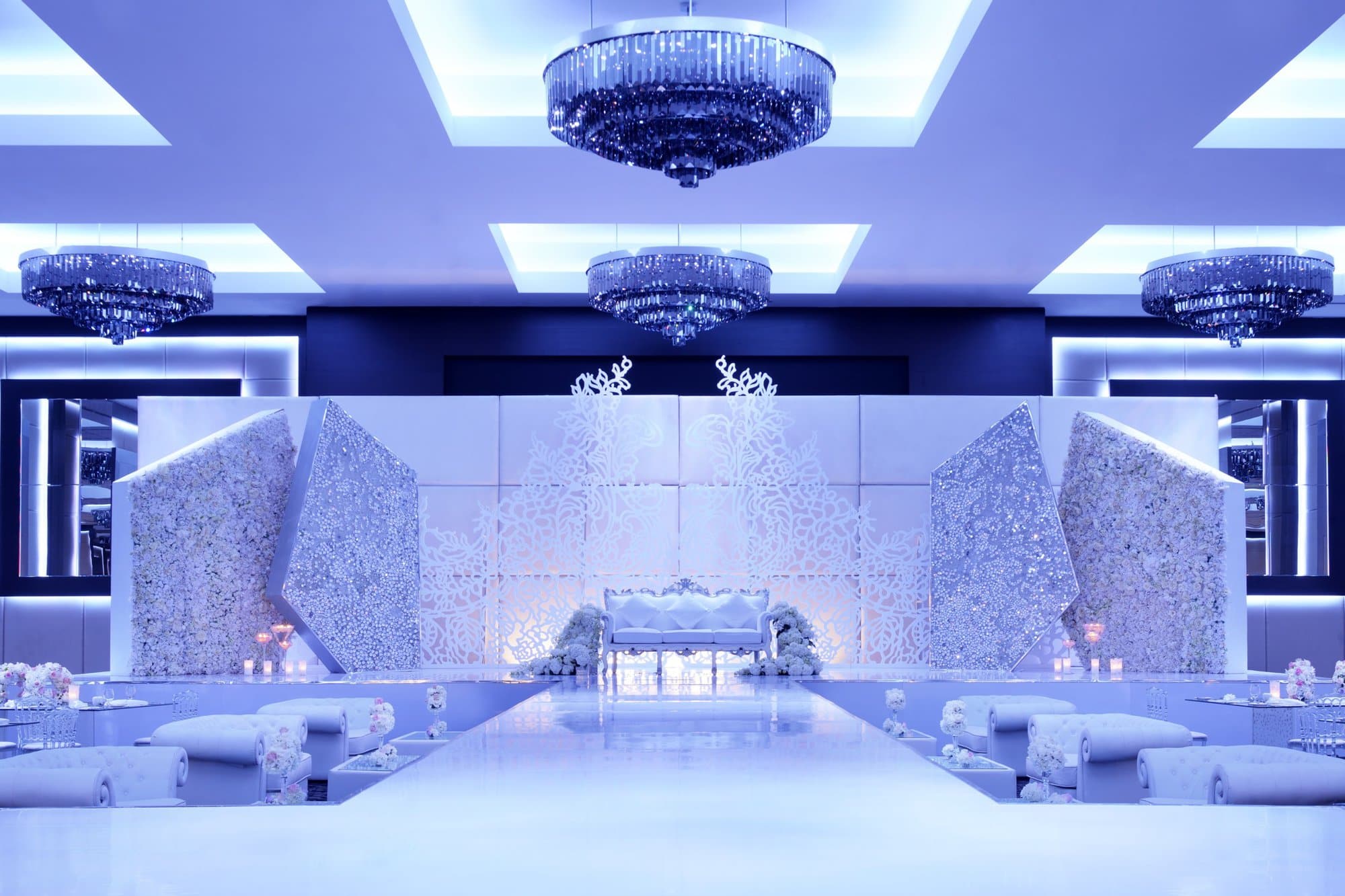 The JW Marriott Marquis is located in the heart of Dubai. This stunning hotel boasts elegant and modern ballrooms that can accommodate weddings of all sizes, from intimate gatherings to grand celebrations up to 900 guests. The venue also features exceptional catering services, with a range of customizable menus that can be tailored to suit your tastes and preferences. With its spectacular views of the city skyline and state-of-the-art facilities, the JW Marriott Marquis Dubai is the perfect choice for couples who want to create a memorable and unforgettable wedding experience.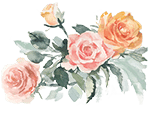 The hotel complexes we have selected guarantee that your wedding will be the perfect combination of luxury, romance and elegance, leaving you and your guests with unforgettable experiences that will last a lifetime.