The Ori team organizes wedding ceremonies for couples from all over the world, and it sometimes happens that not all the friends or family can come to Georgia, especially in 2020–2021, when travel between the countries is restricted. Luckily, modern technologies allow to show your ceremony to your dearest and nearest in any corner of the earth.
With the live stream of the wedding ceremony, you get a chance to share the precious moments of the family celebration with those who didn't manage to attend your event for various reasons. Several videographers managed by the director shoot the ceremony from different angles, also with a drone, so the outcome is truly high quality and provides the effect of being there, with a little extra actually, since other guests will see some of the shots (from the drone, for example) only later when they watch the edited video clip 🙂
We have recently started offering to organize live streams in any part of Georgia, but we particularly recommend the mountains, vineyards or city locations with the Old City view or close to green areas because that's where you get the most picturesque shots, especially ones from the drone, to impress your audience.
In summer 2020, for example, we did the first live stream in Gudauri, and the view of the mountains was stunning! In spring this year we also did a live stream from Tbilisi Botanical garden, and with the waterfall and trees being in bloom at this time of the year it looked great.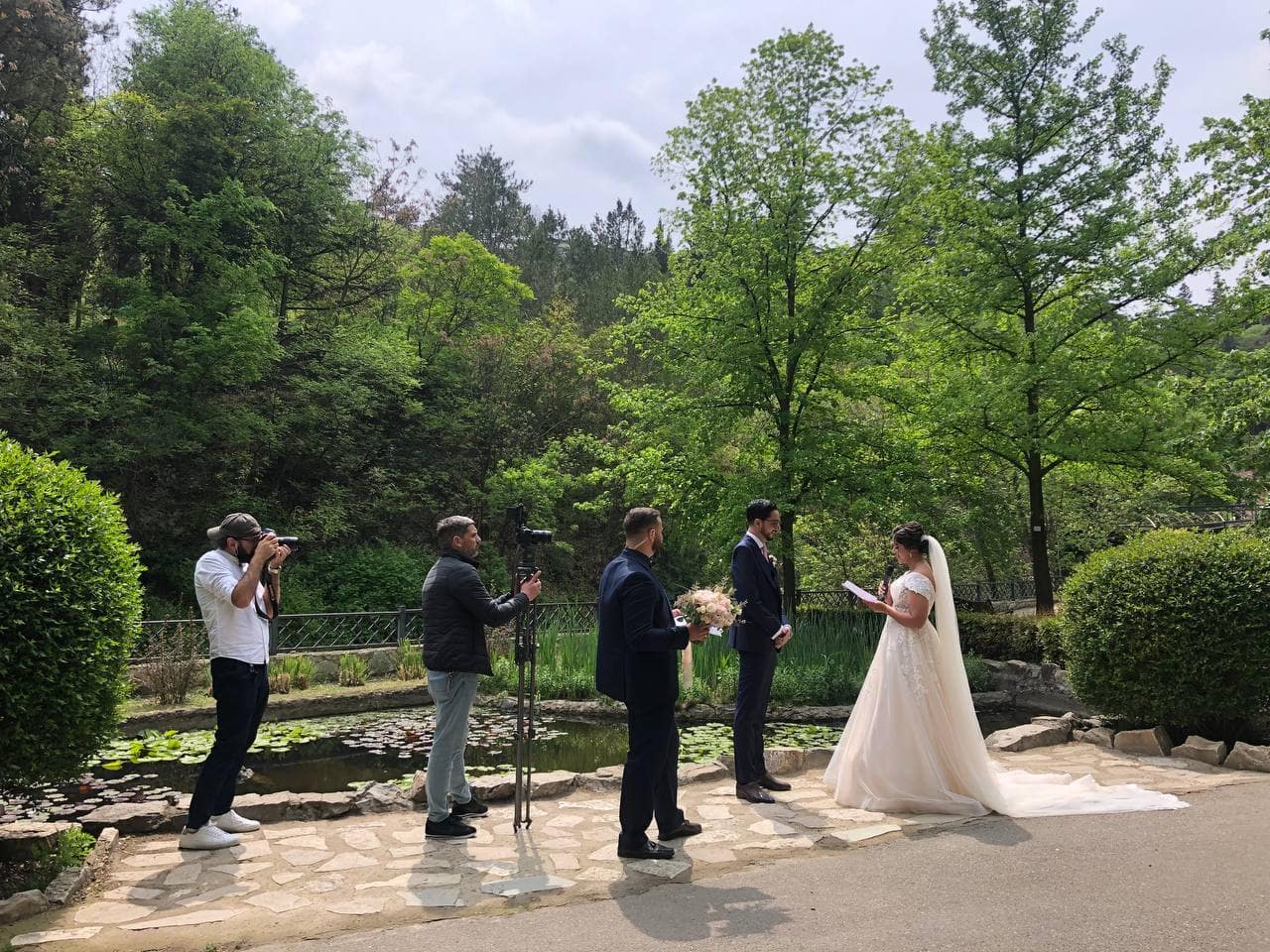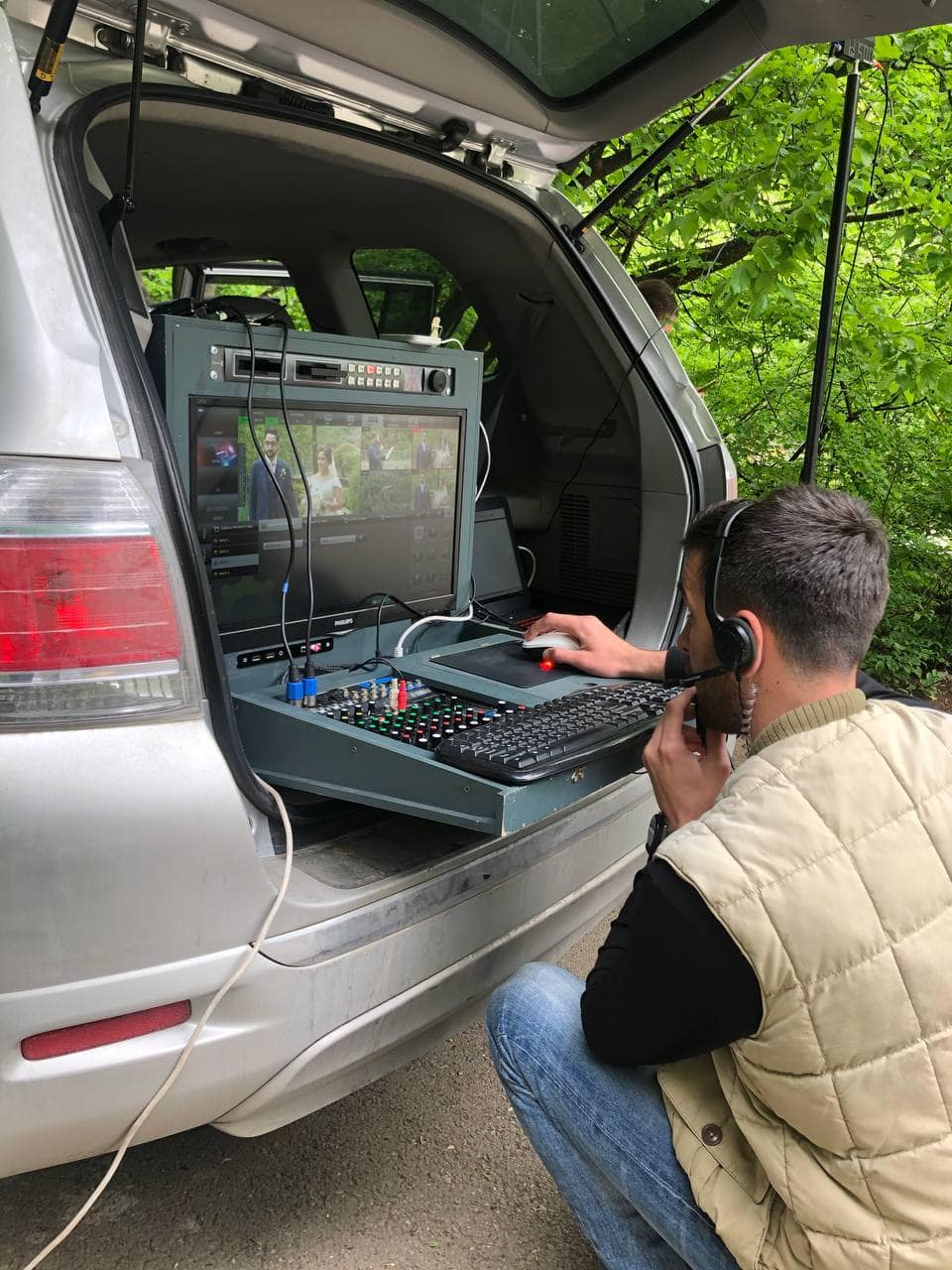 How we do it
We work with a team of professionals, who have been with the biggest projects in Georgia for a long time, and they are skilled to make sure you get a high quality live stream, the recording of which you'll be watching every now and again in the future.
The standard package includes:
a selection of best shots for the stream

a rehearsal with thorough sound and video check

a director and several videographers on site

3 video shots + drone

4K quality

phenomenal effect of being there
You also receive a flash drive with your live stream recording in HD quality.
The cost of organizing a live stream with Ori
Starting from $750 for a ceremony in Tbilisi, and from $800 with transfer to other regions of Georgia.
We recommend doing in advance
Make a list of guests who are going to watch your ceremony online. Check their time zone at the moment of the ceremony and what the time difference is going to be. You might want to adjust the time of the ceremony to make sure the guest in different parts of the world are comfortable enough.
We recommend our couples to create their private YouTube channel not later than 3 days before the wedding day, so make sure the live stream is fully activated in time. Then you can share the link with your guests in advance, so that they make sure everything's working on their side and they won't miss a single moment when the ceremony starts. This way you will also know that a restricted number of people have access to your private event. You'll only have to share login info with the videographers team and they'll direct the live stream to your private channel.
We would be glad to answer the questions you might have left about organizing a live stream of your wedding ceremony in Georgia with Ori and to share experience of other couples who've chosen this option for them. It seems like using this opportunity in 2021 for your wedding is a great solution!