Hospitable Georgia is famous not only for its local colour, culture and cuisine, but also for its numerous ancient churches and monasteries. This country was one of the first ones to convert to Christianity in IV century: think of how long and rich the religious tradition is here! In that regard, our couples ask us if it is possible to arrange a church wedding for non-residents. What are the steps for it? What is the language of the ceremony? How to choose the church? The ceremony of the church wedding is a delicate and complicated question, that is why we decided to write a special feature on this topic. Below you will find some information about the formal steps in this process, and also description of several churches that are the most suitable ones for a church wedding in Georgia.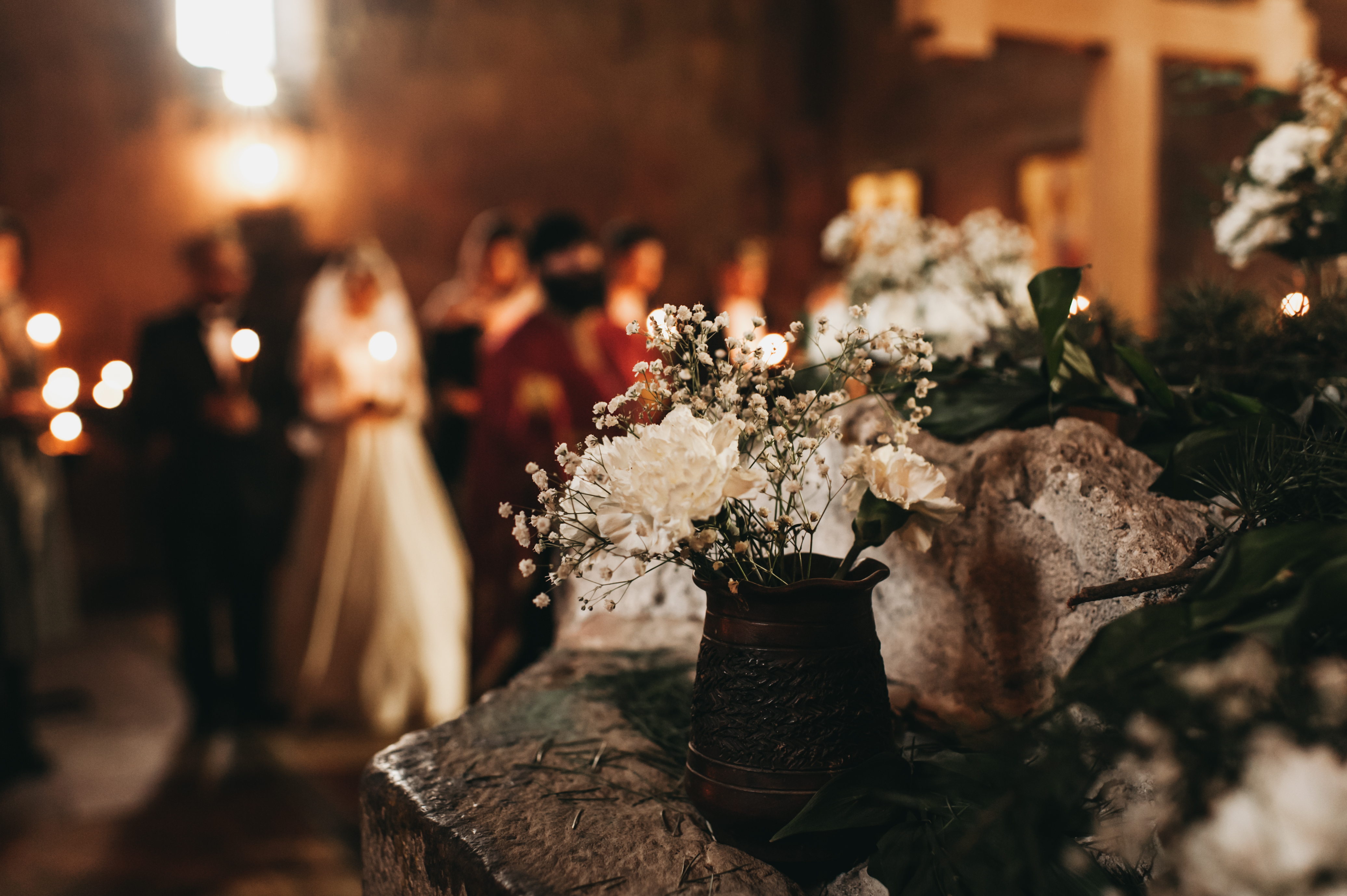 Choosing the church
So, you have decided not only to have a wedding in Georgia but also to have a church ceremony in this beautiful warm country as well. The first question that you face is choosing the location. It is important to note that not every church of Georgia offers an orthodox ceremony for foreign citizens. This is due to the fact that most of the church services are held in Georgian: a lot of priests do not agree to conduct this service if the couple doesn't understand its language. Therefore, as soon as you make a decision considering the city for your wedding, you should better consult with your wedding planner regarding the availability of the ceremonies for foreigners in this particular church.
Church wedding in Tbilisi
Tbilisi is probably the most accessible and democratic option for the orthodox couples who don't speak Georgian. Firstly, in Tbilisi there are three Russian orthodox churches — St. Alexander the Neva church, The Archangel Michael church and Lurji (Blue) Monastery. All of them have services in Church Slavonic language.
Secondly, there are several cathedrals where you can have a church wedding in Georgian language. First and foremost, it is the main cathedral of Georgian Apostolic Autocephalous Orthodox Church — Sameba Cathedral. This grand building is among the highest orthodox cathedrals in the world: the wedding ceremony at this place will leave a truly unforgettable impression in your heart! The second-most popular places in Tbilisi is the Sioni Cathedral of the Dormition, which was previously the main cathedral of Georgian Church. This uniquely beautiful church is smaller and more cosy than the new one, so it will be more suitable for a private ceremony.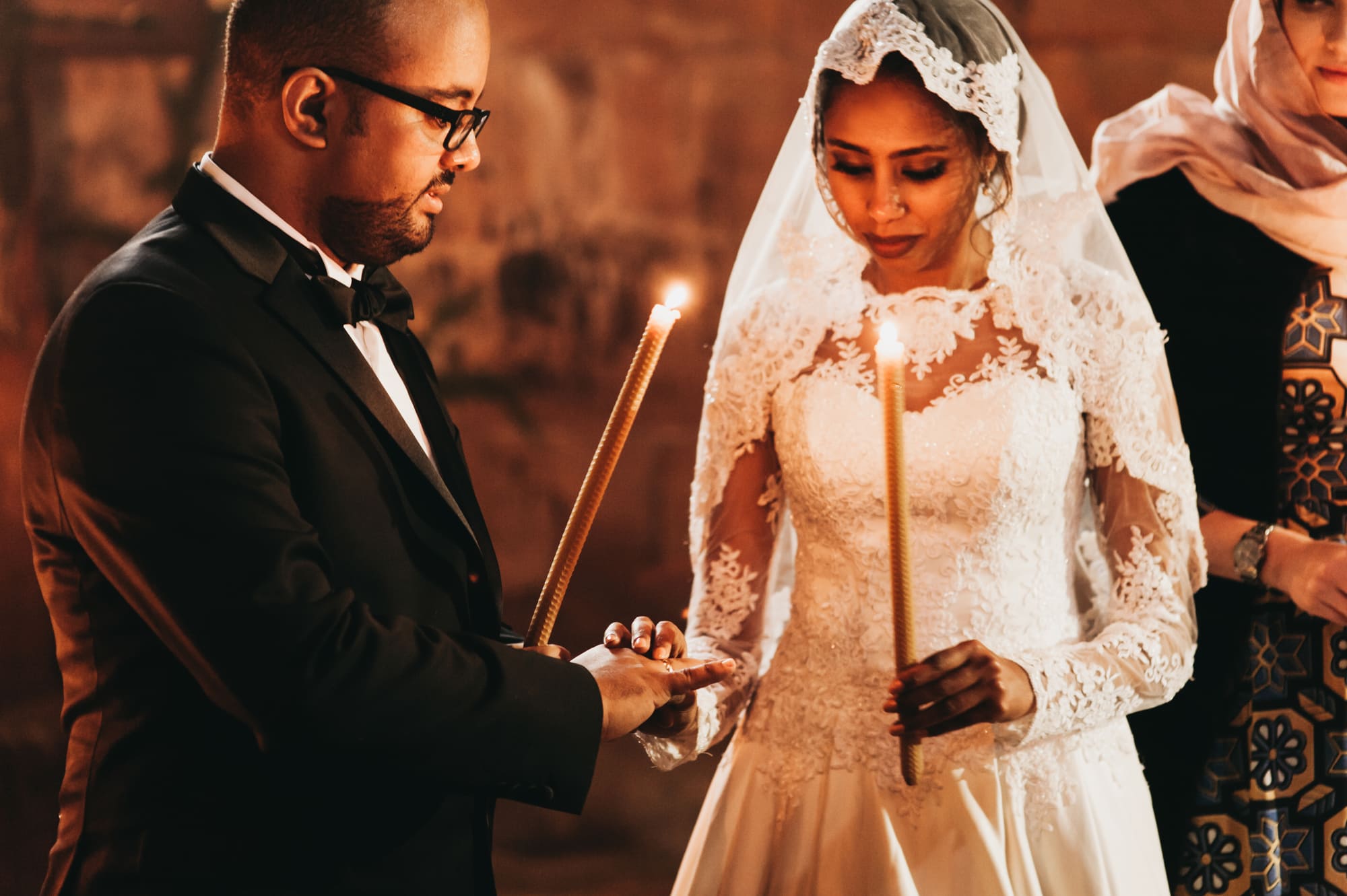 As soon as you make a decision considering the city for your wedding, you'd better consult with your wedding planner regarding the availability of the ceremonies for foreigners in this particular church.
Mtskheta and Jvari
Forty minutes from Tbilisi, there is a famous old capital of Georgia Mtskheta and a Jvari Monastery situated not far away from it. The central sight of Mtskheta is one of the oldest cathedrals of Georgia — The Svetitskhoveli Cathedral. This holy place is recognised by Unesco as a World Heritage Site. Thanks to this, thousands of couples from all over the world choose this location as a place that will unite their hearts in a sacred marriage. We also recommend to consider the Jvari Monastery, one more church with a centuries-old history. It was built in the VI century, and from the area in front of it, there is an unforgettable view of the two rivers' confluence. This view became a classical symbol of many Russian and Georgian poets. You can combine church marriage at Jvari with a photo session against this amazing background: it will surely complete this special day!
Marriage in the mountains and by the sea
If you prefer the mighty mountain scenery and you want to have a church wedding surrounded by magic ridges, swift winds and breathtaking views, you'd better choose the Trinity Church in Gergeti village, close to Kazbegi. You have probably seen the stunning views from the famous Rooms Hotel Terrace: imagine what a meaningful experience it will be to have a wedding at this grand mountain peak! It feels like you really get closer to God there… Remember also that the ceremony at Gergeti church is held in Georgian only.
For the couples who prefer the atmosphere of a seaside town, we can offer the wedding ceremony in Batumi. The Holy Trinity Church may become a great place for this ritual. It is located on a high mountain Sameba and the ceremonies are held only in Georgian. Otherwise, if you are looking for a wedding in Russian, we could help you to find a good location with services in Russian.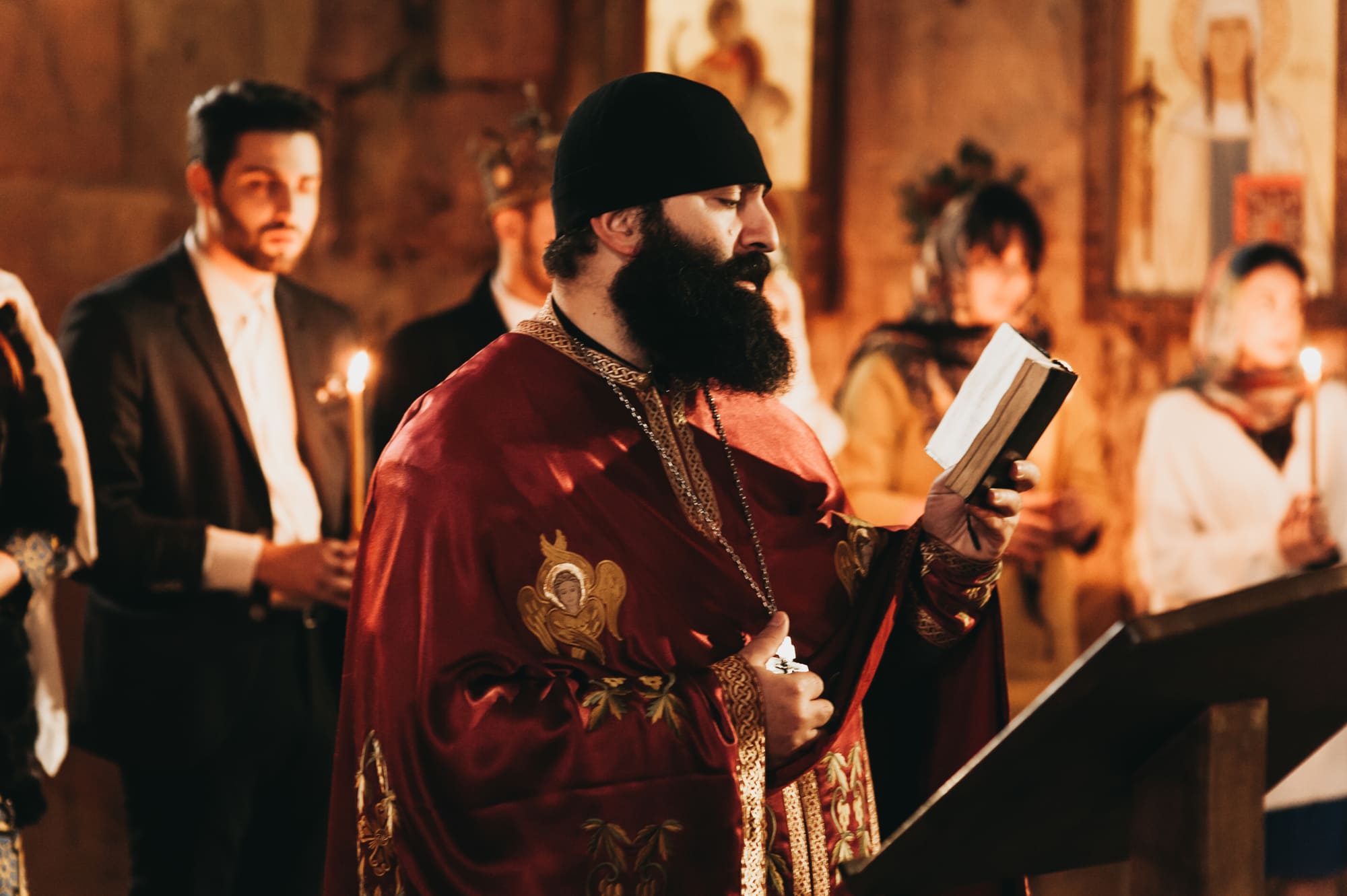 Preparing for the ceremony
The requirements for those who have decided to have a church wedding are quite simple. Firstly, the bride and groom must be baptized as orthodox Christians, they also must not have any other marital relationship. It is recommended that some time before the ceremony, the couple spends in fasting and praying. They should also go to confession and take communion in advance. On the wedding day, the couple arrives at the church beforehand in order to have an obligatory conversation with the abbot. They should also have their passports and wedding rings with them and provide two baptized witnesses. In case you are planning a private wedding just for two of you, we will be glad to arrange the presence of the witnesses. Finally, take into account the orthodox calendar in Georgia: church weddings are not held on Wednesdays and Fridays, during the big orthodox holidays and during the fasting periods.
Catholic church wedding
Georgia attracts not only orthodox Christians but also Catholics, that is why we want to make a brief comment on the catholic ceremony. We suggest that you consider St. Peter and St. Paul's Church in Tbilisi, as it is the most democratic location. In order to have a wedding church here you only need to provide your baptism certificates, certificates confirming that you have passed special courses at your church and the permission from your church to have a wedding in Georgia. The catholic wedding may be held in English, Italian or Georgian languages.
***
Since ancient times Christian traditions have been honoured and respected in Georgia. So having marriage in this particular country will become one of the most meaningful and symbolic events in your life. Ori Agency Team are always happy to give you the most reliable information and help with the organization of this important day.