To estimate a destination wedding cost might seem quite a challenge, as the wedding is an occasion consisting of too many parts. How can one find out the price for specific wedding day elements, such as marriage registration fee or a DJ for example, while being in another country? In this article, we try to help you gain an understanding of the wedding services cost in Georgia (country), and show you what the prices depend on. We also share a couple of secrets on planning your wedding budget and give you a piece of advice on how you can optimize your expenses.
Civil marriage registration
Georgia is a popular spot for couples from different countries and for the couples who for any reason cannot get married in the country they live in. Official marriage registration in Georgia is a very simple and affordable procedure. Its price mostly depends on the country of your residence. For example, a package for most European countries (such as Germany, Russia, Ukraine, Poland) will cost 320$. The package includes applying for registration of marriage, translation of the bride and groom's passports, translation and putting an Apostille on your marriage certificate.
For certain countries that haven't adopted the Apostille Convention, an additional consular legalization procedure is necessary. The cost of legalization is different for each country. For example, this service costs $160 for Lebanon, $115 for Qatar, and $170 for Canada.
Civil marriage prices also depend on the city hall which you choose for the ceremony, and the day of the week of your wedding. Rent of the private hall of the House of Justice on a workday costs from $40 and the ceremony at the Mtatsminda Registry Office is from $120.
Besides, you might also need additional documents if you have a common minor child and in case you were previously married. Translation of the birth certificate and a divorce certificate costs $15 per page.
Wedding bouquet and a boutonniere
A wedding bouquet and a boutonniere in Georgia cost $70-150. The prices vary depending on the assortment of flowers. You can order seasonal flowers for example: in this case, you define the color palette and shape of the bouquet, and florists choose the flowers based on your preferences. If you dream of exotic or extraordinary flowers, we recommend you to request specific flowers from Holland. Such a bouquet will be more expensive than the one from the seasonal flowers but the effect from such a unique composition will be fabulous!
In some cases, VAT (18%) and PIT (25%) are added to the price of the vendors' services.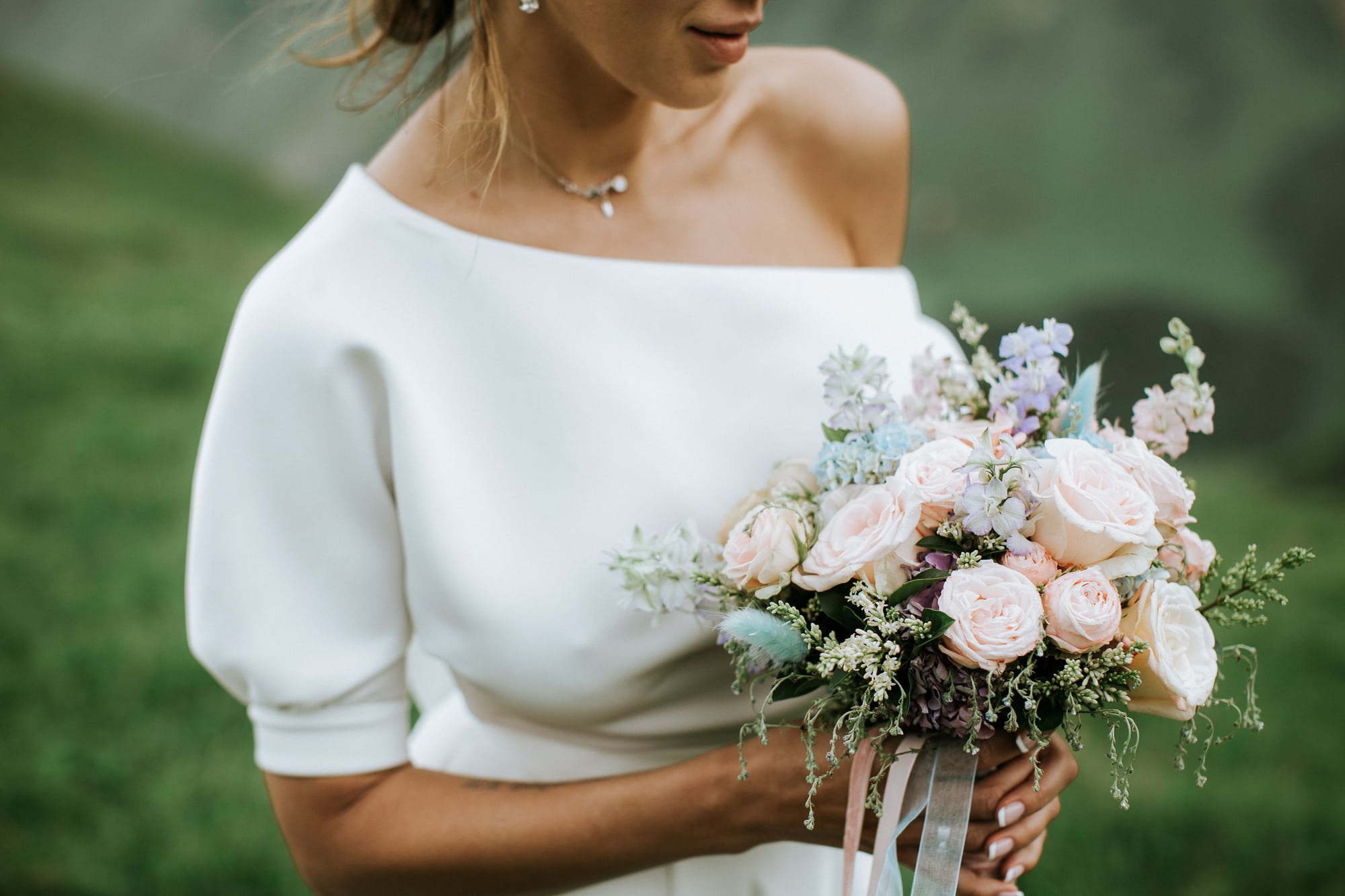 Make-up and hair artist
Regarding the choice of the make-up and hair artist, the key criterion is the location of your wedding. If you are planning a city wedding, you might want to have your bride's look done in a beauty salon. This service starts at $110. For those brides who are going to have a photographer shooting the wedding morning, we recommend having MUAH artist onsite, for example, in the hotel, you will stay at. This service is from $160. Also, you can opt for a service of premium-class MUAH artist to create an unforgettable bridal look according to the best and latest international trends. They constantly learn new techniques and follow all the novelties in bridal fashion. MUAH by such a professional starts from $350 in a salon, and $400 — onsite.
When the wedding takes place outside the city, for example, in Gudauri mountains or Kakhetian vineyards, the cost of a stylist's services rises due to extra expenses on the transportation, meals, and compensation for time. Prices for a MUAH artist in the regions start from $240, and $500 for a world-class professional stylist.
We also recommend our brides to have an additional trial make-up if you have an opportunity to come to Georgia in advance. This service costs a bit more than half the price from the MUAH artist you have chosen.
Photographer
If you travel to Tbilisi just to have all the papers done, it will be nice to have a photographer who will capture the fascinating moment of you saying your vows to each other. The photographer then will accompany you on a short walk around the city center. Such a service will cost $250 for 3 hours. If you are planning a celebration in Kazbegi, Borjomi or Sighnaghi, working hours of a photographer start from minimum 8 hours, and prices start from $550. This amount includes transportation and meals as well.
Moreover, we are proud to say that we collaborate with the best world-class wedding photographers in Georgia whose work is appreciated in many countries. If you want not only technically superb photos of your wedding but a masterpiece of wedding photography you'd better choose this option. We offer several candidates for you to choose from according to their portfolios. The services of a world-class photographer costs from $1000.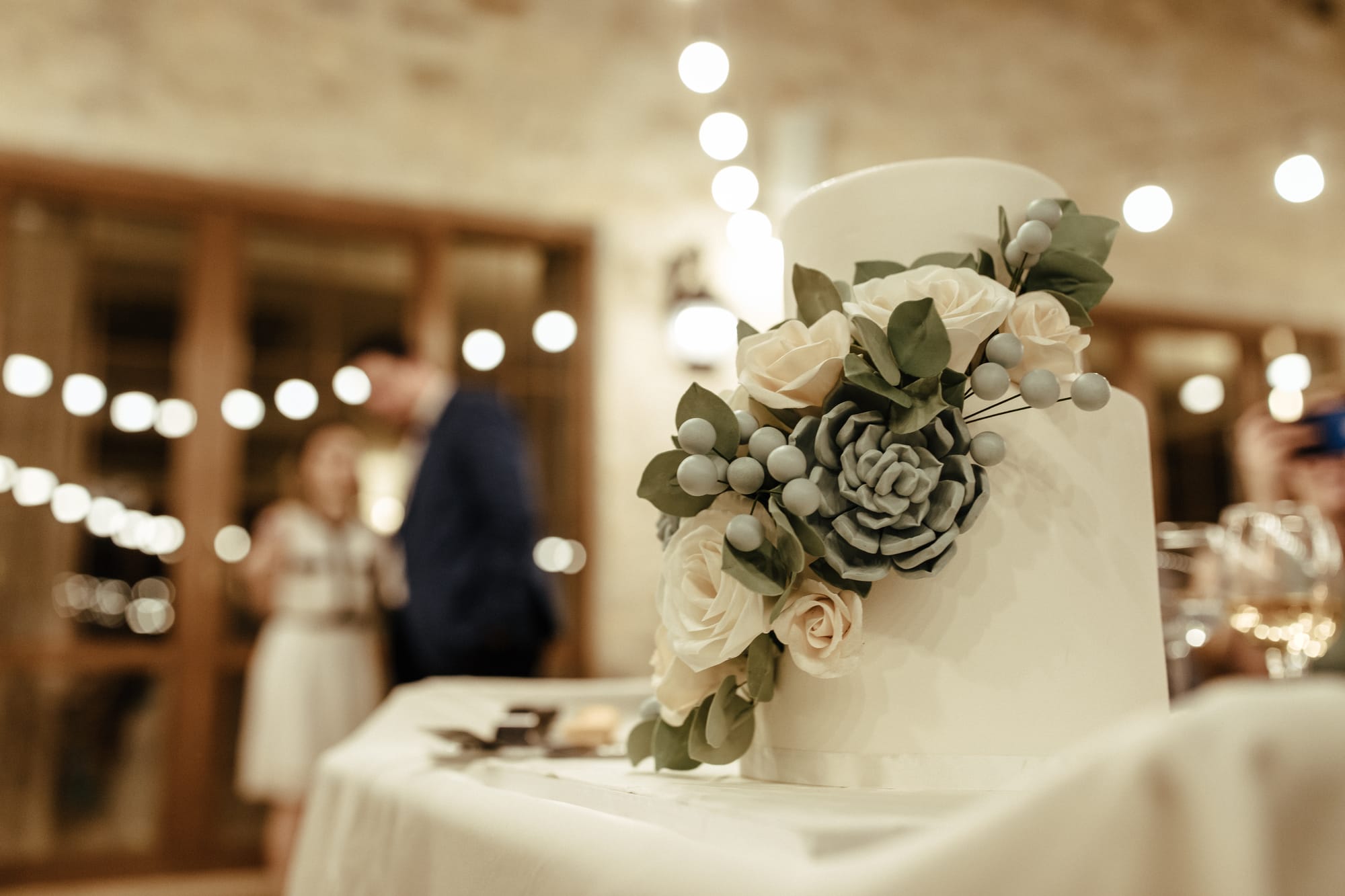 Wedding cake
Prices for wedding cakes vary depending on the region your wedding in Georgia takes place, as delivery expenses form a considerable percentage of the final cake price. Our partners deliver cakes in a special car with a refrigerator, which keeps the cake in a stable position at the right temperature. Such peculiar conditions can guarantee that your cake will be delivered safe and sound. A cake for 15 guests costs from $85, delivery in Tbilisi is $20, outside the city — $125. A cake for 50 guests is from $210 + delivery to the location. We will ask you to choose between a couple of fillings and some standard decoration elements. Any specific elements and unusual fillings are charged additionally.
While preparing for a big family wedding, note that we offer a convenient concierge service for your guests.
Wedding dinner
Prices for a wedding dinner in Georgia depend on the location of your feast. An average price for a dinner for two is $80-90. If you are planning a large family event, take into account the rent policy of the venue you have chosen. For example, if you are ordering a show program for your gala dinner (as a cover band performance or national Georgian dancers), the venue rent or the deposit will be added to the standard price of the dinner. The terms are specific for each venue but we will be glad to tell you about all the details while preparing the quote for your upcoming wedding. 🙂
Decorations for a wedding ceremony
A lot of our couples prefer to have a decorated arch for their ceremony. In Tbilisi, this service costs from $360, in Batumi — from $520, and in the regions — from $650. This price includes transportation of the flowers and construction shapes (we will suggest you choose a preferable shape between a couple of options), transport and meals for the team of florists.
Our florists also offer unique options of arch constructions and exclusive sets of decorations. A premium package costs $660-840 depending on the location and includes a large amount of greenery and flower decor. The exclusive package costs $990-1440. We recommend this package to the couples who are dreaming of a ceremony at sunset: our florists will arrange the ceremony area with flowers, lights and lots of tall candles that will create an atmosphere of real magic filling your beautiful moments.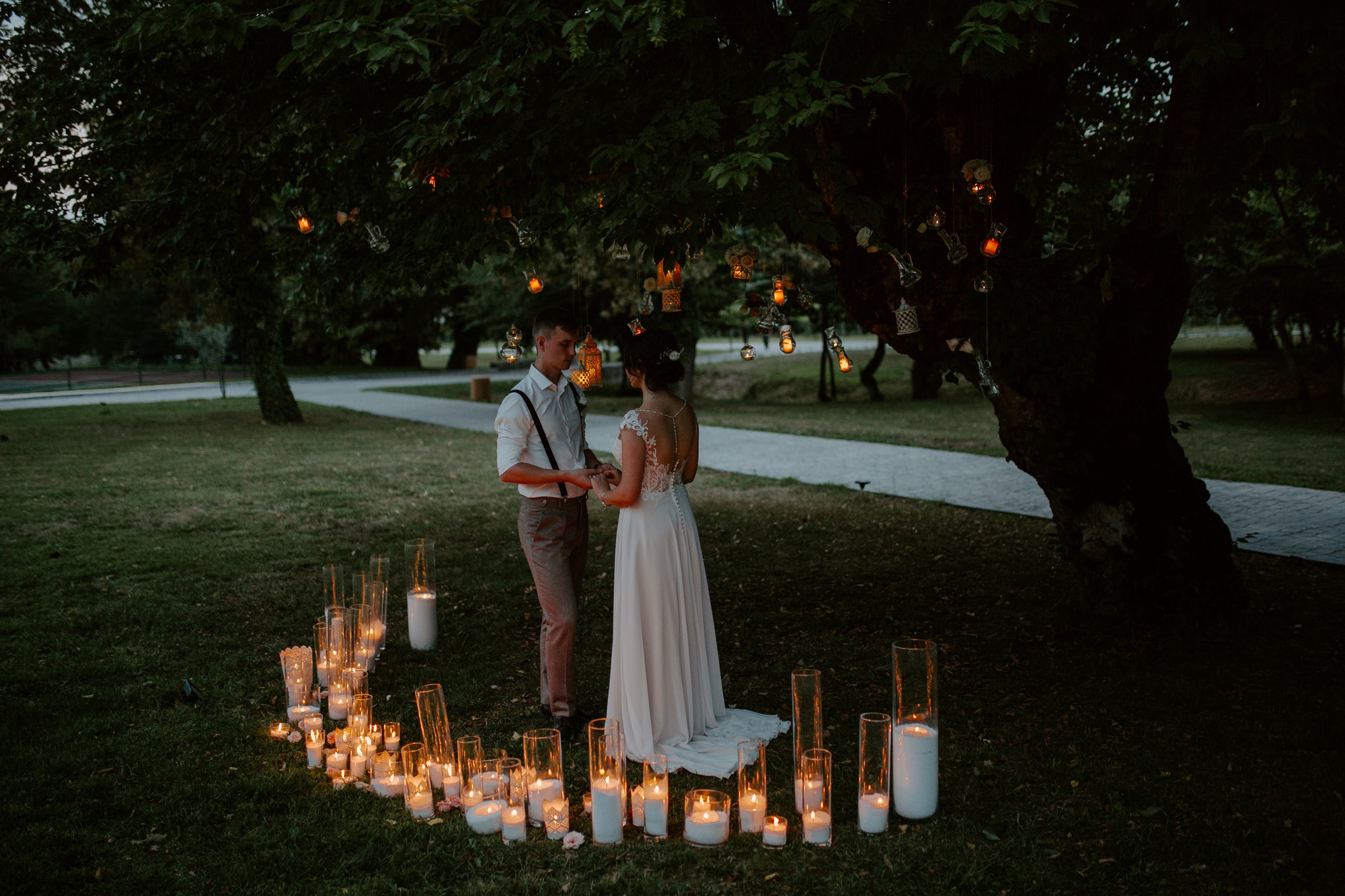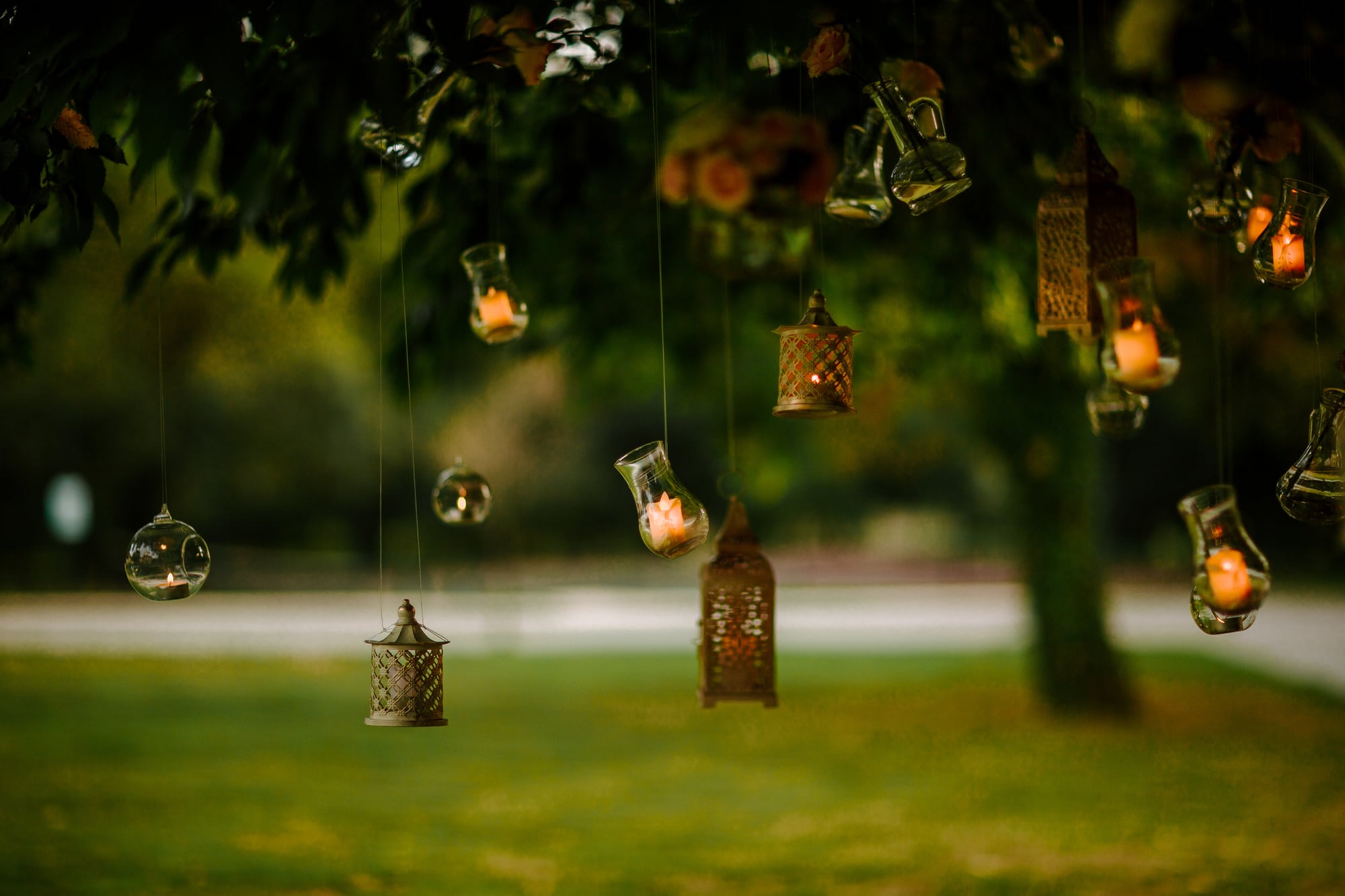 Transportation
A car around the city and some close locations for your photo shoot is perfect for those who are coming to Tbilisi for a private cozy wedding. A standard transfer is from $100, a stylish retro car is from $230, and the premium car — from $210. This amount includes 8 hours of rent, fuel, and the driver's services.
Transport is a significant item of expenditure for the couples who will have a big celebration with a large number of guests. If your wedding will take place outside the city we recommend that you don't rely on the city taxi but have the necessary number of minivans or buses with professional drivers that will make sure your guests reach the venue in safety and comfort. A minivan for 18 people is from $155, and a bus for 55 people is from $375, for example. The Russian-speaking driver's services and fuel are included. To the couple, we suggest having one of the same car options we mentioned for Tbilisi. Likewise, a standard transfer in the regions is from $120, a retro car is from $320, and a premium car — from $255.
Videographer
When inviting a videographer to your wedding you get a short video of 3-5 minutes, which is shot with the help of a drone. Prices for such a video made in Tbilisi start from $440 (this includes the meal for the operator), and $490 out of the city (this includes transportation and meals). In case you are planning to have a wedding dinner with guests and a show, you could also request an additional movie about your wedding day (30-40 minutes long), that will become a sweet memory for everyone who took part in your celebration. A short clip and a film in Tbilisi cost from $550, and $650 in the regions. Moreover, we collaborate with premium operators specializing in wedding films. Their services cost from $850, including both the short video and a long film.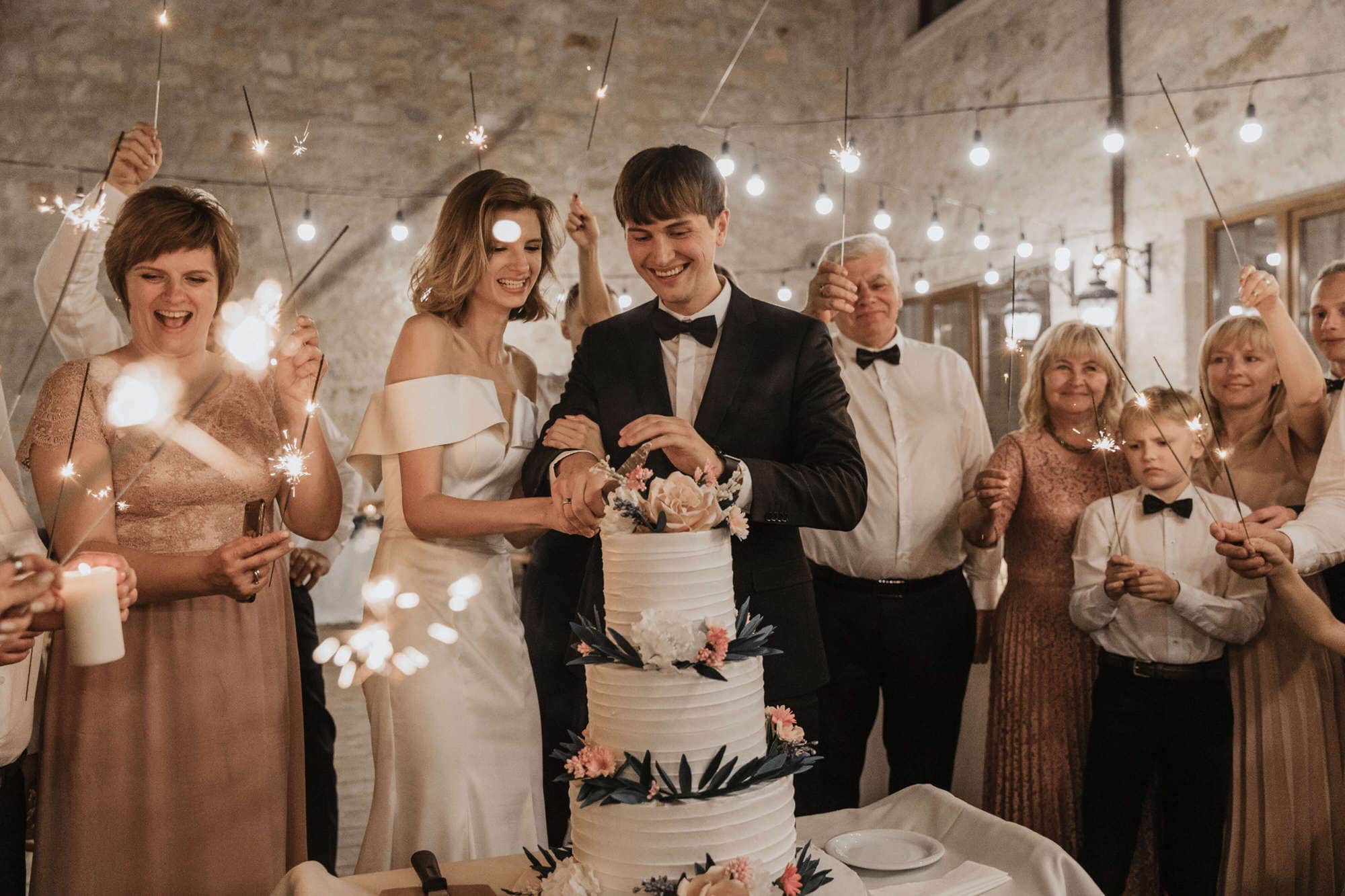 What do you need to consider while planning your wedding budget in Georgia?
First of all, the budget of your wedding in Georgia depends on the number of guests. The bigger the number is the more dinner decoration and transportation you will need.
A marriage registration fee and a venue rent may vary on different week-days, months, and seasons. Some venues have special offers for a low season and additional discounts for workdays. A wedding on a workday might become a good way to optimize your overall budget.
The region where your wedding will take place plays a major role, as well. For a wedding outside Tbilisi, in the mountains or in the vineyards, transportation for the couple and all the guests becomes an important expense. Don't forget about the meals and time compensation for our vendors.
Many vendors who we cooperate with are not registered as individual entrepreneurs in Georgia (for example, international videographers, photographers, and make-up artists). That is why we must add VAT (18%) to the price of their services.
Do not forget to add the necessary amount of umbrellas and blankets into your budget if you are planning a wedding in the mountains. Even the summer nights might be cold and windy.
If your wedding quote has two of the three items — dinner, transfer, and accommodation, the wedding will be considered a touristic project in Georgia. Therefore, it will not be subjected to VAT. Otherwise, if there is, for example, a MUAH artist, wedding bouquet, and dinner (only one or none of the required items), we will add a VAT (18%) to the price of planning your wedding.
Also, you will need to add the rent of chairs for your guests if the ceremony takes place in the vineyards or in the forest for example.
In case you are planning an international wedding, we suggest that you invite a host who speaks two languages (Russian and English). He will be able to entertain all the guests at your celebration. Such service costs from $650 depending on the destination and the number of guests.
While preparing for a big wedding with lots of guests you could order an additional concierge service. The prices start at $100 and also depend on the number of guests. The service includes communication with the guests before the wedding, collection of all necessary information for their stay in Georgia, and counseling guests on all matters concerning their stay. Our concierge can also help them book MUAH stylists.
Certainly, a wedding day does not only consist of these categories. Visit our destinations list to compare various wedding packages we offer depending on the region and the venue. We hope that our calculator will let you estimate your wedding budget. Otherwise, in case of any further questions, please feel free to contact us. We will be happy to help you with the specifics of your upcoming special day.