You often ask us about how we got to Georgia, what we do here and what we love in our work most of all. We decided to meet together, discuss the most popular topics and share our stories with you. In this article, we talk about our work, about our dreams and plans and, of course, about beloved Georgia. We hope that our sincere stories will let you see that we are passionate dreamers, responsible professionals and just caring people. Let these stories help you get to know us better and entrust your special day to us!
We and Georgia
Anastasia. I fell in love with Georgia from the very first day I spent here one year ago. Then I came back. And then decided to come for a month without a return ticket, as the last half a year in Moscow my heart and thoughts were already in Georgia.
Evgenia. I was fond of tourism and often traveled to different regions in Georgia. However, a move to another country with its mentality and culture became a real hardship for me. I love Moscow with all my heart, that is why a change in the city was not easy. In the first months, I missed my parents and even thought of coming back, but work helped me escape from such thoughts. After all, it is necessary to find something interesting to do and plunge into this new occupation to get used to your new life. Work at Ori became such an occupation for me.
Yulia. Career was always more important for me. By the moment I met my future husband, I realized that I must have more rest, even though I worked till the very last minute in Moscow. I wasn't ready for a move to Georgia at all because of this. The adaptation period was also hard for me, as I didn't have a chance to fully understand what I was doing. Anyway, the most important thing for me was that I trusted the person I loved, I knew he would support me no matter what.
Anna. I graduated from a school in Tbilisi and lived many years in Rostov in Russia. Once I met my childhood friend from Tbilisi, we resumed communication and then decided to get married and stay in Georgia. That's how I found myself in Tbilisi for the second time.
Alexandra. Last April my boyfriend and I decided to move from Sochi and began to check the possible options of comfortable life and opportunities for career development. That's how we got an idea of going to Georgia. Just two weeks later we were in Tbilisi. In two more weeks, we got married in the city of love Sighnaghi.
Elena. I was born in Tbilisi and worked in tourism for six years. During that time I traveled all around the country, I've been to every region, except Tusheti with its legendary road, one of the most dangerous ones in Europe. My favorite destination is Svaneti. I truly adore mountains and cold, that's why I try to go to the mountainous regions as often as I can. I also dream of a house in the mountains, so I could spend less time in the city.
Irma. After school, I studied in Budapest for a year. Everything at that time, comparing with Tbilisi, was new and exciting for me: open-minded people, level of service, entertainment, modern technologies. No matter where I travel, however, my heart still belongs to Georgia!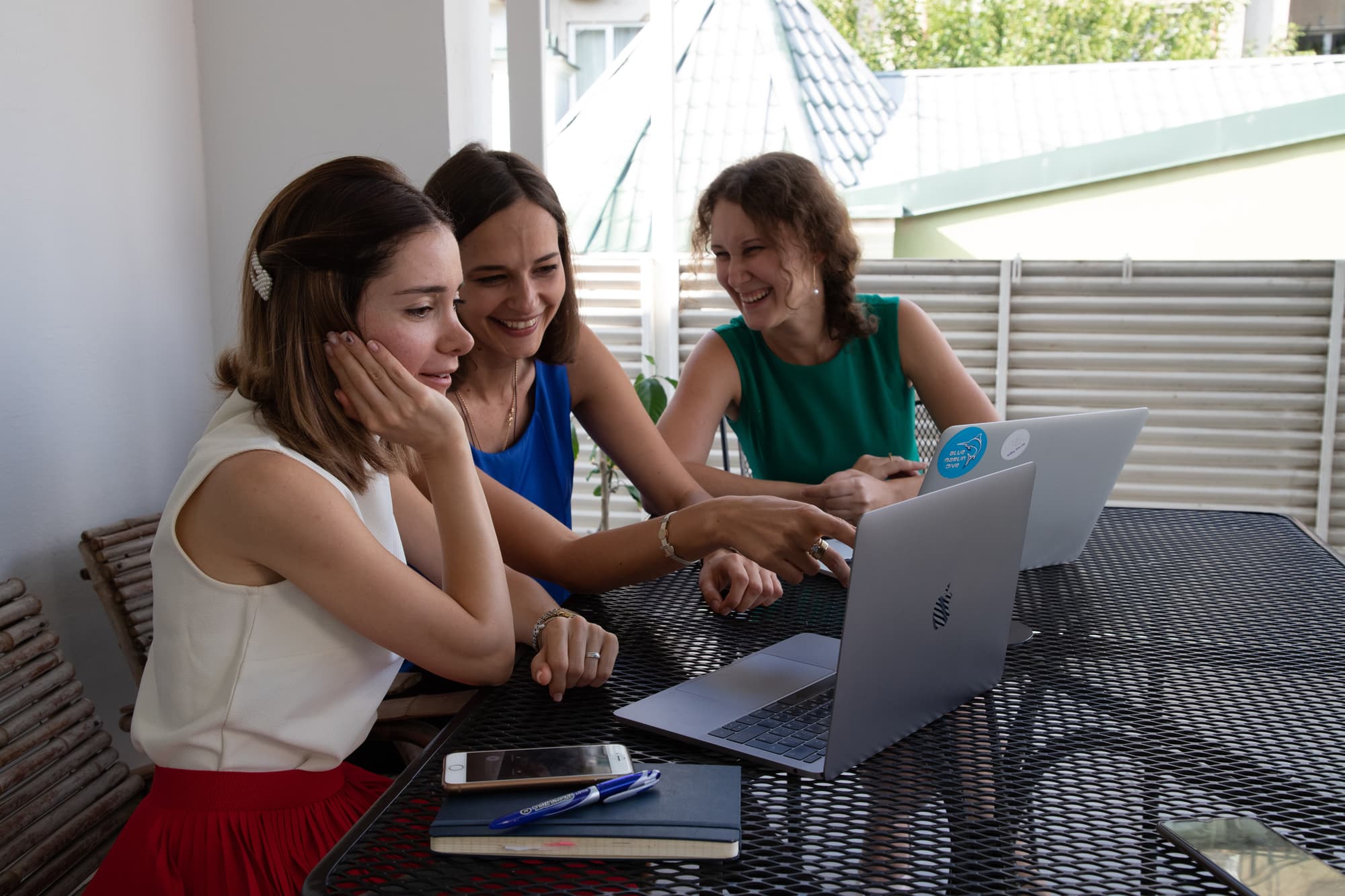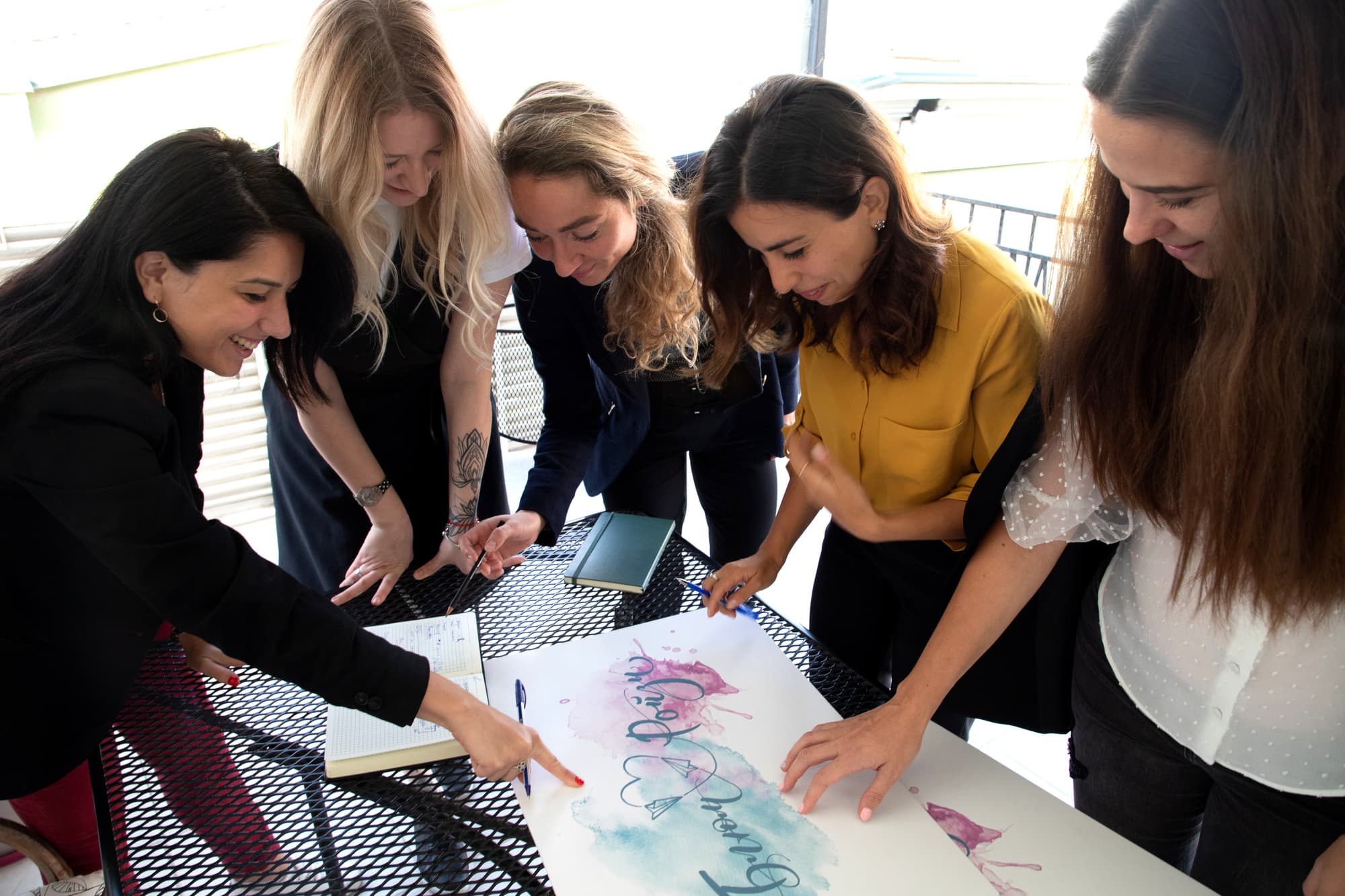 We and Ori
Irina. My acquaintance with the wedding sphere began with the film "The Wedding Planner" when I was at school. Back then I already understood that a wedding is something beautiful and very responsible. At that time, I was sure that I could never be a part of this magic. A dream of wedding planning seemed to be too bald and unrealizable.
After graduating from Moscow State Linguistic University, I returned to Tbilisi, my hometown. Here I happened to successfully organize a couple of big international conferences without having any relevant experience in event management. Then there was my friend's wedding, and then – my sister's wedding. I did both of them. Just like this, unpredictably, life brought me right in front of my dream.
At the beginning of 2017, I became a member of Mandarini Wedding team, and by the end of the year, I came to Ori which was just created. While working at Mandarini and Ori I learned a lot not only about weddings but also about myself. I am thankful to this job for all the good qualities which it raised in me. Only after coming to Ori, I realized that I was out of place for a very long time. Now work takes about 60-70% of my life, and sometimes I even notice that I miss work when I am with my friends. 🙂
Evgenia. When I came to the company, there were just 4 of us. During the next year and a half, our team grew up to 10 people. This makes me happy as we put a great deal of time and effort into developing the agency! Work at Ori is no longer just work with a schedule, it became the thing I truly love, so there is no more difference between weekdays and weekends. Frequently, every single minute is scheduled and important calls might turn up at any time. Now I am literally about to get the baby but at the same time, I am still dealing with weddings and solve everyday questions. For example, finishing this article.
Alexandra. In the beginning, I had certain concerns considering job search: I thought that I couldn't find a decent work without knowing Georgian. I was lucky because I found Ori.
Anna. When I began to look through available vacancies, Russian-speaking companies were in the priority for me. Moreover, I've always dreamed of a job connected with foreign languages and traveling. I found all this in Ori. We don't stay in the office till late hours, we often complete errands around the city and travel to other regions for work.
Elena. I enjoy dealing with beauty. I liked the website at once, especially the photos of beautiful wedding decor on the main page. After all, it is crucial where and with whom we work. Here I also understood that wedding planning is a huge responsibility, as a wedding day will never repeat and we don't have the right to make mistakes, as Irina says.
Irina. My motto is "One day — no right to fail". Also, I always aspire to make an extra step, do more, as my team and I represent the country, our culture. I feel a great responsibility to the couple and their guests.
Work and team
Evgenia. I am incredibly lucky to have my team: both Ori team and a group of the partners we've been working with for years. A trip to a wedding is a real celebration for us, it's a reason to meet friends while doing our favorite work. It is essential to me that I see the dedication and commitment of my colleagues. The ability to care has become one of the most important principles for us: we tend to live through a wedding as if it was our wedding, for example. At night we can have long conversations with colleagues, we look for the best decoration options, work on the speeches for ceremonies.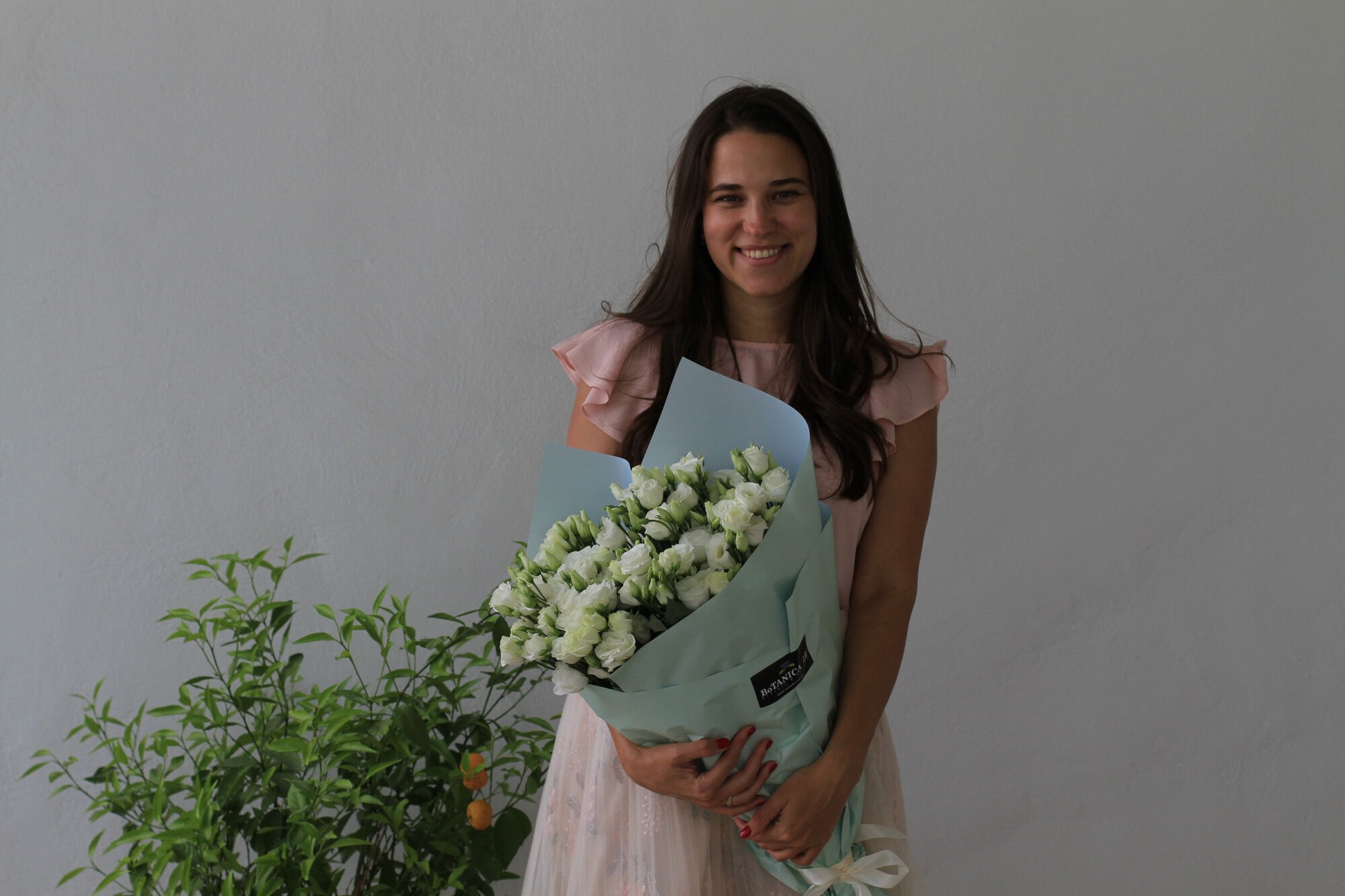 Irma. I've been working in sales for many years, but work at Ori gave me completely new emotions. Company culture, communication with the couples, personal impact and experience exchange. Here I feel respect towards the employees. I also see that our leaders consider employees must have various opportunities to develop and study. During my free time, I love to attend courses connected with my professional interests. It's great that now I can do it during my working hours as well! 🙂
Alexandra. I am convinced that Sochi couldn't give me such a job as I found here in Tbilisi. I participated in large-scale international projects, I took part in creating the Olympic Village, organized the building of the Crimean bridge. All of this was an incredible and important experience for me. However, what I do here in Ori is no less important for me. I continue to learn English, attend different courses and acquire skills that are valuable for my personal growth as well. Preparing a detailed budget for a couple has become a real art for me. I consider it as a creation of their special day – responsible and exciting!
Irina. Over the years of work in both agencies, I've learned how to create a certain microclimate at my weddings. I never put the comfort of the couple and their guests high above the comfort of the team: I aim to put them almost on the same level. I believe it is necessary to have a certain harmony, respect, and attention toward each other on-site.
We love, we dream
Anna. Not long ago, I got married and I did the entire planning myself. To tell you the truth, some work projects were sometimes not less exciting than my own wedding…
Irma. My dream is to create something that will be useful for the entire humankind. I would love to leave something significant after me. I haven't chosen the particular sphere yet, but I am completely sure I will do it one day! As for the personal dreams, I want to jump with a parachute, try surfing and have a motorcycle.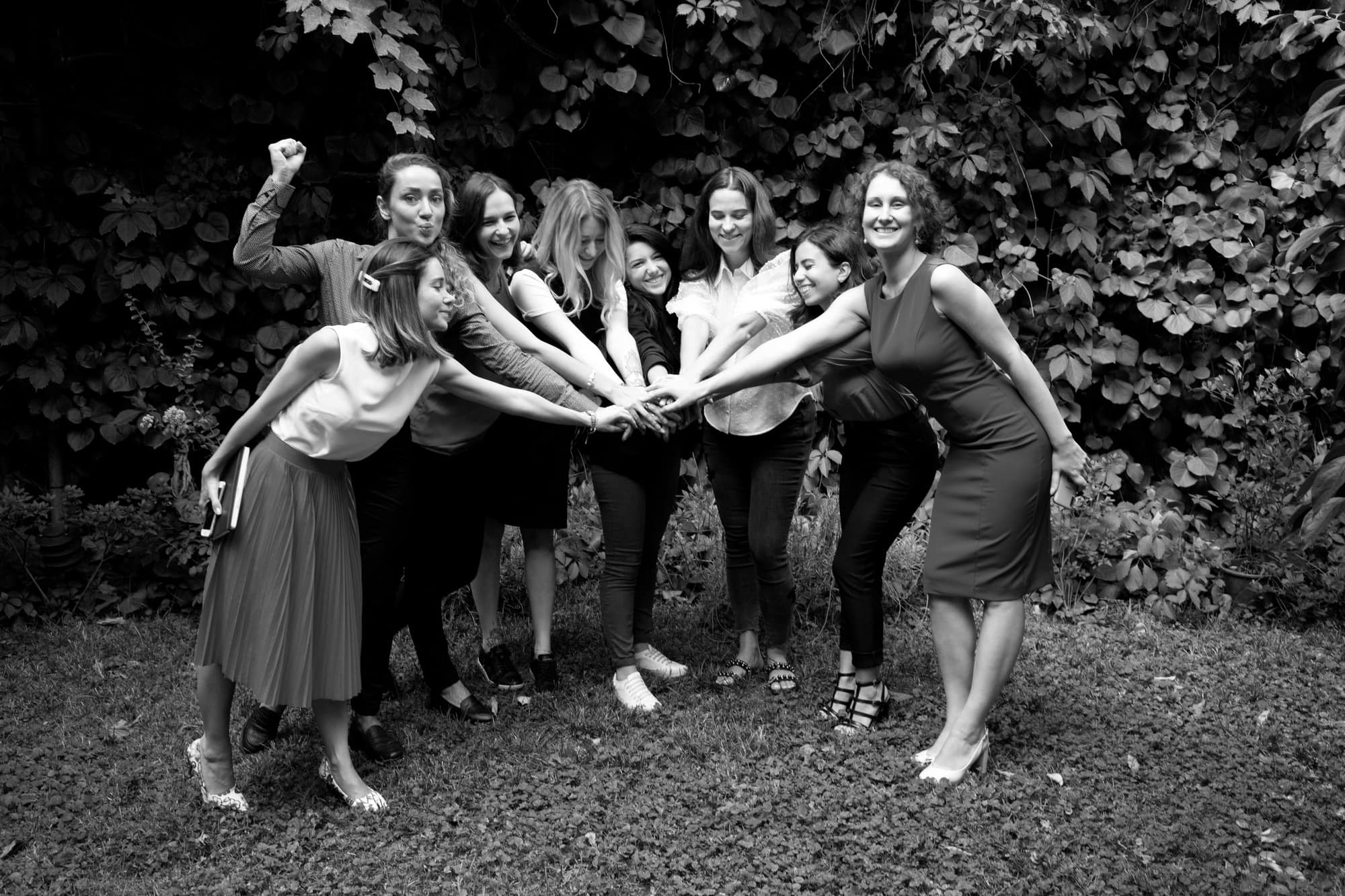 Alexandra. While traveling I'd love to dive into the culture of the country and learn some habits and ideas. The idea of travel, as I see it, is in the exchange of positive experiences of nations. Getting to know another culture, we should extract the best from it (such as up-to-date methods of taking care of ecology). Now I'm very attracted by Asia with its authenticity and Portugal with its pure individuality.
Anna. My father is a doctor, he taught me a lot of stuff, so for a long time, I've wanted to follow in his footsteps. I read a lot of medical literature, and in the ninth class instead of a biology report, I made a report about schizophrenia! Now at weddings, I'm constantly followed by medical stories: now and then I have to consult guests as far as my knowledge and experience allow me to. Recently, for example, I helped a bride's father with risky high blood pressure. It is surprising that sometimes information that seemed useless one appears to be very helpful and even life-saving years later. This is the reason I am always open to new knowledge.
Anastasia. All my life I have worked with photography more or less, but I rarely find myself in the role of a photographer. As it happens, now my personal dreams are connected with my professional ones. While planning a wedding I have lots of opportunities to implement my creative potential: I make videos on-site, I take photos and edit them. In the future, I'd like to try myself in video editing, professional photography and maybe even floristry.
Yulia. I've always craved for art, and I also thought of floristry and photography at some point. Now I feel that a search for work-life balance came to the forefront for me. On high season it is especially hard and necessary.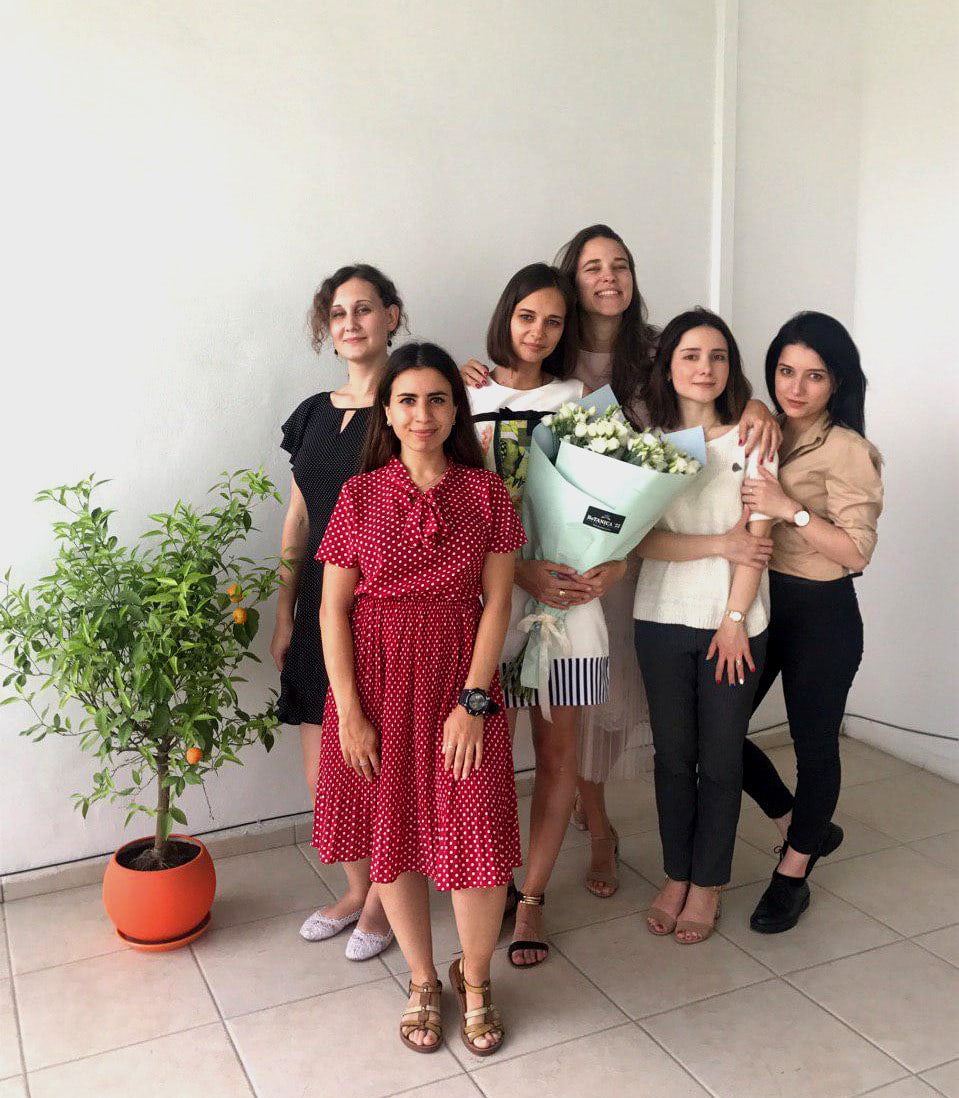 Irina. At the beginning of my wedding career, I formulated a mission for me: to introduce the Georgians to the idea of professional wedding planning. This tradition is just emerging among Georgian couples. I am happy that Ori shares my goals: we have just translated our website into Georgian and now we are expanding our collaboration with banquet halls in Tbilisi. Moreover, I've been dreaming of Italy for a long time: I'd like to do a wedding at the Como lake coast. I study Italian in our corporate app for learning languages. Luckily, Ori supports me in this as well. Who knows, maybe one day we'll open an Ori branch in Italy?
Evgenia. Lately, I began to dream of change in people's minds and attitudes to animals and the environment. Homeless animals, huge amounts of garbage, disrespect to nature… I wish people learned to be more careful with these fragile intangible values that we have and appreciated simple things: warm sun, blooming trees, sea.
***
We hope that these short notes could show you how passionate we are about what we do, how we appreciate and love our couples, how responsible we are about our special task — creating a truly beautiful celebration of love. We have lots of interesting stories and facts which we are happy to share with you. If you are curious to know more about our company, check our team account on Instagram. We regularly share our experience and news there and also tell about funny or unusual occasions from our wedding weekdays.