Choosing a location
Choosing a wedding location is always a very difficult and long process, as you have to take into consideration many important nuances. One of the most important components of a beautiful wedding day is favourable weather conditions. How to choose the best location for a wedding in Georgia and do not miss the weather? This question we often hear from our couples. It is very difficult to make a decision in favour of one or another month when you are thousands of kilometres away, only looking at beautiful photos and listening to advice of your friends who have visited Georgia. In this question, you should better consult with professionals, as it is important not to forget of any little detail, which average tourists sometimes miss during their trips. Applying for our consultation, you acquire the full understanding of weather conditions of the region you prefer. Therefore, it becomes very easy to think through the plan B in case of bad weather. Below we will try to orient you and give the right advice considering the choice of location and season for your wedding.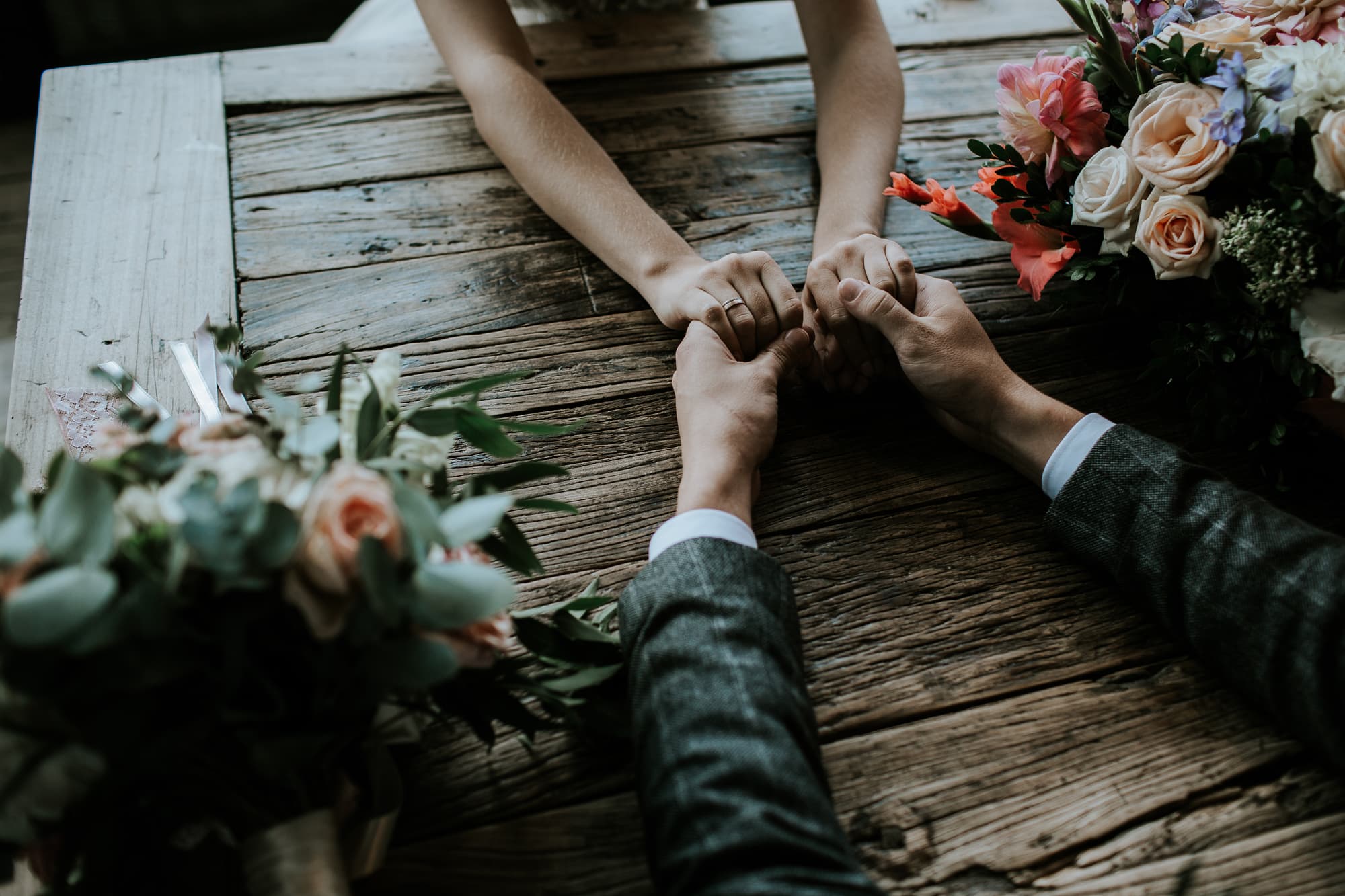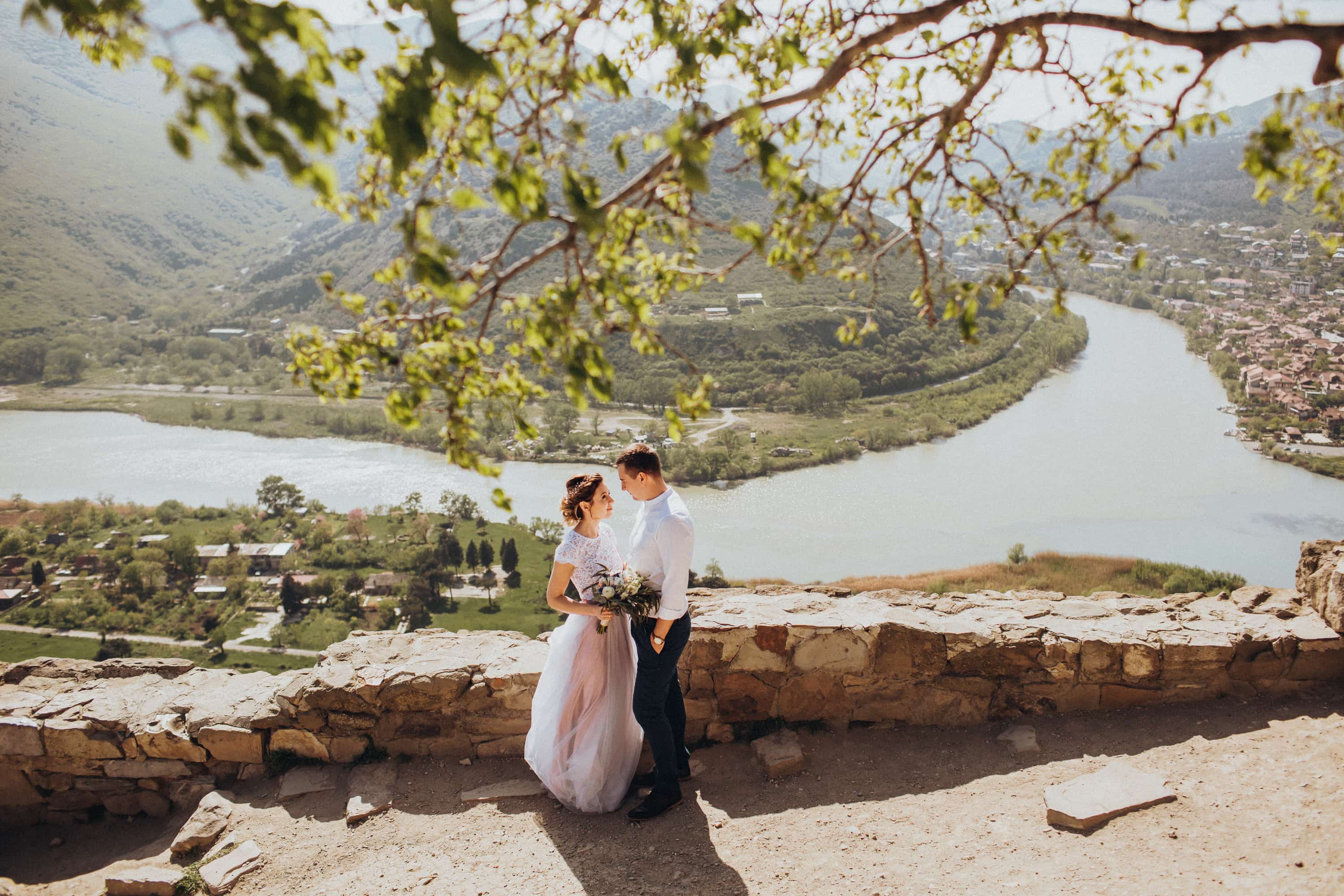 Wedding in Tbilisi
The season begins in April and lasts until the end of October with a short break in hot August. Sunny weather is 80% guaranteed, so there is large number of beautiful ceremonies overlooking Old Town. Colourful rooftops of closely located houses, narrow streets and famous picturesque courtyards: at any time of day and year you will surely get the most amazing photos here — soulful, impeccably beautiful and full of mystery. However, it is need to be said that you should take into account the occasional heavy showers, which usually start completely unexpectedly. For this reason, you need not to forget to provide umbrellas for your guests or plan an additional option of an indoor ceremony.
Forty minutes from Tbilisi, there is an ancient capital of Georgia, Mtskheta. It is another beautiful location for a ceremony: on the very famous platform overlooking the confluence of two rivers, Aragva and Kura. This place is truly special and if you are lucky with the weather, the ceremony and photo walk will be just magical.
Wedding in Kazbegi and Gudauri
Weddings in the incredibly popular mountain region are worth celebrating from late June to early September. No doubt, the mountain landscapes of the Caucasus attract with their grandeur and mystery, but please take into consideration a very important factor of instability of favourable weather conditions for holding a ceremony and an outdoor wedding dinner. The weather in this region sometimes changes every hour: in the morning during the bride's preparations, it might be sunny, it is overcast at the ceremony, but during a photo walk and a wedding dinner, a heavy rain can pour. As our multi-seasonal wedding experience shows, this heavy rain can last from one hour and to infinity. This weather scenario can be vice versa as well: at the beginning of the wedding day, it might be raining, and then everything is fine. In other words, weather in the mountains is almost unpredictable.
We always monitor the weather forecast in advance and try to prepare everything for Plan B.
We, as the planners, are responsible for the happiness and joy of the couple and guests on the wedding day. We always monitor the weather forecast in advance and try to prepare everything for Plan B. Umbrellas or transfer of the ceremony indoor might look far less touching and romantic than you have always been picturing it in your dreams originally, but the capricious character of weather cannot be ignored in the mountains. We fully share the desire of the couple to say vows to each other amidst the mighty mountains, but it is our direct responsibility to warn you and tell about all the pros and cons.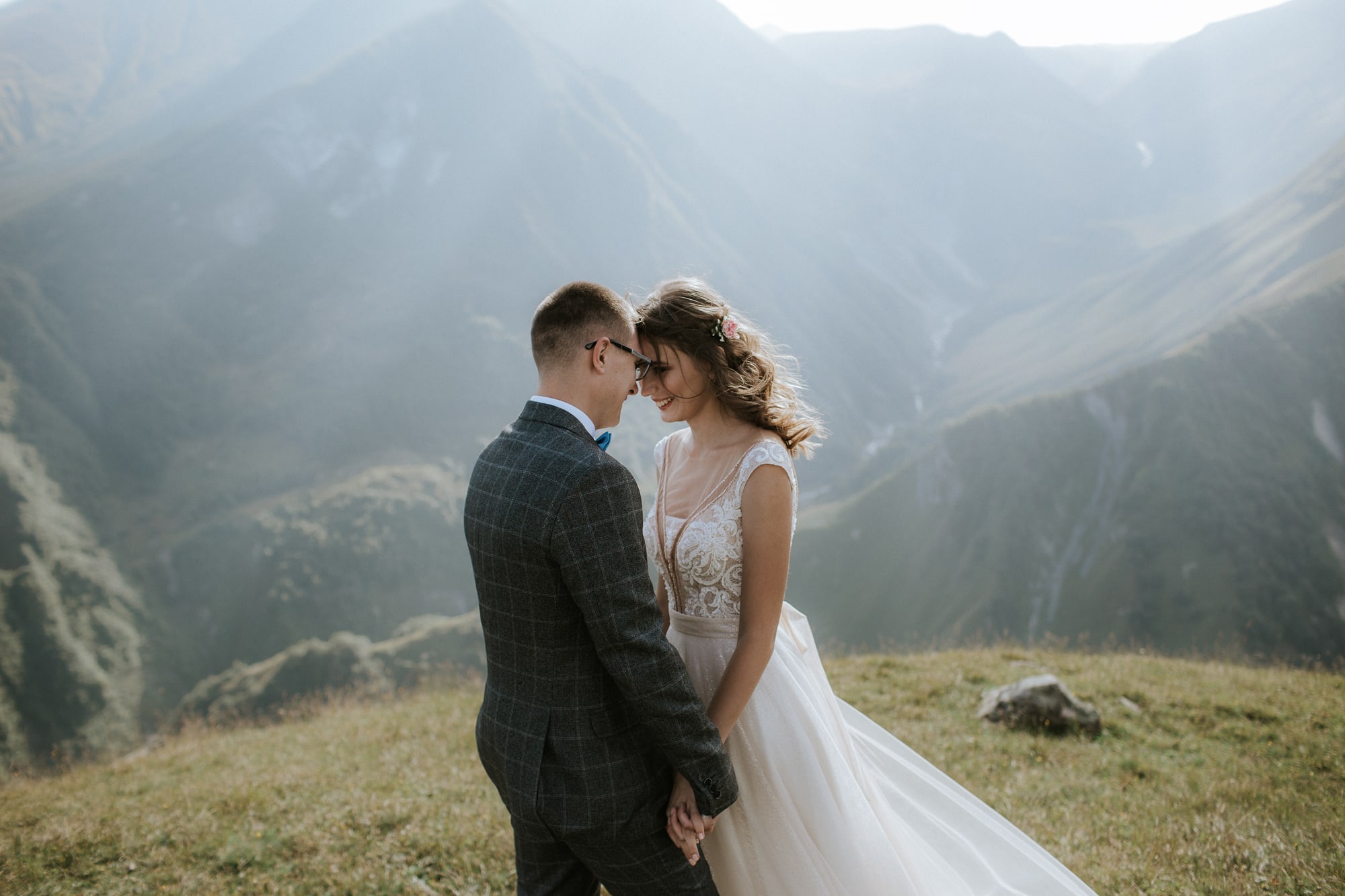 You can never have enough mountains
It is very important to understand, when choosing a date for your wedding, that, for example, it is not recommended to consider the mountainous region during the winter months because of frequent snow drifts on the pass. Guests of Kazbegi and Gudauri frequently find themselves stuck in the mountains because of the road closure. Meanwhile we will help you to pick up mountain locations with snowy landscapes not worse than Gudauri and Kazbegi. Some of those locations are not far from Tbilisi. Fairytale Borjomi and picturesque Bakuriani are among these newly discovered locations. Think of an autumn wedding in Borjomi for example: you won't find such a richness of colours and landscape anywhere.
Please do not give up the idea of a wedding in the snow-capped mountains — just give us the opportunity to show you the new mountain landscapes, and we will not let you down!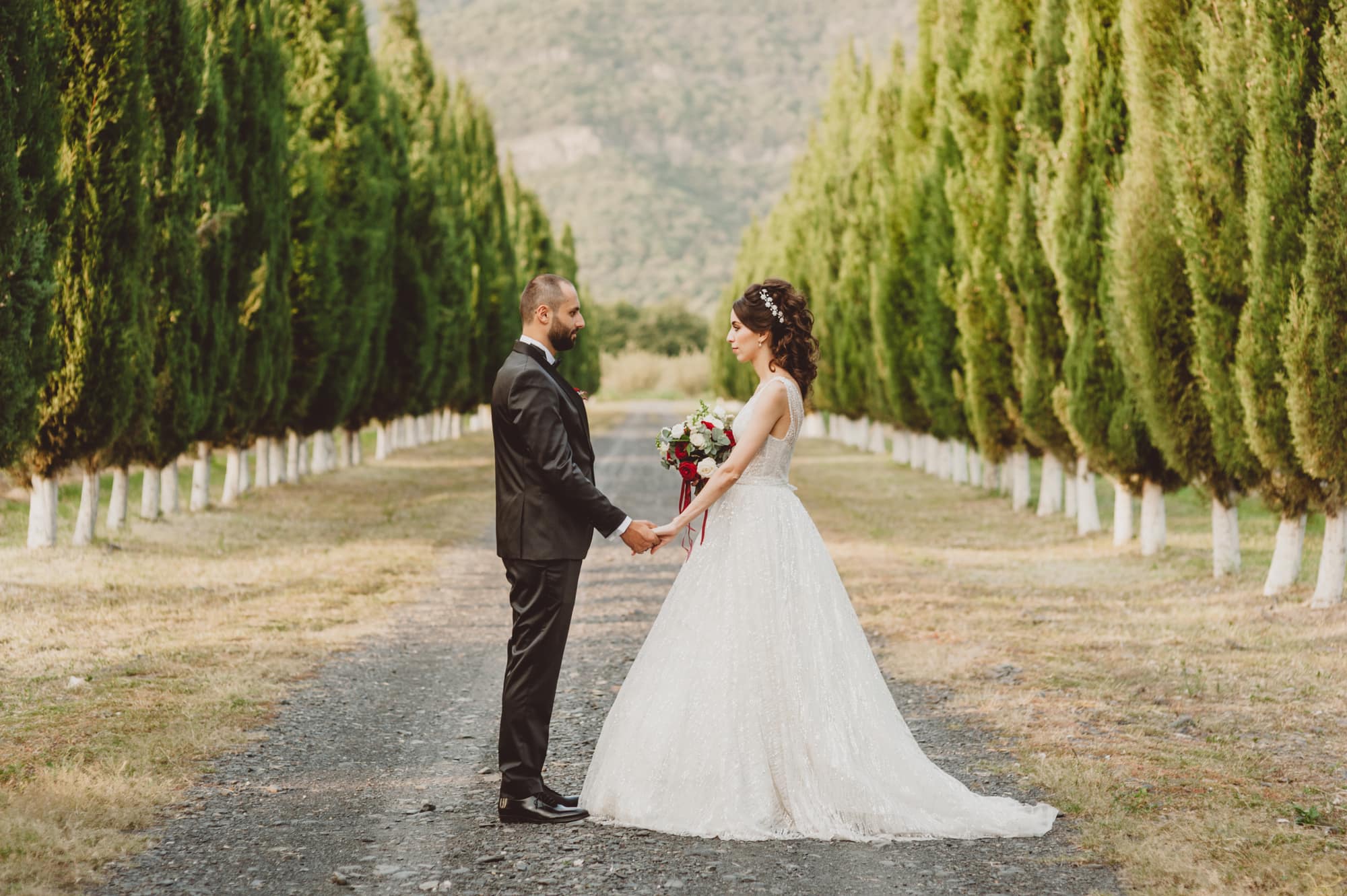 Wedding in Kakheti
Lakes and vineyards in Kakheti region attract attention of our couples no less than Caucasus Mountains. Wedding in this region can be celebrated almost all year round. Here you can combine everything: a ceremony on a lake, a religious wedding in the oldest Orthodox churches, a photo walk both in vineyards and in a fairytale forest with horses, tasting Georgian wines, master classes in preparing national Georgian dishes and sweets, a visit to the city of love Sighnagi and the Bodbe Monastery, where St. Nino, who brought Christianity to Georgia, is buried. These are just some options of the variety of activities that Kakheti can offer. The region is rich with high-class hotels, as well as cosy boutique hotels for more affordable weddings. Most hotels have vineyards and restaurants. Do not miss the opportunity to play a chamber wedding in one of the private chateau!
Every corner of Georgia becomes incredibly beautiful at the time of "Golden autumn". Here we guarantee you an unforgettable colour scheme, a carpet of coloured leaves instead of rose petals, a season of new wine Rtveli, pomegranate, grapes and persimmon: in one word "Wedding in a golden fairy tale". If you are fond of autumn and you are planning your wedding in September-December, Kakheti might be the perfect place for fulfilling your dreams.
No matter what region you would prefer to choose, you can be sure that Ori Agency Team will try their best to offer you the best locations, regarding your preferences and weather conditions of the region.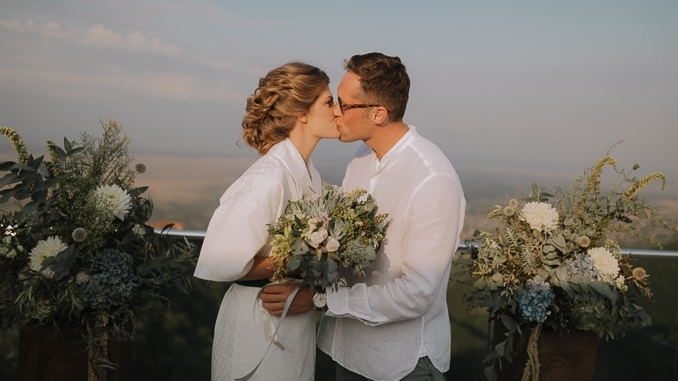 With Ori Agency you can be sure that no unexpected weather changes will become an obstacle to a perfect celebration! 🙂