Are you choosing a wedding venue in Georgia? Then you have probably heard that this country is famous for its numerous Orthodox churches and monasteries. Today we are travelling to Mtskheta, the old capital of Georgia and its religious center. This is one of our couples' favourite places. Proximity to Tbilisi, rich history, hills and mountains… How is Georgia possible without mountains?
Why Mtskheta?
Mtskheta was the capital of Georgia until the V century, and it still remains the most significant historical place for the Georgians and country's guests. This ancient city is located just a couple of kilometers away from Tbilisi, which is important for those who are planning their wedding in the capital. A short trip to Mtskheta will perfectly fit into a limited budget or a strict schedule. For example, you could register your marriage in one of Tbilisi city halls, have a photoshoot in Mtskheta and then come back for the dinner with a spectacular view of the shimmering Tbilisi skyline. Short distances between the cities allow us to facilitate logistics and have enough time to visit both locations.
A trip to Mtskheta includes a walk around the narrow cobbled streets and a visit of two main city sights — Svetitskhoveli Cathedral and Jvari Monastery. The first one was built in the XI century and despite much damage, still preserves this unique spirit of ancient history in its thick walls. You can make great photos inside of Svetitskhoveli or on the site behind the cathedral, overlooking the mighty Jvari, towering above the rivers. By the way, you can request an official Public Service hall representative and have a cozy ceremony right at this place. The ceremony surrounded by two main churches of Georgia will be a truly solemn lifetime experience.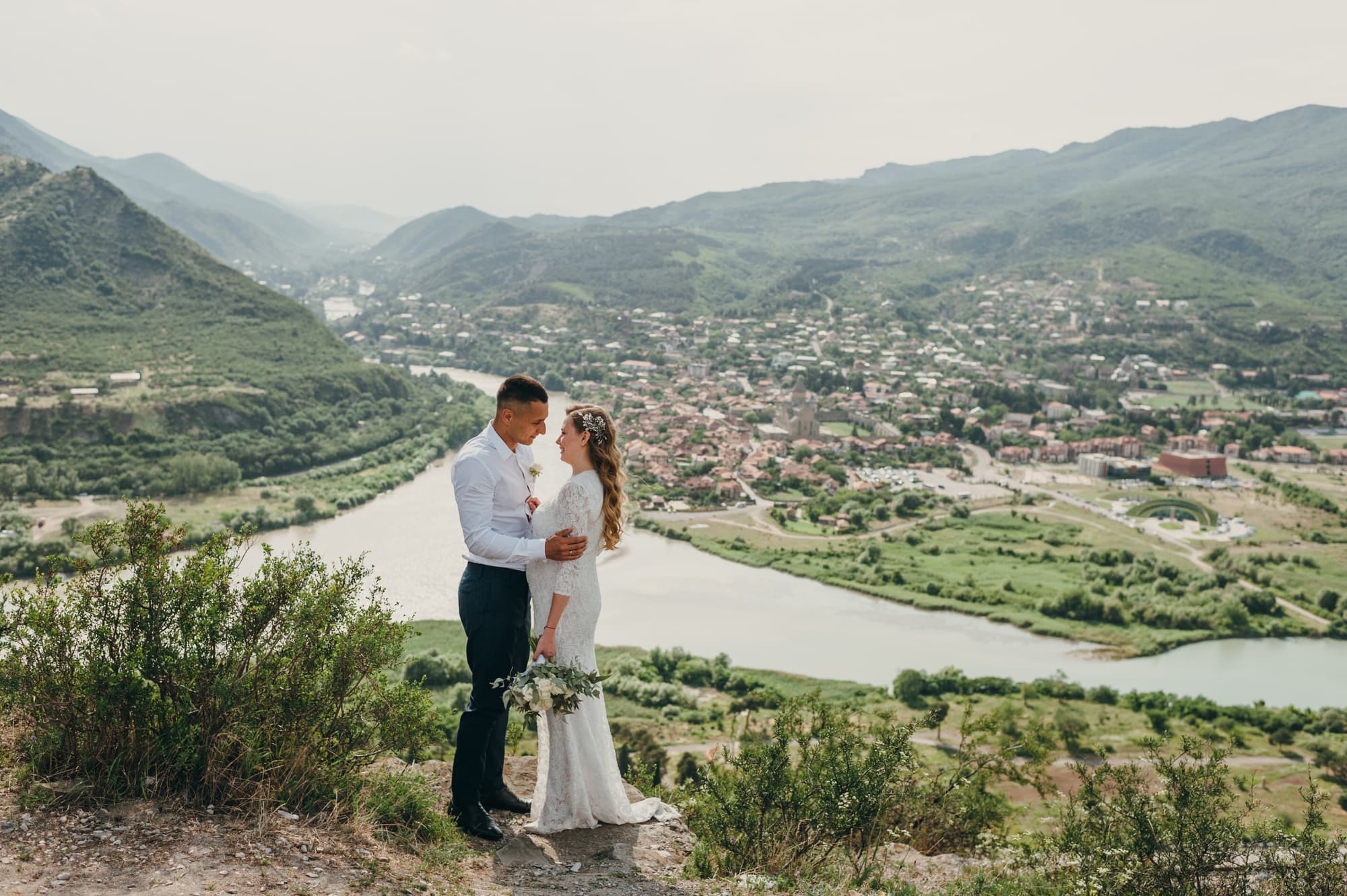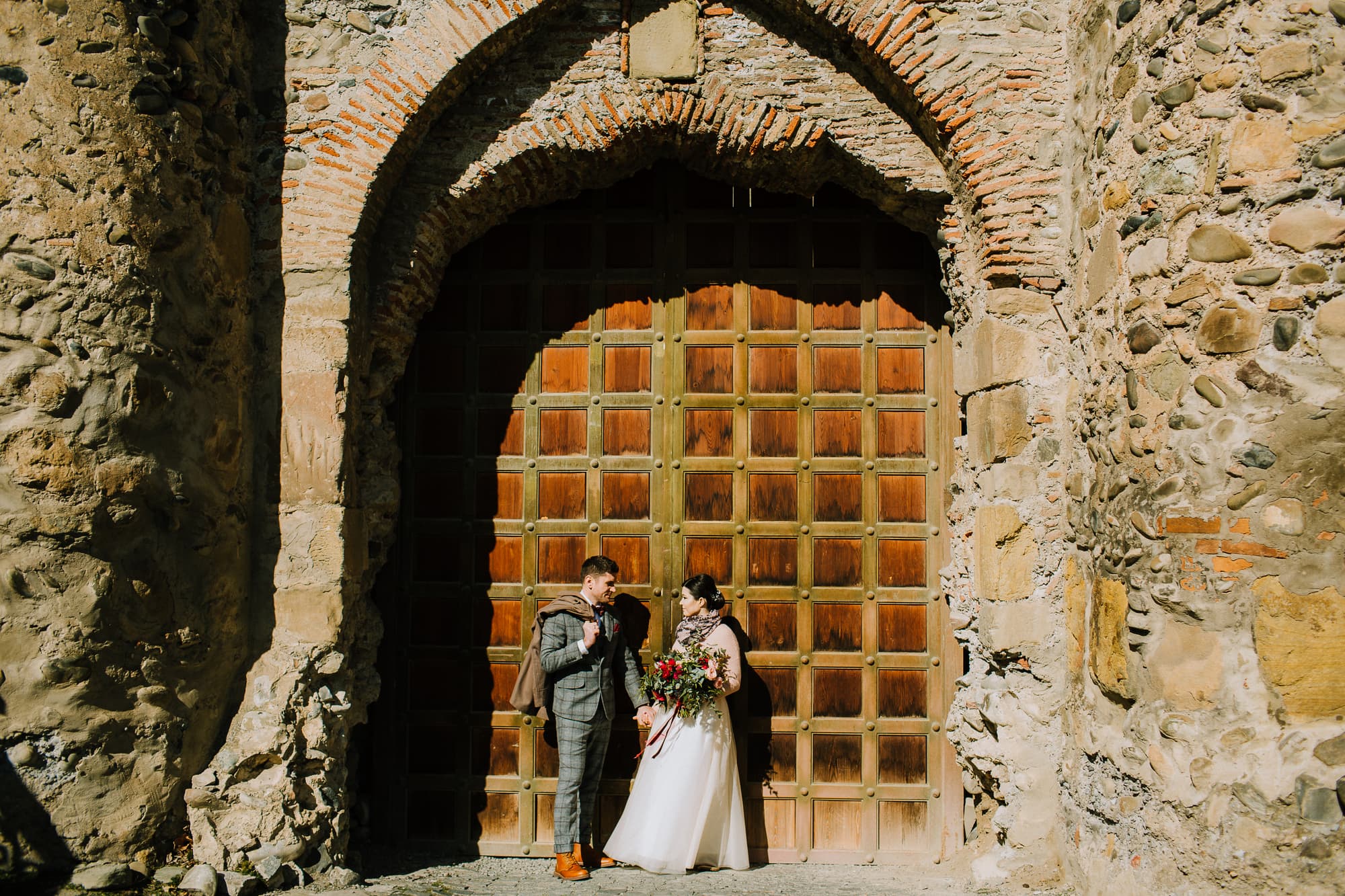 The official registration and church wedding
You can also register your marriage in Mtskheta. The public hall is located in front of the Svetitskhoveli Cathedral: a private hall can fit up to 40 people. The application must be submitted one week before the date of your marriage. If you are not planning to come to Mtskheta beforehand, just send us all your documents by express mail. We will prepare all the necessary papers and submit them on your behalf by proxy.
While planning your church wedding in Svetitskhoveli, it is important to remember that this cathedral is recognized by UNESCO as a World Heritage Site, which means that thousands of couples from all over the world travel to Mtskheta to have their wedding there. Marriage ceremony at this place will probably not become a moment of intimacy in the sight of God for you two, as the number of tourists remains large here at any time of the year. The ceremony in Svetitskhoveli will allow you to become part of a centuries-old history, though for a more secluded and solemn wedding we would recommend that you choose another, more private, church. We will be glad to help you find one.
The number of tourists in Mtskheta remains large at any time of the year.
Jvari Monastery
Not far from Mtskheta, on the rocky mountain top, there is the famous Jvari Monastery, a church built in the VI century. This site is known worldwide for its incredible view: it stands right at the confluence of the Mtkvari and Aragvi rivers. This place if perfect for a romantic photoshoot (a love story, for example), or for an outdoor ceremony at the monastery's walls. If you choose Jvari for your wedding, note that it is located on a hill, thus it has significant weather peculiarities. In the summer it might get very hot up there, and there are strong winds almost at any time (especially in spring).  Gusts of wind can be so severe that sometimes we are hardly able to place the ceremony decoration. Despite such conditions, Jvari still remains one of the most visited locations for wedding photoshoots in Georgia.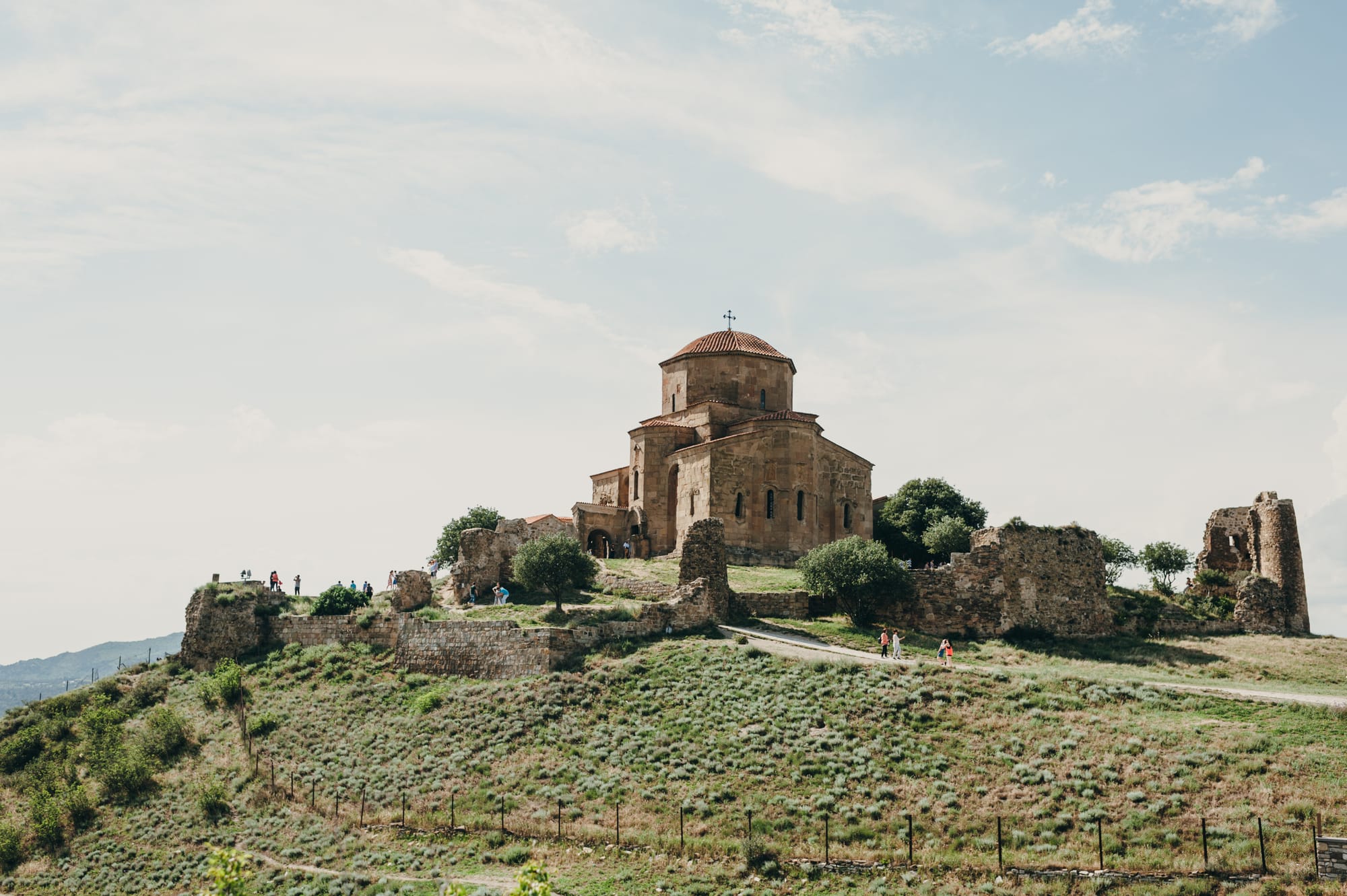 Mtskheta and Jvari are the most popular sites close to Tbilisi, but they are not the only beautiful locations nearby. For example, just a 20-minute drive away from the city, there is the Kojori fortress, which has an amazing view of the mountain tops and, covered with summer haze. While planning your wedding in Tbilisi, you get a great chance to visit several locations nearby without big expenses. Tell us about your dreams and we will create an individual itinerary just for you! 🙂