Greater Caucasus mountains cut into the sky with its high snow-covered peaks. River valleys are muffled with green velvet of alpine lawns where sheep flocks graze… Area of Gudauri ski resort offers many beautiful and breathtaking landscapes. Wedding in this picturesque surroundings will be truly an unforgettable experience for you and your guests. We have complied an overview of the best popular wedding venues in Gudauri, so here you have a great opportunity to compare these hotels and make sure that only mountains can be better than mountains 🙂
Why Gudauri?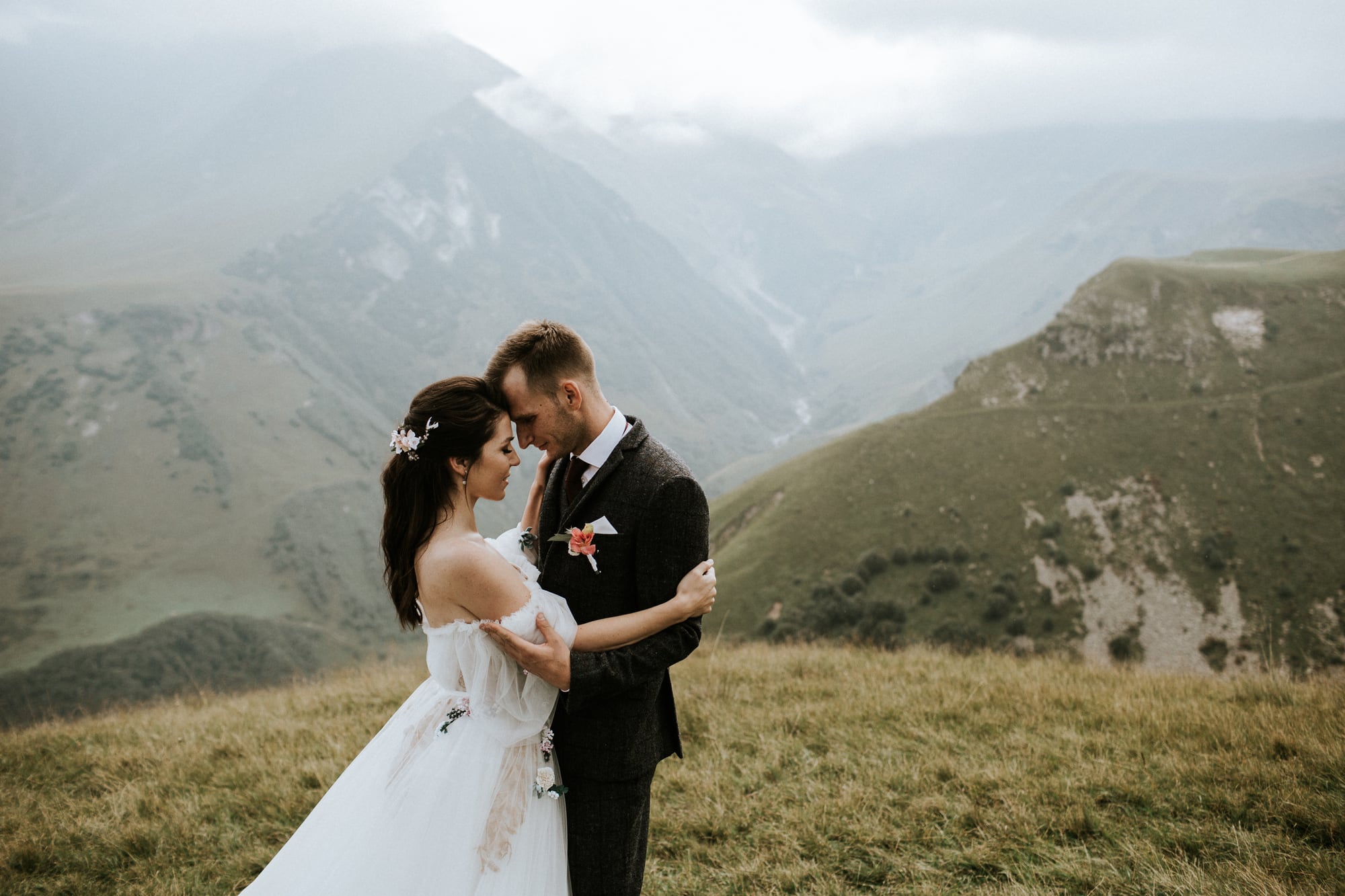 For many people Georgia is the country of amazing nature and breathtaking mountains. If you are planning your trip to Georgia for the mountains, Gudauri and Kazbegi will be at the top of the list of places you must visit. Today, on our way to the famous mountain Kazbek, we will stay for a while in a village Gudauri, the main ski resort of Georgia, and try to understand what wedding venues are available at this place.
Gudauri is only 2,5 hours drive away from Tbilisi, which makes it the most accessible mountain destination in the country. In terms of organization, one of the most significant facts about Gudauri is that here you have an opportunity to arrange a ceremony either on the hotel terrace or on the meadow outdoors. In both cases you will have a pleasant surrounding of breathtaking mountain tops and high sky above your head. Also, those who are fond of active leisure can find here various opportunities for exciting activities: horseback riding nearby, hikes around the hills and paragliding. Status of a popular ski resort plays a key role in development of different spheres of tourism and entertainment here. This provides an opportunity to arrange interesting adventures for your guests.  
It is necessary to note that we recommend you to arrange your wedding in Gudauri in July or August, as during the rest of the year weather is less favorable here. Mountain climate in general and in Gudauri in particular is almost always unpredictable: morning can start with clear sky and a couple of hours later rain clouds already gather in the sky. That is why we always work out plan B in case it rains, and move ceremony and dinner into the hotel halls if necessary. Such scenario may not always correspond with your dreams about outdoor wedding, but we always take care of your comfort and we have to relate wedding day schedule to the changeable weather in the mountains. In any case, your impression from the celebration will not be spoiled!
We recommend you to arrange your wedding in Gudauri in July or August, as during the rest of the year weather is less favourable here.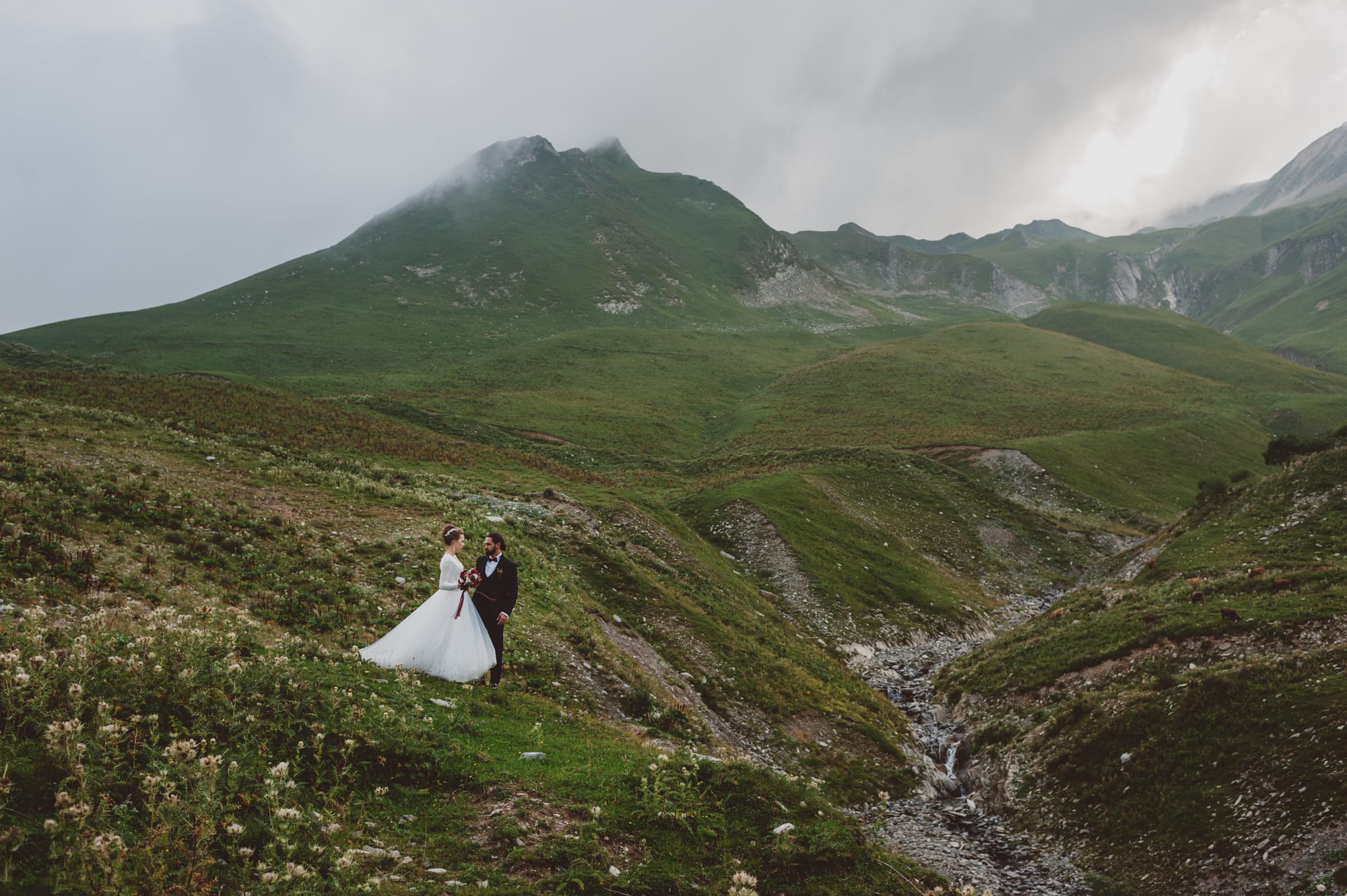 Marco Polo Gudauri
Our short trip around wedding venues in Gudauri starts in Marco Polo Hotel, a four-star resort hotel with all the facilities for truly comfortable holidays. Probably the main advantage of this venue is a big choice of halls where you can arrange the dinner. The hotel has three options: spacious terrace overlooking the mountaintops, main restaurant which can fit up to 250 guests and cosy lounge-bar for a big party. There is also billiard room, bowling room, tennis court, spa-center and kid's room. All these features make Marco Polo a great venue for a big feast with your relatives, friends and the youngest guests of course. Everyone will find something pleasant here.
Alpina Hotel Gudauri
All the hotels which we are describing in this article have one important similarity: all of them offer an opportunity to have a wedding ceremony or a dinner on their terrace. This is very convenient regarding the possibility of bad weather conditions on your special day: you will be able to transfer the feast indoors without any unnecessary troubles. Another example of such multi-functional venue is Alpina Hotel Gudauri. Rooms in classical style with the use of wooden elements in the interior, cosy fireplace in the lounge-bar, spacious restaurant: all these details create warm atmosphere of Georgian hospitality in the hotel. Restaurant menu offers dishes of Georgian and European cuisine, so you will have a chance to combine various dishes for your special event. There is also a billiard room in the hotel — perfect for quiet evenings surrounded by the silence of high solemn mountains.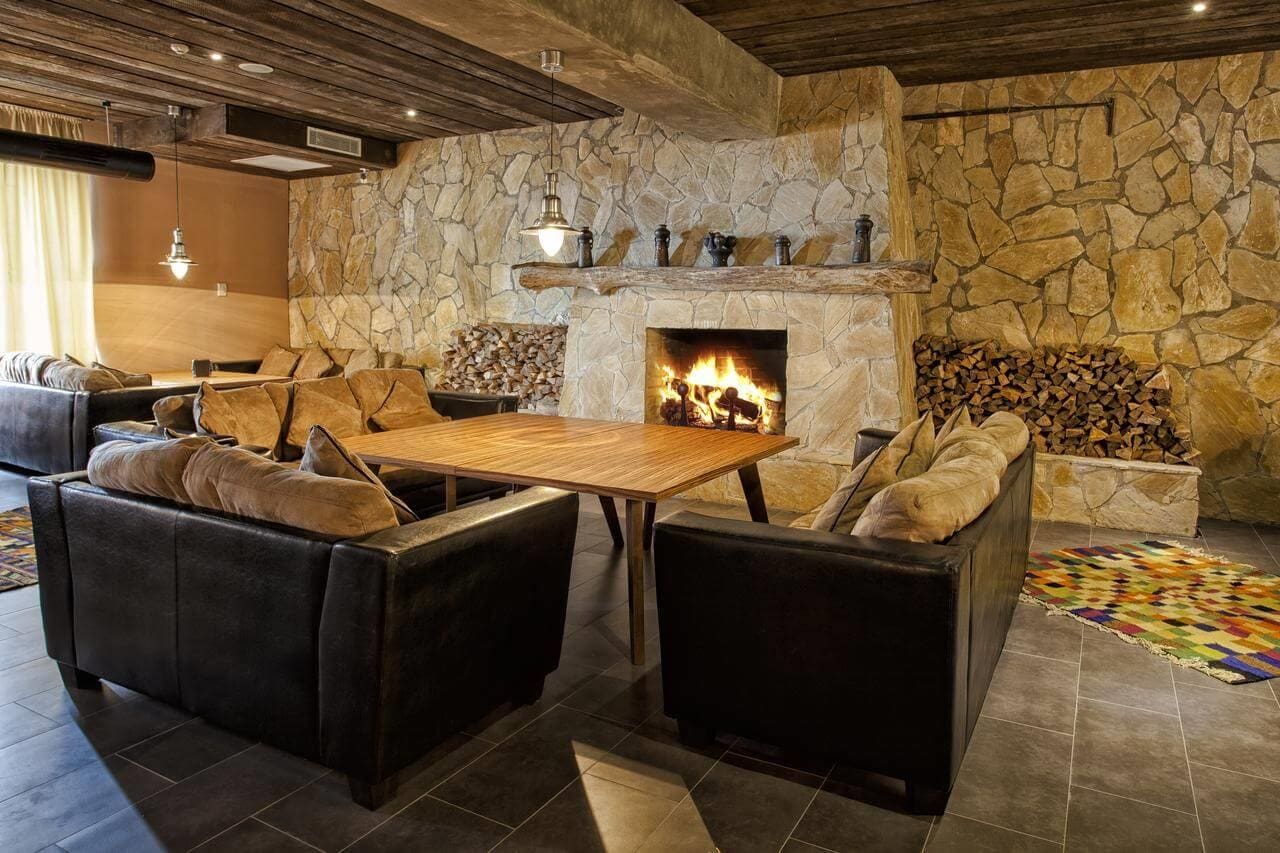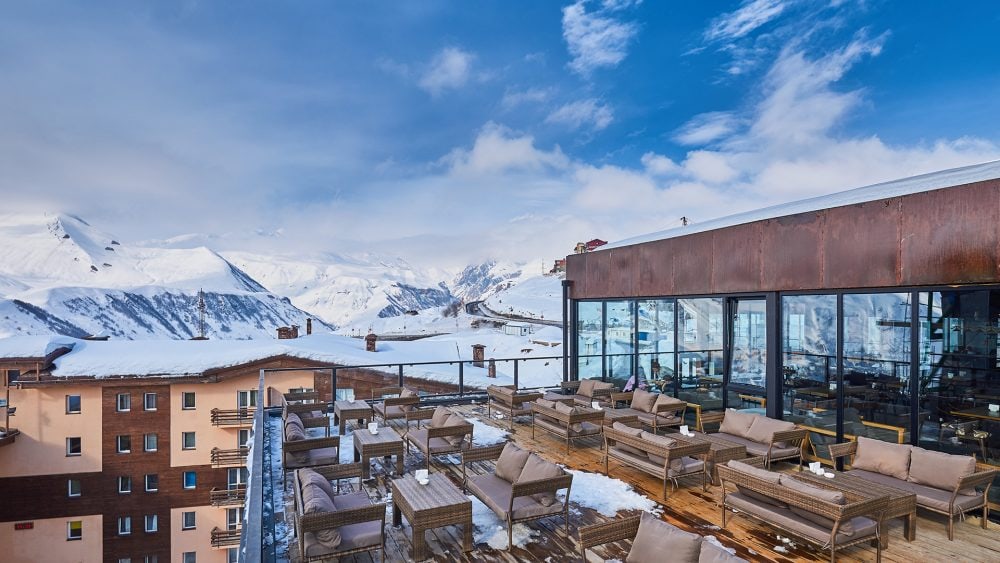 Gudauri Hotel Loft
Modern hotel Gudauri Hotel Loft, that opened its doors to the first guests just two years ago, has unusual rooms and a lounge-bar both designed in loft style and high quality service. Hotel's restaurant offers European and Georgian dishes and a big choice of cocktails. Guests of the hotel can relax in the spa-center which includes swimming pool and heated jacuzzi on the roof of the hotel, and also Finnish and steam saunas, after which you can use the services of massage from highly qualified specialists. In Gudauri Loft you can have a ceremony either on the terrace or outside the hotel, among the mighty mountains and colorful wildflowers.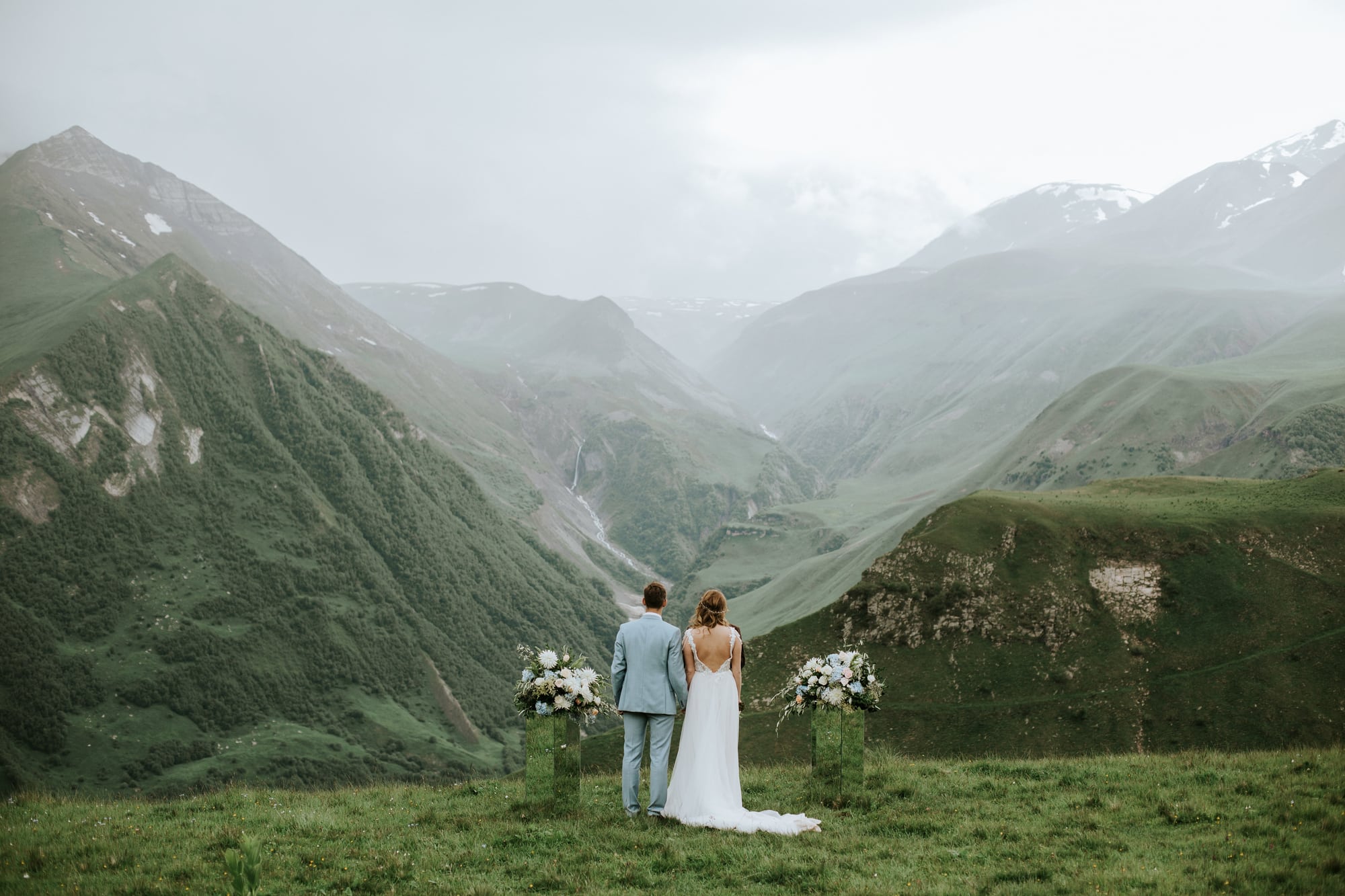 Monte Hotel Gudauri
Monte Hotel Gudauri is located in the upper part of the ski resort. Its main center of attraction is a wide wooden terrace with a picturesque view of the surrounding mountains. Here you can hold a wedding ceremony in almost any style, and also have fun celebrating the birth of a new family. Imagine this beautiful moment: you are sitting at the festive table under the soft light of the garlands, you are surrounded by your closest friends and loved ones, you are feeling proximity of silent mountains which keep their centuries-old mystery, you are filled with joy and quiet happiness…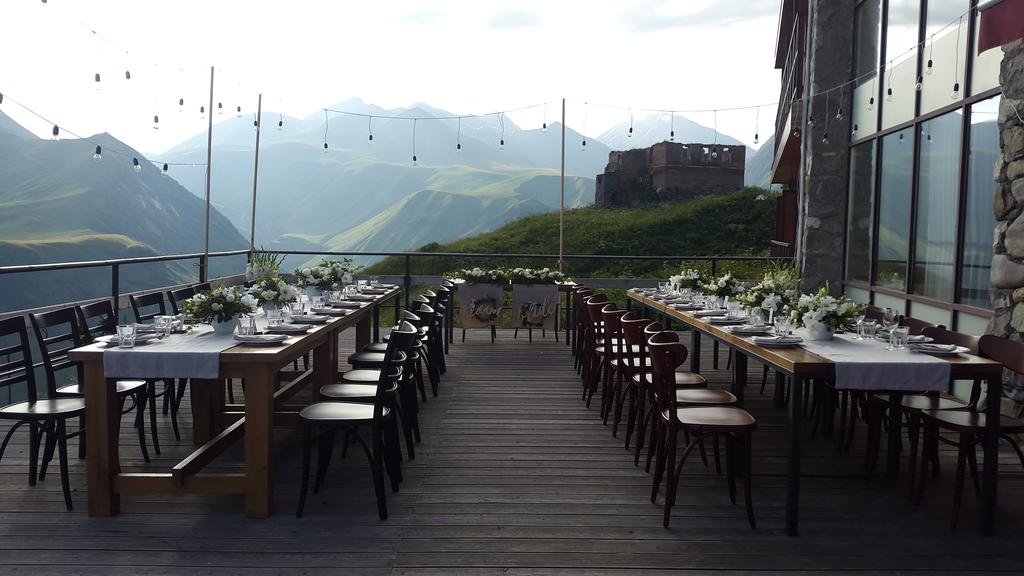 Gudauri is a mix of cosy hotels, various options of leisure activities and of course incomparable beauty of the landscapes. Begin the morning of your wedding day with a peaceful smile of the mountains waking up with you, and spend the evening admiring the starry sky covered with myriads of bright dots. We are absolutely certain that your guests and you will never forget this beautiful adventure in Gudauri.