A short drive from Georgia's capital is the beautiful wine region, Kakheti. Famous for its vineyards and nature, it's a gem in Georgian tourism and a top wedding spot. Curious about what makes Kakheti special? We've created a two-part series on this wine haven. The first part highlights prime wedding locations, including a serene mountain lake setting, a perfect spot for intimate weddings, and a standout design hotel for exceptional seekers.
Why Kakheti?
Everybody who has been to Georgia at least once, has heard of the eastern part of the country, where the Alazani Valley along with the vast desert is located. All this is combined with the mountain gorges, which fill this region as much as the rest of the country. Thanks to this unique geographical location, Kakheti delights us with the mildest and warmest climate in the country and purest air which are both beneficial for the products and wine produced here, and also for the overall mood of the locals 🙂 It is nice to breath, live and relax here!
Highly fertile land, geographical proximity to the capital turned Kakheti into the most popular touristic region. There is the most developed infrastructure of hotels in Georgia here, even several huge resorts offering a variety of facilities and activities. Many complexes bring together high-standard restaurants, spa-centers, swimming pools and vast territories with different landscapes: lakes, forests and fields. By choosing this region, you will get a number of options when planning the entertaining programme for your guests: you may visit historical and cultural sights, ride horses, participate in the harvest feast Rtveli (if your wedding is planned for September-October), and also cooking master-classes. In short, nobody will get bored here!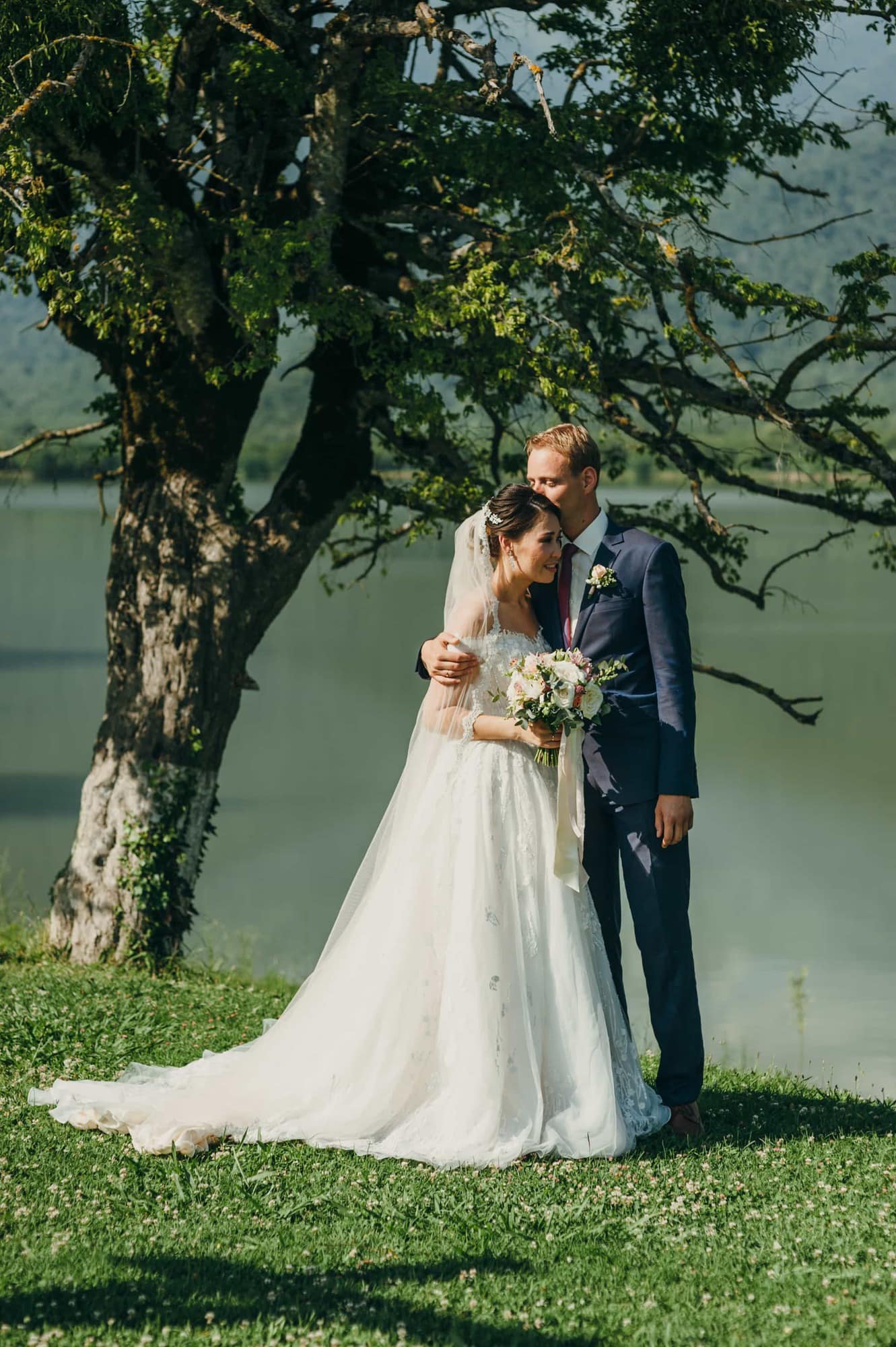 Wedding by the mountain lake
The mountain relief on the border of Alazani valley and the Great Caucasus range and the melting snows from its high peaks over the centuries created stunningly beautiful mountain lakes surrounded by green slopes. Just imagine that you stand on the edge of the turquoise water holding hands and reflecting on the smooth surface. In the summer there is amazing lush green around you and in the fall it all turns bright red and orange. It is truly a dream location for a wedding! We are offering you several best locations with piers perfect for a wedding ceremony.
Kvareli Lake Resort is one of the most beautiful places in Georgia and Kakheti, in particular. It is hidden in a beautiful region Kvareli amidst tall forests and mountain slopes. The multilayer mountains are reflecting in the lake, you are breathing in the purest air and just feeling true happiness… Ultimate harmony is guaranteed here! Kvareli Lake Resort also offers a great range of activities for your guests: a spa and wellness center, an outdoor pool and fitness center. The surrounding area is popular for outdoor activities such as hiking and fishing. Moreover, free bikes are available at the hotel. Therefore, Kvareli Lake Resort is a very suitable venue for a big friends and family wedding.
Kakheti delights us with the mildest climate and purest air: it is nice to breath, live and relax here!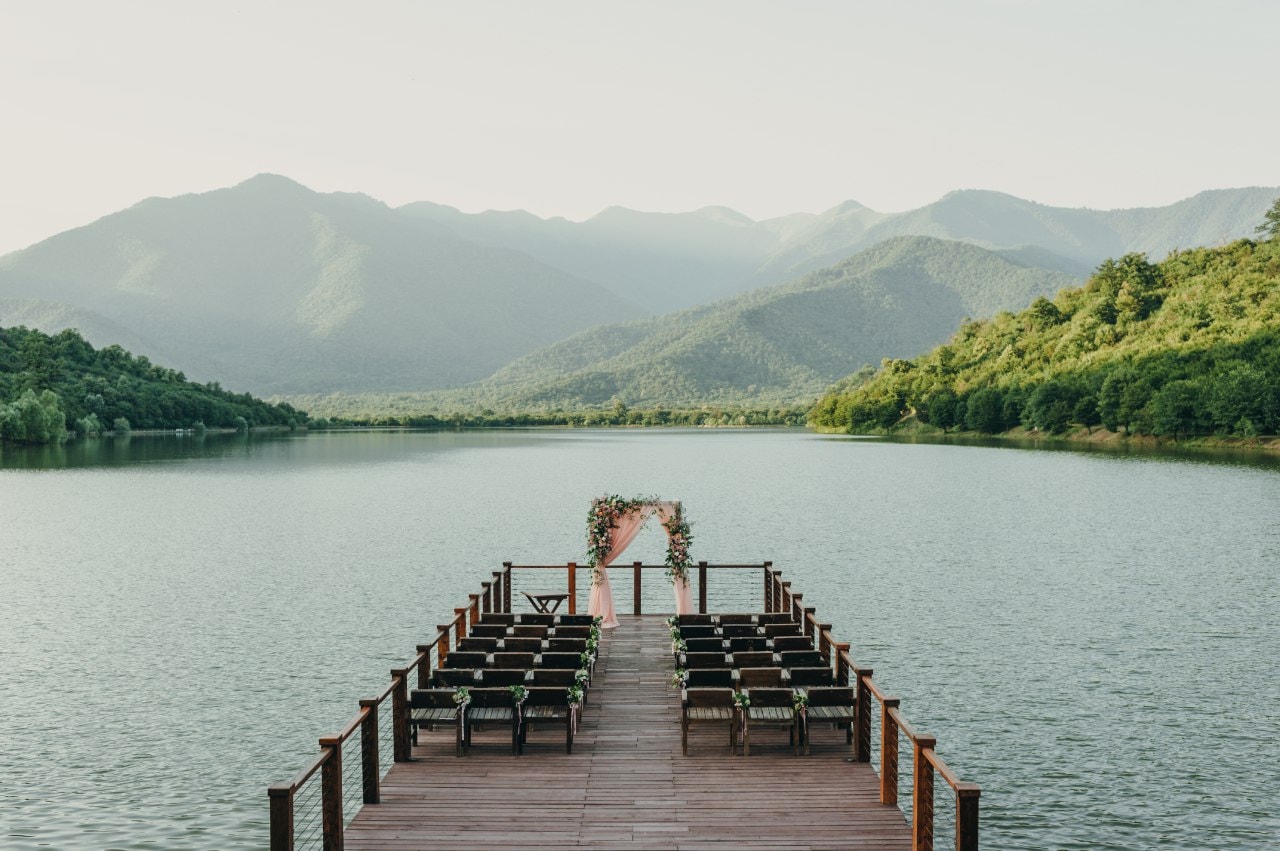 Lopota Lake Resort & Spa is no less beautiful and multifunctional than the Kvareli Lake Resort is. This resort is for those looking for a peaceful place with an atmosphere of ultimate unity with nature. Lopota offers you two options of ceremony locations: bigger and smaller piers, both with unsurpassed views of the lake and slopes covered with dense forest. Here you may also find a great range of activities for your guests: a spa and wellness centre, an indoor and outdoor pools, a fitness centre, a wine cellar, a stable, various options of bars and restaurants, and also kid's club. The surrounding area is great for long walks and beautiful photo sessions. Therefore, Lopota Lake Resort is great for a big party with a lot of guests for whom you would like to arrange interesting and diverse leisure.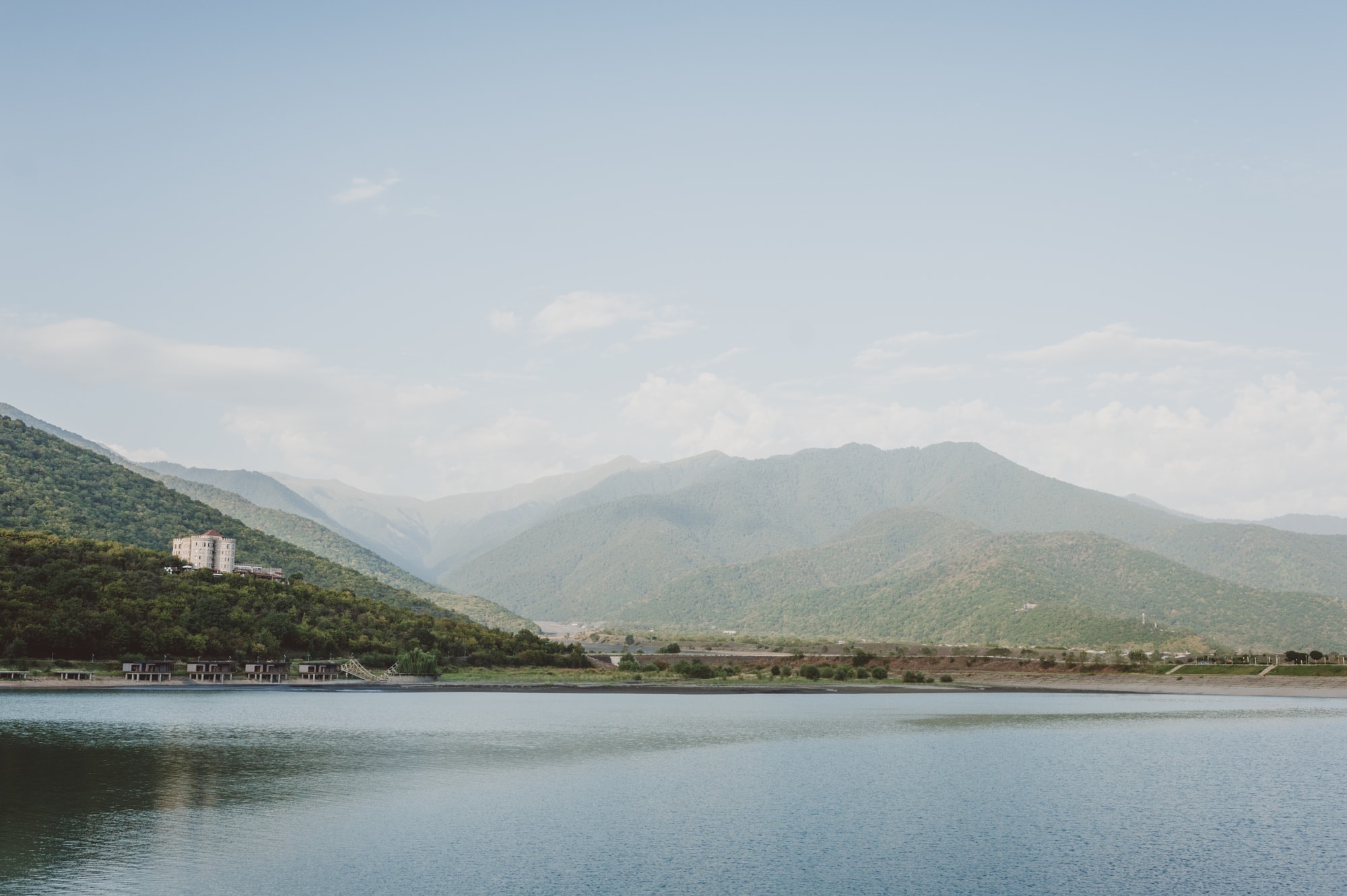 Royal Batoni is another popular location by the mountain lake, a magnificent magic castle amidst the dense forest. This hotel with a outdoor swimming pool is situated by Ilia's lakeside, between the mountains of Kvareli and river Duruji. You will also have two options for a wedding ceremony here: the amphitheatre at lake Ilia or the hotel's terrace. The guests of the Royal Batoni hotel have the opportunity to visit the ancient historical sites, enjoy fishing, cycling, use tennis, volleyball, basketball courts, and a football field, participate in the preparation of Georgian cuisine and taste Kakhetian wine. Therefore, the wedding at this hotel will become an unforgettable journey to a fairytale for you and your guests!
Cozy wedding in Kvareli Eden
Hotel complex Kvareli Eden is a genuine paradise for those who value privacy. It is surrounded by mystical woods and infinite mountains, which stretch far beyond the horizon. The purest air, rich colours and ultimate silence — away from the big cities Kvareli Eden is like a fairy tale castle keeping its secrets in the wisdom of nature. Kvareli Eden offers various options of locations for the ceremony and the wedding dinner: both indoor and outdoor. There are also endless rows of vineyards and fruit gardens, which you may use as a beautiful background for your wedding photos. The hotel complex has billiard room, tennis court, wine spa and an outdoor swimming pool. Here you can enjoy traditional Georgian cuisine as well as European dishes and snacks.  All in all, Kvareli Eden is a perfect wedding venue both for couples looking for a cosy intimate wedding, and for those who dream of a grand celebration with friends and family.
A mountain lake is a truly dream location for a wedding!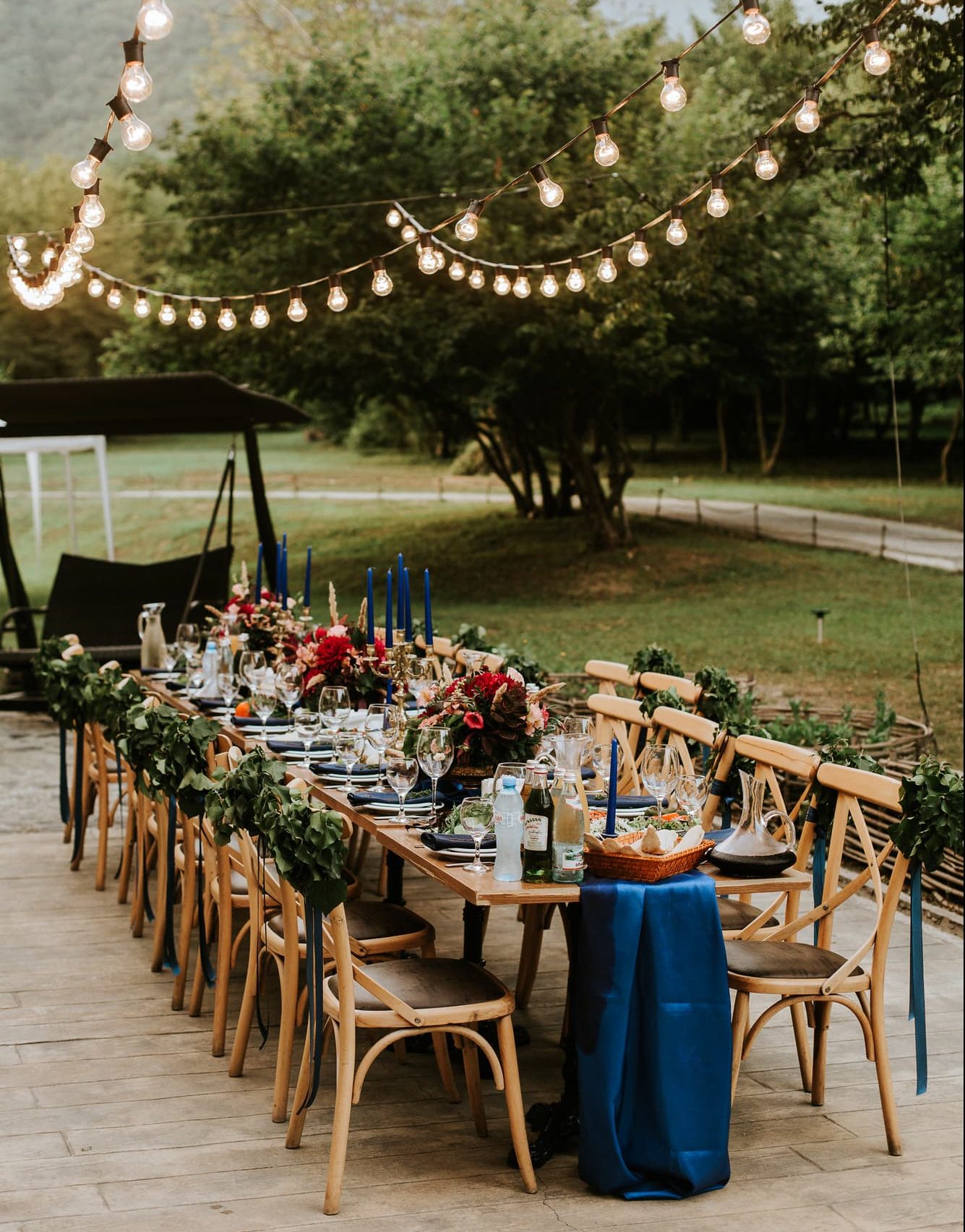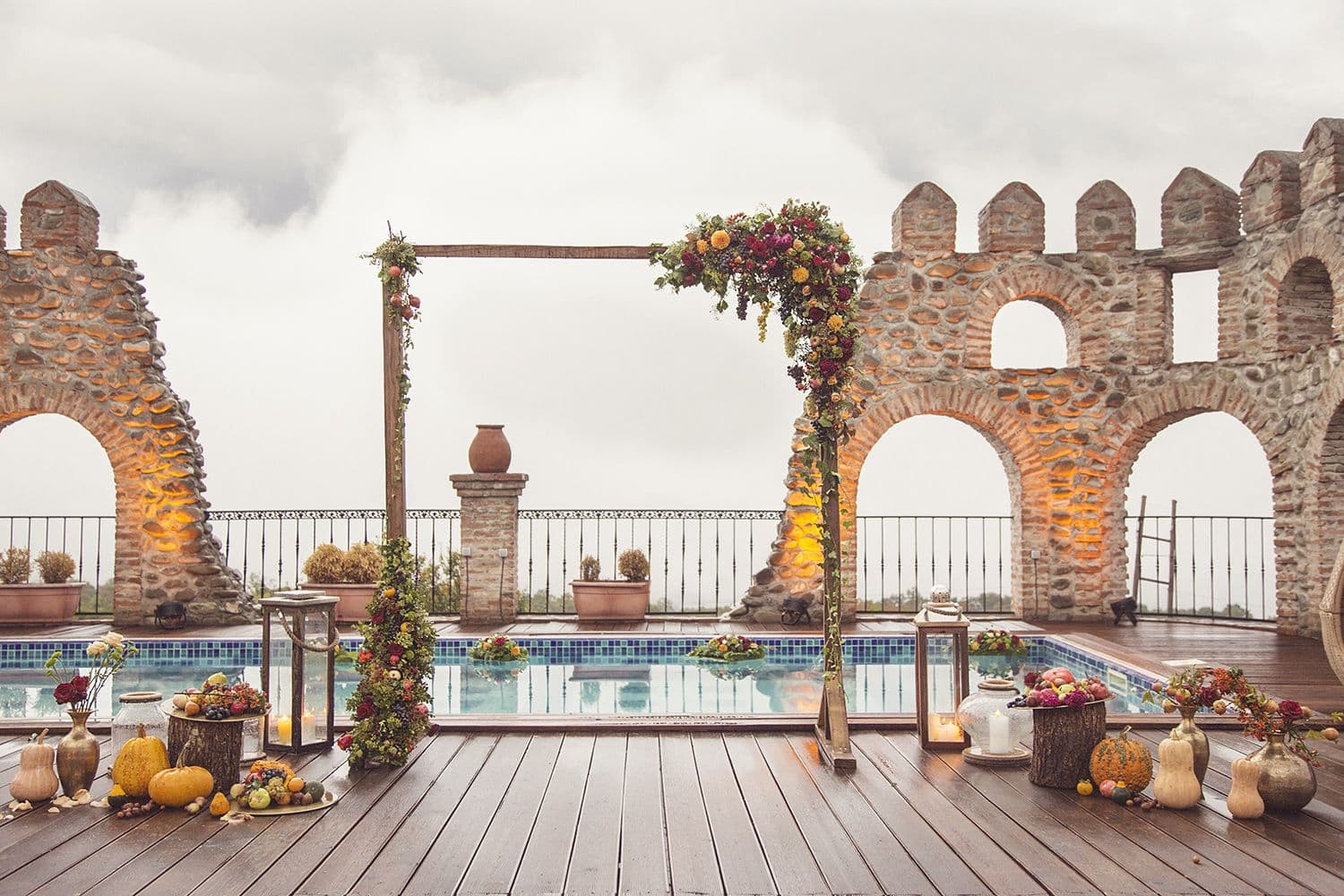 Design hotel Chateau Mere
We would like to finish the first part of our review with the Chateau Mere, which is situated in an ancient castle with an outdoor swimming pool and a magic garden. It has an outstanding interior of the rooms and its garden: each corner of the hotel has its quaint details, antique and handmade interior design objects, souvenirs and other special things. The elaboration of the entire design was made by the hotel owner himself, that is why Chateau Mere is filled with care and attention of the master. Chateau Mere also has a great location as it is only a short drive from the main historic sites in Kakheti: Shuamta Monastery, Alaverdi Cathedral, Gremy, Palace of King Erekle II in Telavi, Tsinandali Estate of Prince Alexander Chavchavadze, and many more. Beautiful landscape, fresh air, fabulous Kakhetian cuisine made from local farmers' organic produce, exclusive Kakhetian wines, welcoming hosts and friendly staff promise to make your wedding at Chateau exceptional.
The covered venues are not the only ones in Kakheti, of course, as Kakheti is above all the region of wine and vineyards. In the second part we are going to focus on the vineyards and cosy chateaus. Although we have chosen the most popular, beautiful and multifunctional venues, this is certainly not the full list of wedding locations in Kakheti. That is why we are always happy to learn about your special preferences and help to find the most comfortable and appropriate place for you personally. 🙂