Kazbegi stands out for its unique beauty: here, among the rocky mountains, two thousand kilometers above sea level, the famous Trinity Church is floating. Its obscure silhouette is majestically towering in front of the mighty Kazbek, which became the most recognizable image not just of Stepantsminda townlet (known as Kazbegi), but of the entire Georgia. In our new special feature, which is dedicated to this legendary place, we talk about the main advantages of Kazbegi in terms of arranging weddings and visit the best hotels suitable for it.
Why Kazbegi?
The townlet Stepantsminda is just a 3,5 hours ride away from Tbilisi, not far from the border between Russia and Georgia. This makes it the most popular place for tourists who dream of seeing the mountains of Georgia. There is another feature that makes this townlet famous: the legendary mountain Kazbek, the main peak of the Great Caucasus. The mountain and the adjoining spines are framing Stepantsminda, forming a high wall around the entire perimeter of the valley. This beautiful unique landscape lets you admire the splendid mountains from any spot of the townlet. During daytime, Kazbek might hide beneath the smoky clouds covering its top, so guests who manage to meet Kazbek in clear weather are the luckiest ones.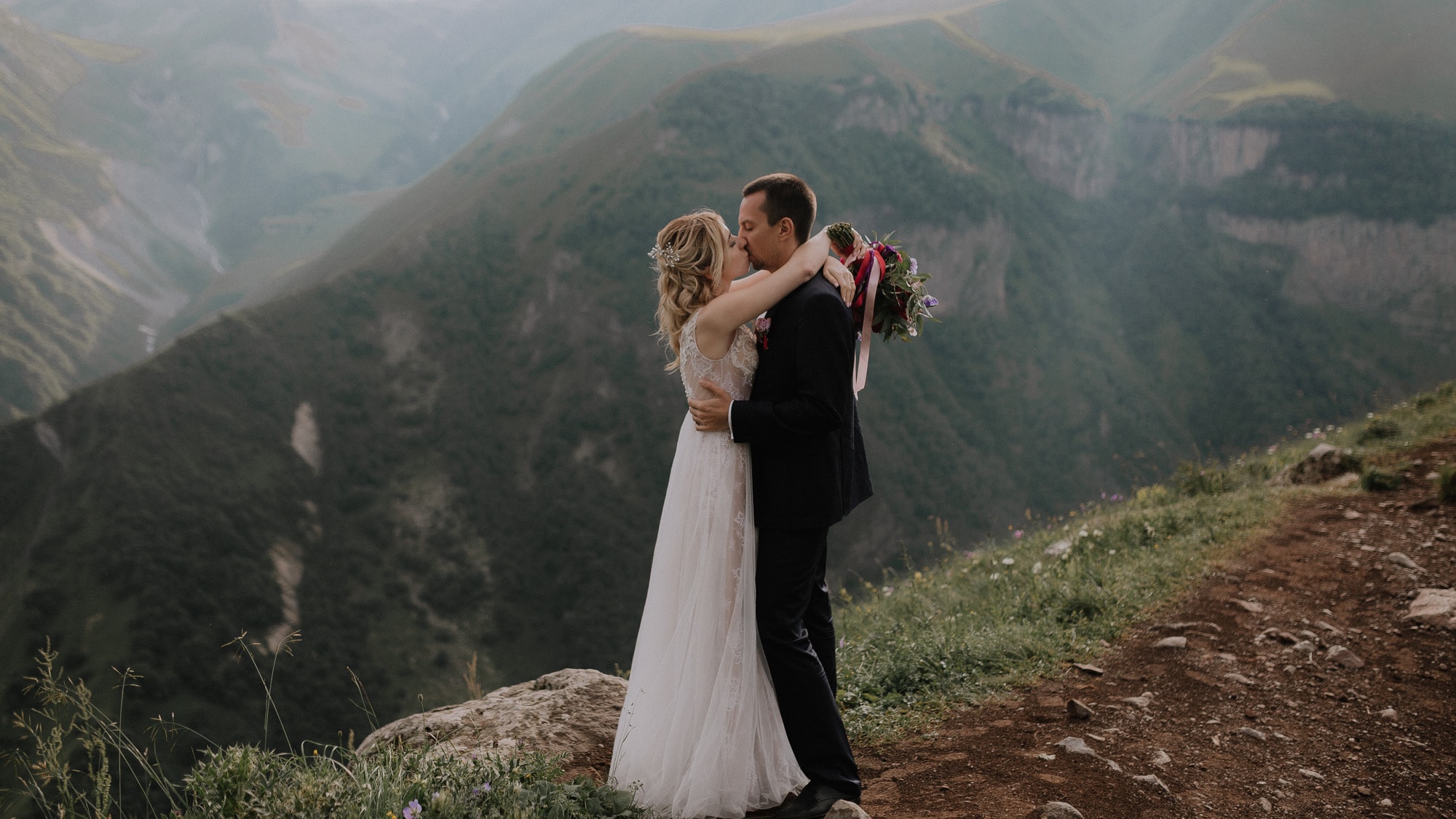 A stunning view of the mountain is supplemented by the majestic silhouette of the Trinity Church in Gergeti, which is standing alone on a high spine at the foot of Kazbek. For centuries, it has kept the holy secret of solitude, light and silence. Stepping inside the church, you become part of the purest holiness. You find yourself thinking of the beloved ones and praying for the most meaningful and innermost matters. Linger a bit on the platform in front of the church, cast a glance at the town from above and feel that powerful energy that imbue this place.
Gergeti Church provides an opportunity to have a religious ceremony, which is the key argument in favor of this location for the couples who dream of a Georgian church wedding. Marriage ceremony held among the breathtaking Caucasus range will remain one of the most meaningful and soulful memories for the rest of your life.
It is necessary to note that we recommend you to arrange your wedding in Kazbegi in July or August, as during the rest of the year the weather is less favorable here. Mountain climate in general and in Kazbegi in particular is almost always very unpredictable: morning can start with clear skies, but a couple of hours later rain clouds already gather in the sky. That is why we always work out plan B in case it rains, and move ceremony and dinner into the hotel halls if necessary. Such scenario may not always correspond with your dreams about outdoor wedding, but we always take care of your comfort and we have to relate wedding day schedule to the changeable weather in the mountains. In any case, your impression from the celebration will not be spoiled!
In Kazbegi we'd like to visit four best hotels suitable for cozy holidays among the silent peaks. We'll start from the smaller hotels and finish with Georgia's most popular hotel, which you've probably heard of.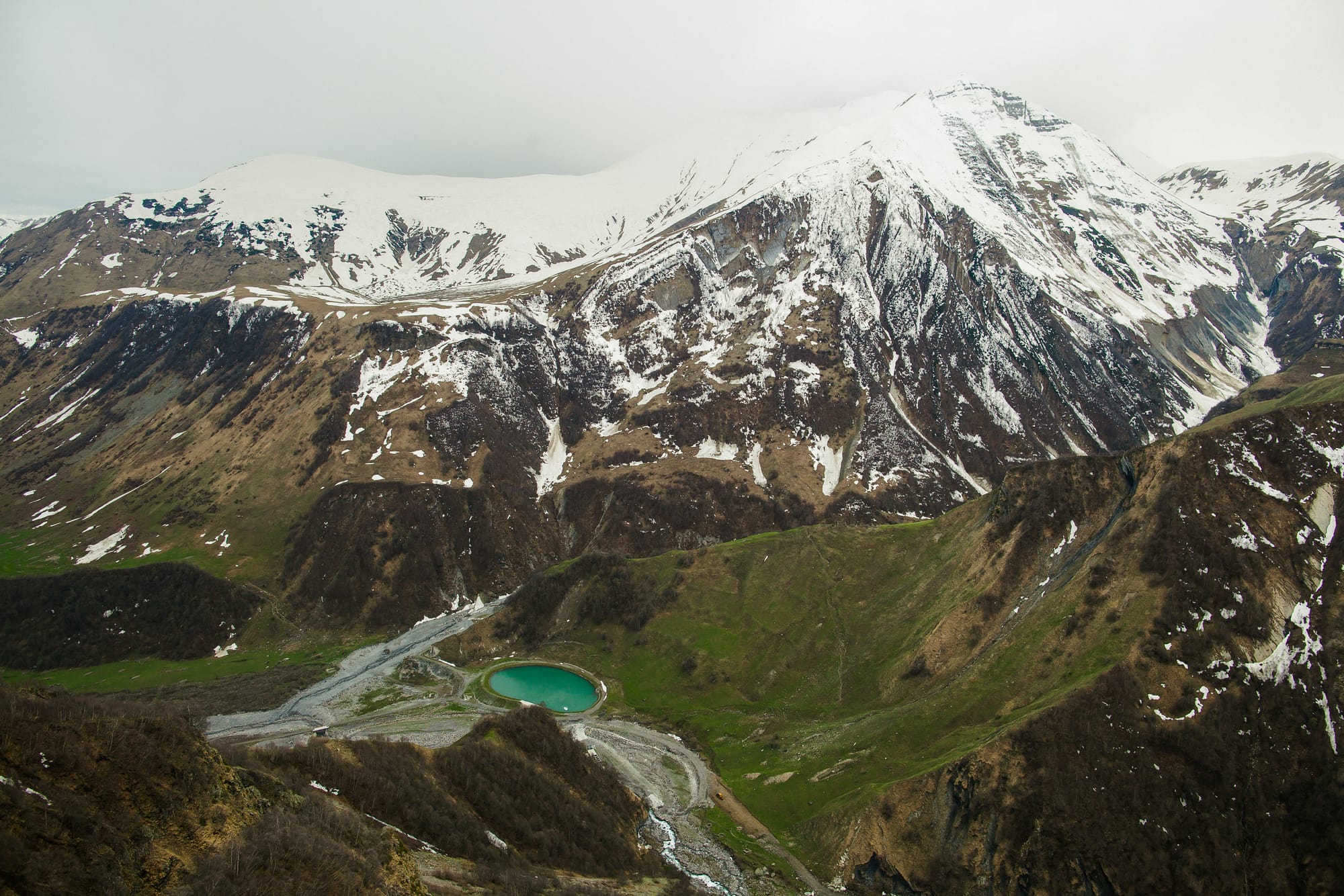 Green Sheep Hotel Kazbegi
A small cozy hotel Green Sheep Kazbegi is a great option for intimate family feasts. There is a restaurant and a bar which are distinguished by their excellent quality of the cuisine and hospitality of the staff. The interior of the hotel is simple but filled with coziness and comfort. You can also request a closure of the entire hotel for your wedding, so you will enjoy total intimacy of your family dinner. As an option of a location for your ceremony, we can offer you choose the Friendship of Nations Arch on the Cross pass, one of the most beautiful and significant places in this region.
We recommend you to arrange your wedding in Kazbegi in July or August, as during these months, the weather is most favorable here.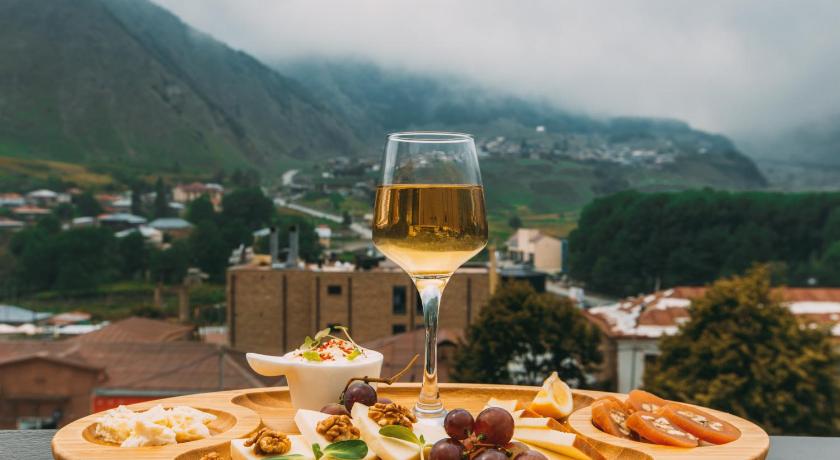 Mount Inn Kazbegi
Mount Inn Kazbegi is another small and recently opened hotel, suitable for a warm and soulful celebration. There is an outdoor pool with a spacious terrace of the rooftop of the hotel where you can arrange a wedding dinner under clear starry sky, crossed by the bright Milky way. You could also reserve the entire hotel (it has just 12 rooms); in this case your wedding will turn into a real vacation for all of your guests. No one will have to rush anywhere, as they will live in the same place where the festive dinner will be held. And probably the best part about staying in the mountains: you will greet a new day together with the mighty Kazbek, waking up and flaunting right in your window!
Porta Caucasia Kazbegi
A four-star hotel Porta Caucasia also provides an opportunity to hold your wedding dinner on its wide terrace which offers breathtaking views of the panoramic mountain landscapes surrounding you from every angle. In case of bad weather, without any extra fuss, you will be able to easily relocate into the inner space of the restaurant, which will spare you the trouble of thinking over plan B. Delicious Georgian and European dishes, bar, lounge zone, and sauna will make your wedding holidays pleasant and entertaining. This venue is perfect for couples who value good service, modern design and comfortable facilities.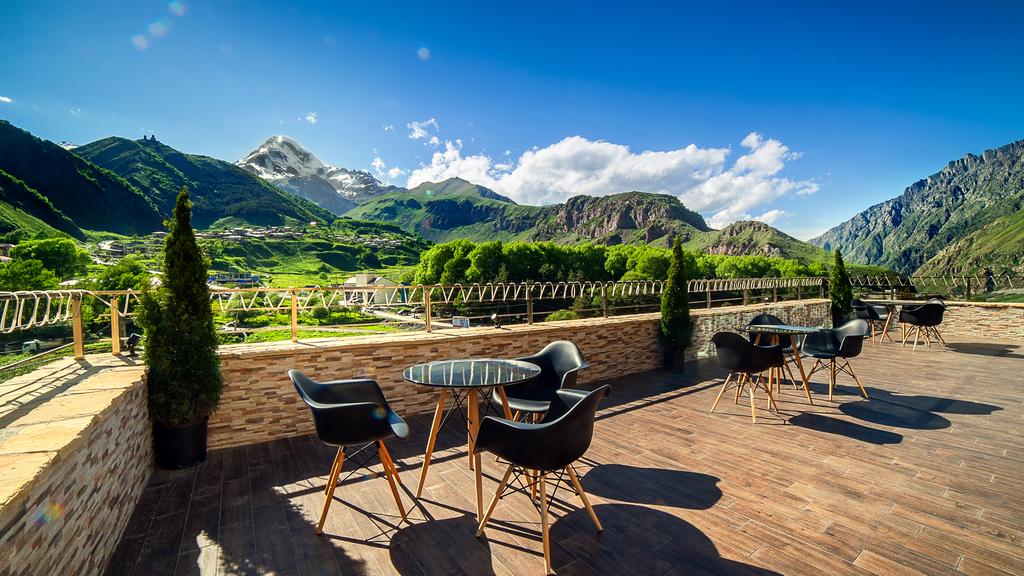 Rooms Hotel Kazbegi
The last and probably the most famous location which we'd like to tell you about in this article, is Rooms Hotel Kazbegi. For a number of years, this popular five-star hotel has been one of the most visited sights in Georgia. Luxurious rooms with panoramic windows, overlooking the subtle contours of the Trinity Church and mighty Kazbek's peak, impeccable comfort, indoor swimming pool with the same splendid view, and a number of options and opportunities for arranging your wedding here. These are the features which specially attract our couples in this venue. There are also several banquet halls in the hotel suitable for a gala-dinner with various capacities, and as for the ceremony, you could locate it right on the spacious wooden terrace. The unparalleled silhouette of Kazbek will leave a lasting impression in your hearts: this place combines breathtaking nature and experience of professional Georgian hoteliers. Choosing Rooms Hotel Kazbegi, you choose convenience, service and highest level in every detail.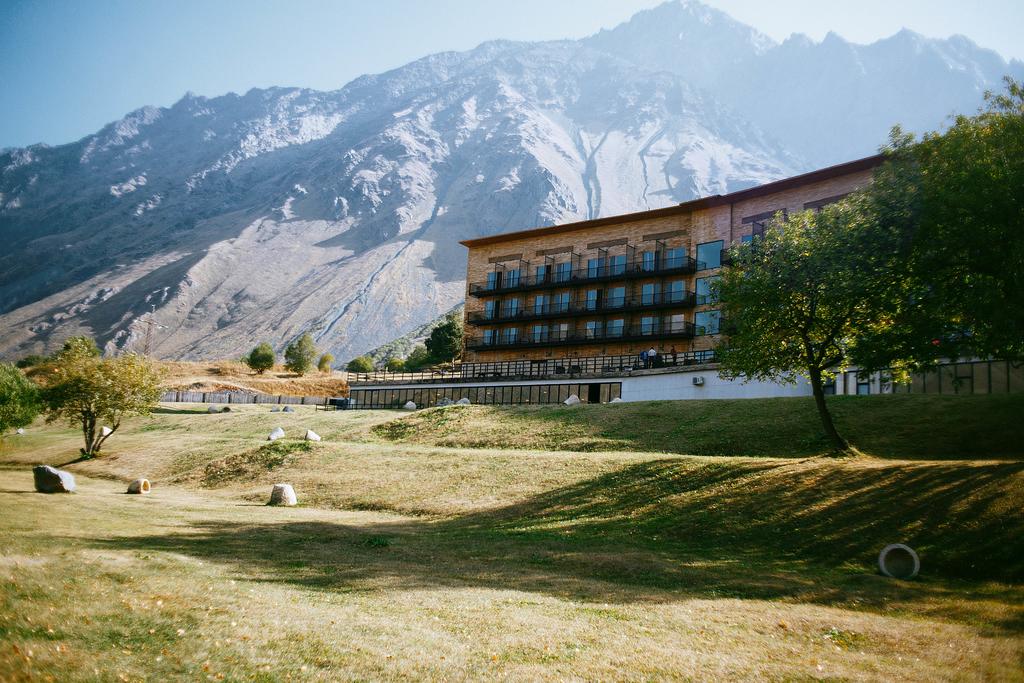 Wedding in Kazbegi is about majestically towering mountain and a small but noble church, two most sacred objects of this region, which will become special witnesses of your solemn marriage ritual. Amazing landscapes, beckoning mountain ridges, clearest air… The atmosphere of freedom, purity and spiritual depth permeate this place and leave no one indifferent.