Georgia is a popular destination for couples looking to escape from the city hustle and get married among majestic mountains, lakes, and valleys. In Georgia, you will find hundreds of gorgeous nooks that can suit any taste. Of course, an onsite ceremony is a unique experience. Sincere words, full of love and tenderness, and the nature around you — free and eternal. We interviewed our wedding planners and created a list of 7 tips to help make your onsite ceremony even more memorable.
Take into consideration the unpredictable weather
Many things depend on the weather on your wedding day: from your mood to wedding photos. While Kakheti pleases us with a lot of sunny days, the Kazbegi-Gudauri region is famous for its extremely changeable climate. After a clear and sunny morning, at lunchtime, it can rain heavily, which might jeopardize your outdoor ceremony. We monitor the weather forecast hourly and try to be proactive. For example, we create Plan B or change the wedding day timing. We also plan out a route so that you catch as much of a clear sky as possible and manage to take pictures in front of most picturesque mountain landscapes. For a photo walk, do not forget to take comfortable shoes, outerwear, or a cape that matches your dress.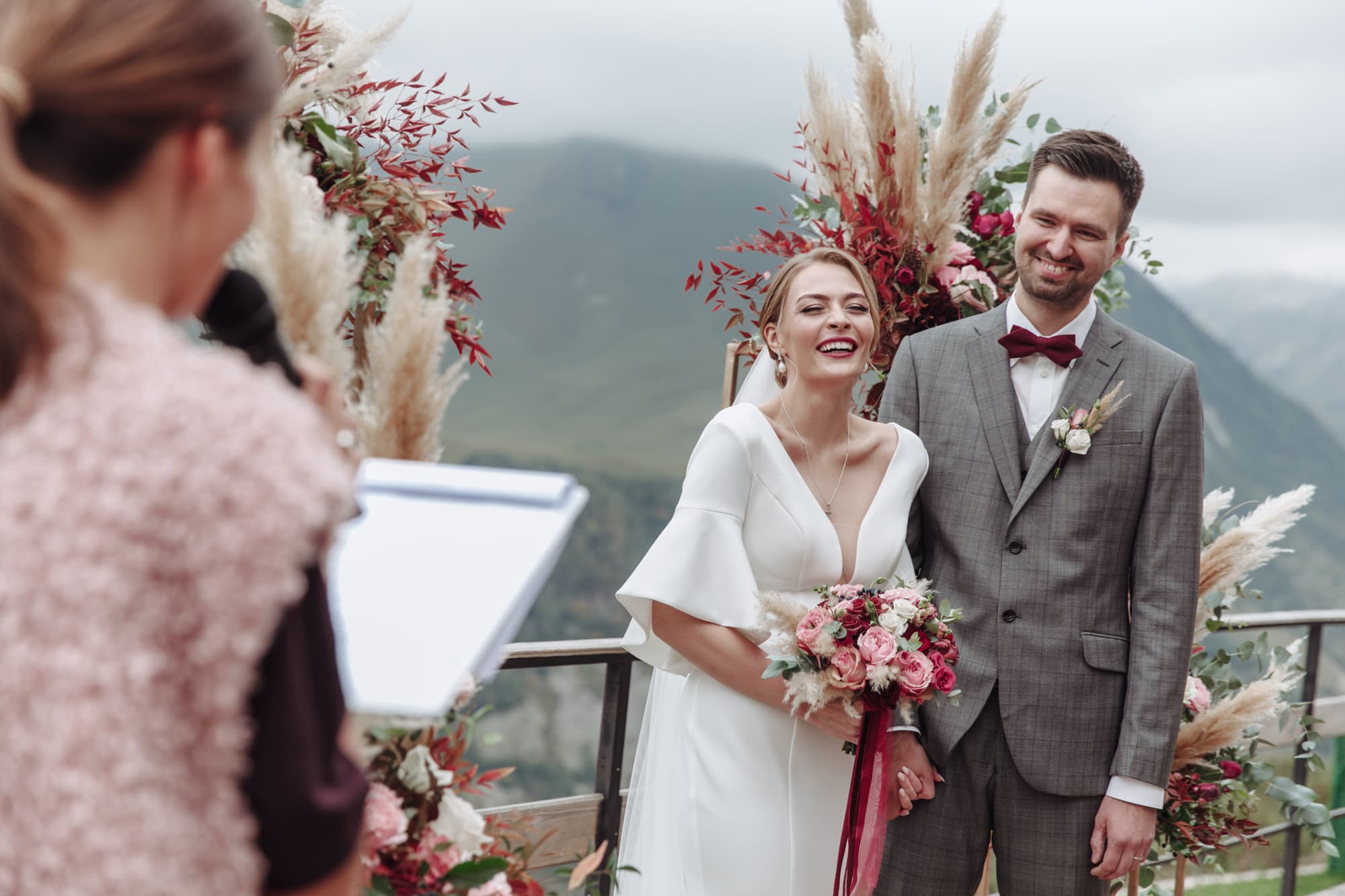 Do all the paperwork in advance
We can change the timing, provided that you have already signed all the documents in one of Georgia's city halls (or in your country), and go to the mountains only for a symbolic ceremony and a photo session. For an official onsite ceremony, we invite the official from the House of Justice, who, by prior arrangement, arrives at a certain place and at a certain hour. Unfortunately, we will not be able to change their schedule, so even in case of rain and strong wind, marriage registration will have to take place. To save you from the discomfort and risk of getting bad photos, we recommend that you fill up the paperwork in advance and fully enjoy your trip to the mountains.
Choose the off-road vehicles
It is also important to consider the weather in mountainous regions when choosing transport for you and your guests. Whether you're heading to the ceremony in a premium or retro-styled vehicle, be prepared to run into places with bad road where you will need the off-road vehicles. Make sure you have cash ready for these additional expenditures. And if you want to be free in your movements and get even to the most interesting remote nooks with your photographer, order an off-road car while planning your budget.
Make a playlist or invite musicians
Each of our couples planning an onsite ceremony, we recommend renting audio equipment: a speaker and a microphone. This is especially important for weddings even with a small number of guests. Without a microphone, your guests may simply not hear the host's speech and your vows. With the help of musical accompaniment and a sound engineer, you can also add individuality to your ceremony. It can be a mix of songs that mean a lot to you, a neutral romantic playlist, or live music performed by a quartet of classical instruments. A walk between the rows of applauding guests to a bright lively song, to a popular hit about love, or to an accompaniment of deep sounds of a saxophone… Which option would you prefer? 🙂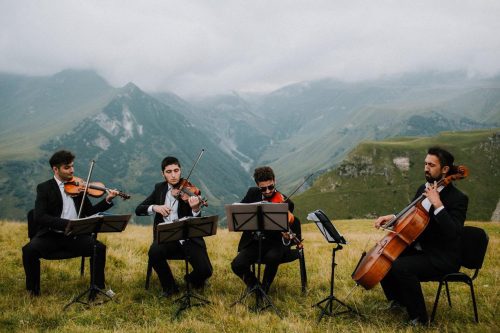 Invite a host and tell them the story of your love
The registrar invited for the official ceremony will read the speech in Georgian, and your wedding planner or coordinator will translate it for you into Russian or English. But this is a standard speech from the city hall. To capture your unique love story and provide the right moment for your vows, invite the host of the ceremony. They will get to know you, learn more about how you met, compose an individual speech in Russian or English, and make sure that you will remember this moment for many, many years.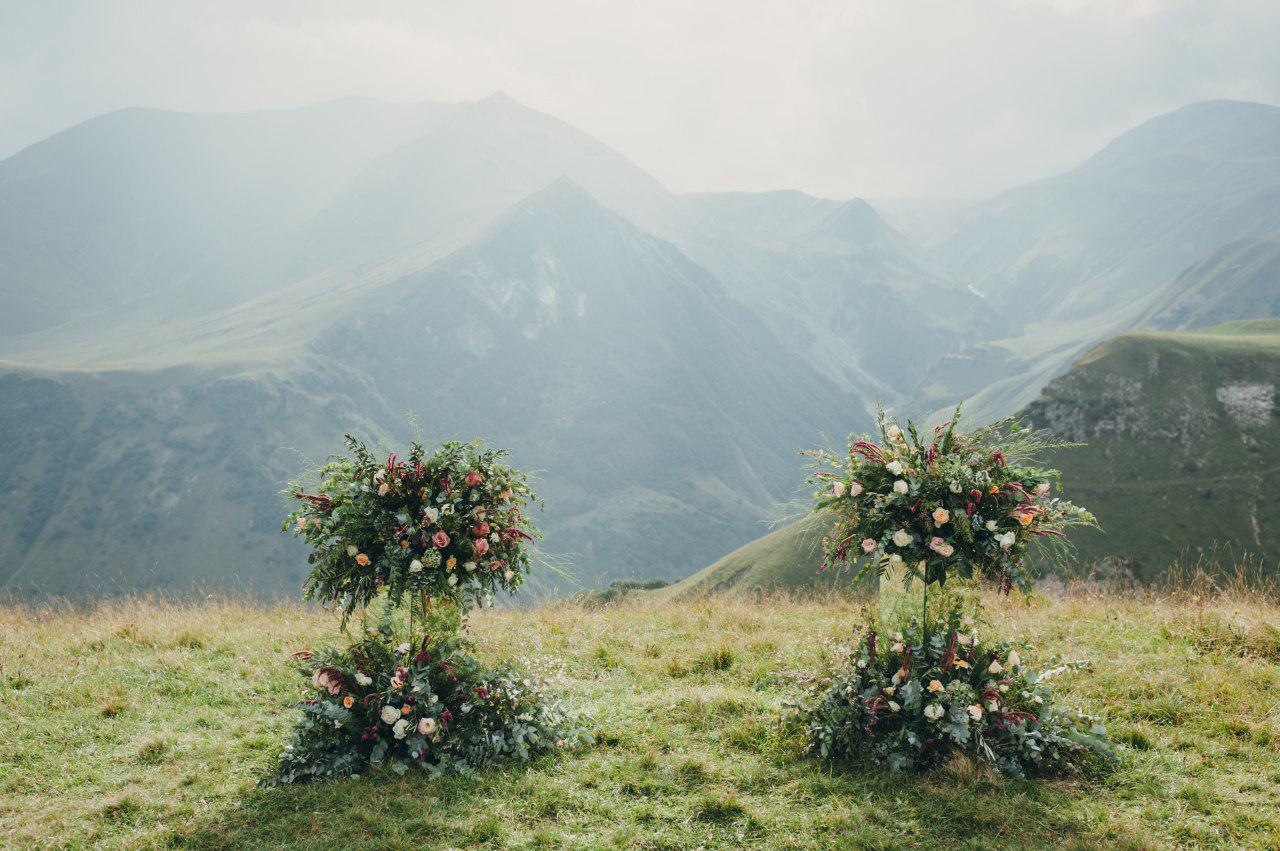 Decorate the ceremony and don't forget about the chairs
The decor of the ceremony area is not only a beautiful addition to your ceremony, but also a reflection of your style. Choosing the decoration options for your wedding, we take into account your preferences and the landscape of the area where the ceremony will take place. We offer not only classic square and semicircular arches, but also more original and modern options: mirror or metal constructions framed with flowers and greenery, Georgian-style decor, boho style or decorations from dozens of candles of different sizes. Don't forget to order chairs for your guests as well. They will feel more comfortable watching the ceremony, and the photographer and videographer will have more angles for great wide shots. No one and nothing will ruin the view of the arch, the host and you saying the most important words! By the way, chairs can also be decorated in the style of your wedding — with greenery, flowers or ribbons.
If you are preparing for the ceremony high in the mountains (this applies not only to the Gudauri-Kazbegi regions but also to Mtskheta and Kojori), we recommend choosing more solid decor options, since strong gusts of wind can simply destroy the fragile and airy decor. For an outdoor ceremony in Kakheti, these recommendations are less relevant, since the local climate is more pleasant and mild. For example, candle decorations for an evening ceremony in the forest look especially beautiful. And in some cases, the landscape is so beautiful that we propose to opt for elegant minimalistic decor or even decor-less ceremony. After all, there is no better background for your love than high mountains covered with lush grass or a blue lake surrounded by soft mountain silhouettes.
Show your ceremony to friends from all over the world
The wedding ceremony is a moment that will not happen again. Now we offer our couples the organization of an online broadcast of their ceremony from anywhere in Georgia. Therefore, even those friends and relatives who cannot come to your wedding in Georgia will be able to share this occasion with you. This option is especially relevant now when we are so limited in our movements between countries. A professional team of cameramen and directors will organize the rehearsal, select the best camera angles, and ensure 4K quality and phenomenal presence effect. Your friends and family will not be able to hold back tears – no matter where in the world they are!