Do you want to sign all the documents as soon as possible and finally become husband and wife? We are convinced: you will not find a better place for a quick and affordable marriage than Georgia. Because in Georgia everyone can get married just in one day!
But the advantages of Georgia are not limited by the simplicity of paperwork. This ancient and rich culture is located exactly at the intersection of Europe and Asia. Here you will find many opportunities for an exciting and enjoyable vacation, as well as incredibly beautiful nature that will affect the most subtle notes of your soul. Snow-capped mountains that touch the sky; rainforests bordering the sea coast; boundless vineyards bathed in the sun; real deserts and monasteries carved in stone. All this will become a perfect place for the most unforgettable day in your life!
Why do couples from the UAE choose Georgia?
Georgia is a hospitable and tolerant country. Georgians are sincerely happy to have any guests, regardless of their religion and nationality. In the streets of Tbilisi you will meet people from various countries and cultures. You can hear English, Arabic, Turkish and Russian. Here you will have a chance to go to a mosque, a Catholic church or an Orthodox church. When you decide to do your wedding in Georgia, you will meet no obstacles: neither political ones, nor religious ones. No matter what citizenship you have you will be able to register your marriage fast and easy.
The UAE residents can also easily get to Georgia. Two direct flights from Dubai fly to the capital of Georgia, Tbilisi, every day. Prices for a round-trip ticket range from $300. The flight duration is only 3.5 hours, and since the airport is within the city area, you will reach Tbilisi center in 30 minutes. You don't need to apply for a visa to come to Georgia: residents of most countries can stay there for a year without registration.
For those of you who have decided not to be limited by a simple registration (which costs only from $420) and want to celebrate this significant event, the price level for various services in the country will be a pleasant surprise. A special dinner for two in one of the restaurants in Tbilisi will cost from $90.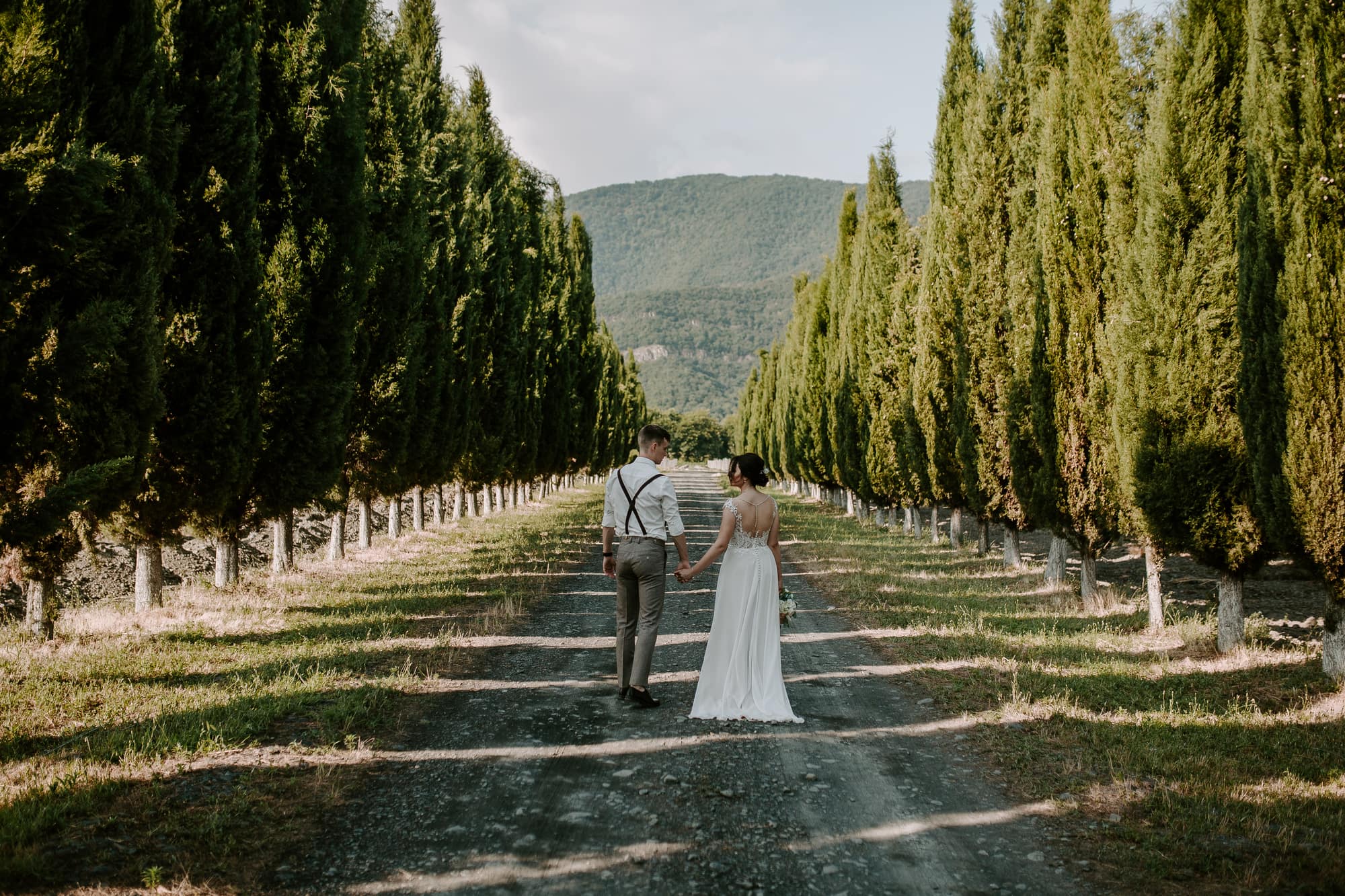 What needs to be done to get married in Georgia?
When you decide on the date of your celebration, just send us an on-line request to organize your wedding at least two weeks before the scheduled date. We need only color scans of your passports. For couples planning an onsite registration in one of the regions of the country, it will also be necessary to prepare a legalized and notarized power of attorney in the name of your wedding planner. If you have any difficulties with issuing a power of attorney, then you just need to come two days before the scheduled wedding date and apply for marriage registration in one of the registry offices of Tbilisi.
Other documents that may also be needed:
If you have a residence permit in the UAE: clear and colour scans of the document.

If you have previously been married or have a common minor child: clear scans of a copy of the divorce certificate, scans of a copy of the birth certificate of a child, which must be legalized and certified by a notary.

Clear scans of the passports of two witnesses. If only two of you will arrive, no problem — we will provide witnesses.
The marriage registration procedure takes no more than a couple of hours. Legalization of a marriage certificate for the UAE on average will take from 2 to 4 weeks. When the documents are ready and translated, we will send them to you by registered mail to any address convenient to you.
How to choose a place for a wedding?
If you prefer to have just an official registration, then Tbilisi is the perfect location for you. A couple of hours — and you are already husband and wife. But do not miss the opportunity to get to know Georgia a little closer, because the memories of this day will be even brighter. Right after the registration, you can walk along the cobbled streets of the old city and feel all historical layers of this ancient city. In the center of Tbilisi, there are famous baths on natural sulfur springs. Be sure to take a couple of pictures in front of this colorful place.
There is also a real city of love in Georgia — Sighnaghi. Its registry office works around the clock, like in Las Vegas! 🙂 How many romantic stories this sun-drenched city keeps in the eastern region of Kakheti! From the walls of the city fortress, there is a stunning view of the famous Alazani Valley. It is so large that on the horizon it completely dissolves in the warm southern sky.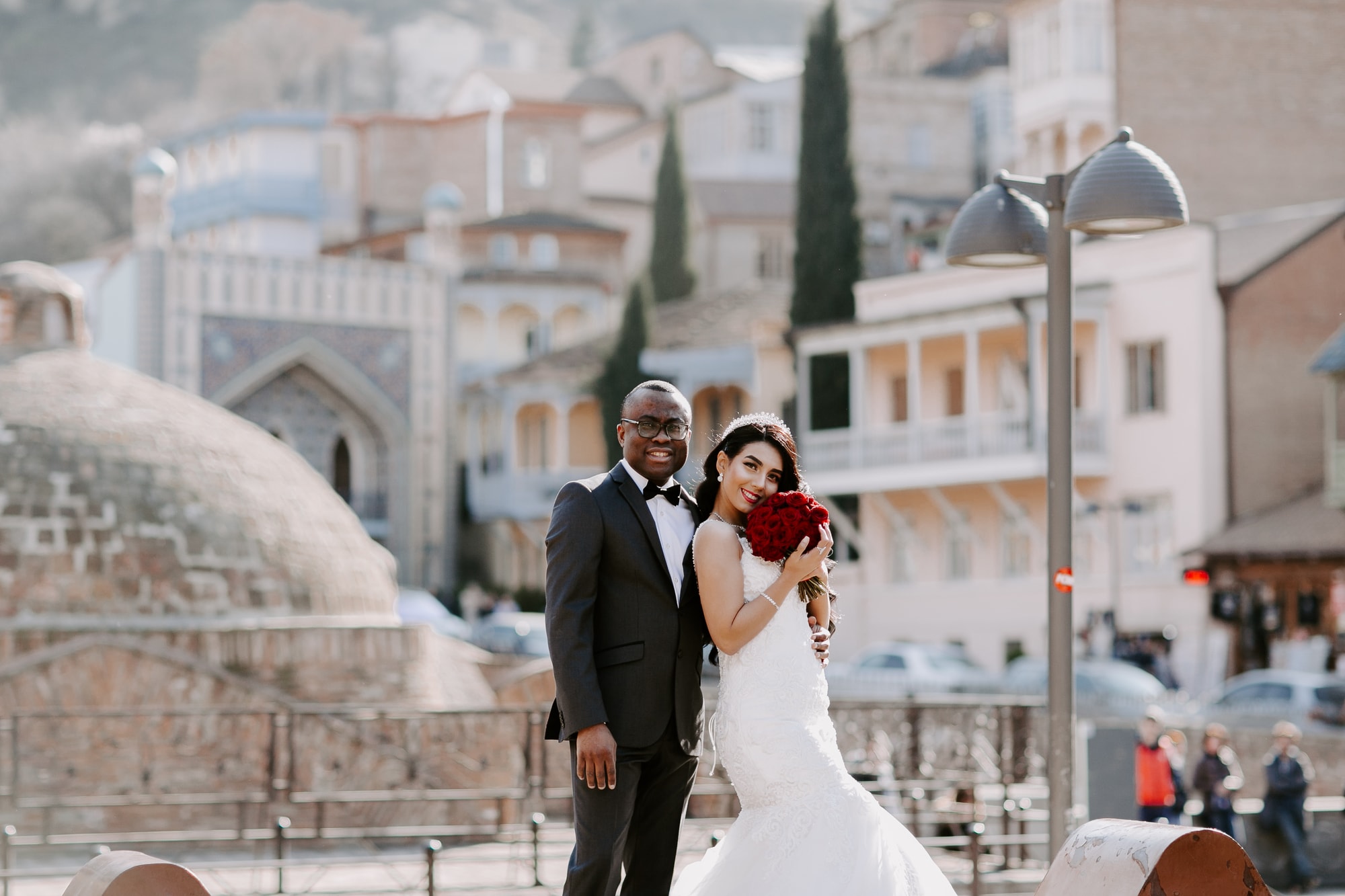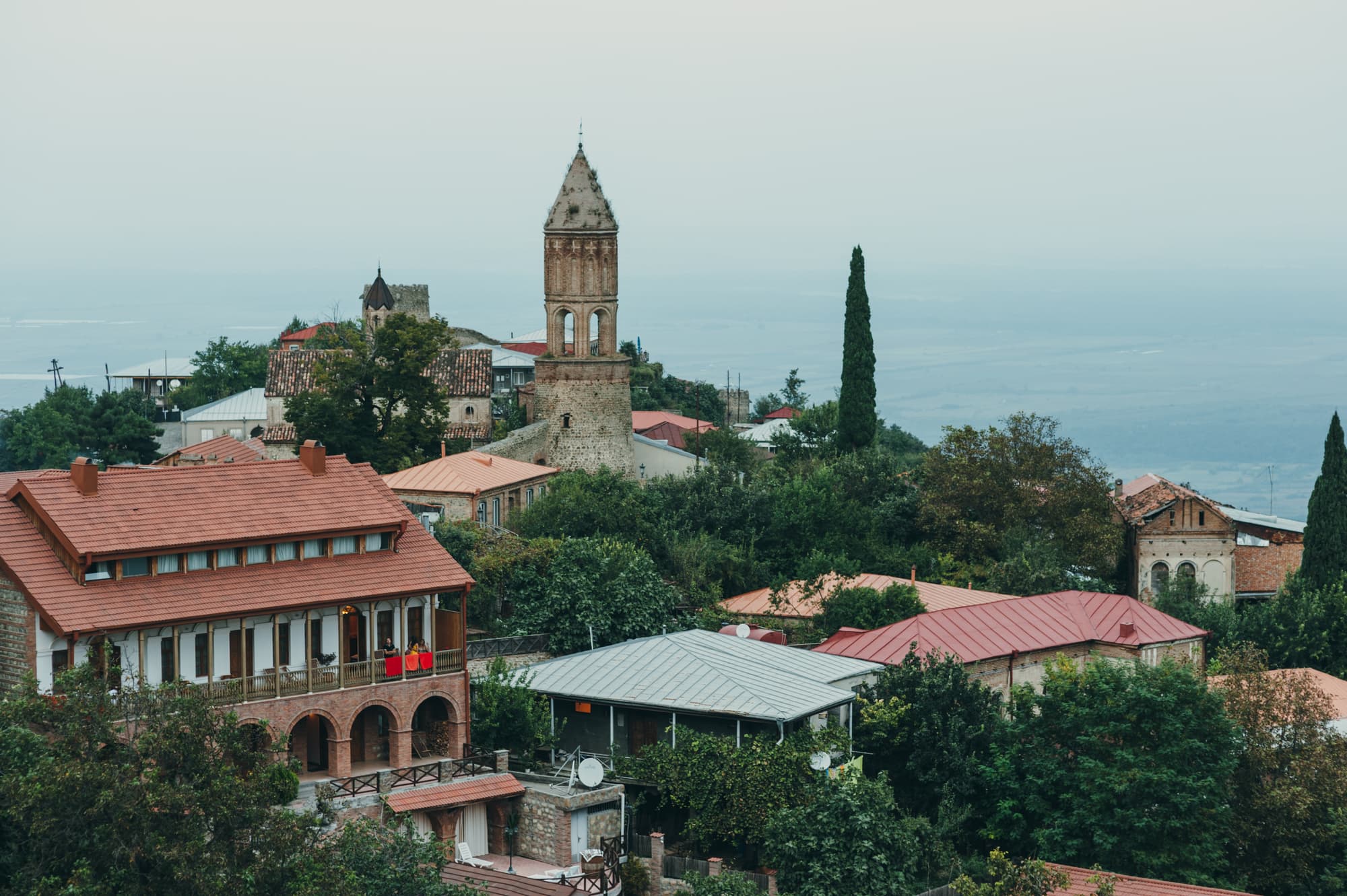 Depending on your preferences and the number of days that you decide to spend in Georgia, we will help you choose the location for an onsite registration almost anywhere in the country. You will have a difficult choice: a fabulous forest or a pier of a mountain lake, the highest mountains of the Caucasus or vineyards buried in greenery and bathed in the sun, a rocky coast or an ancient monastery carved into a rock? We will find the perfect place for you!
To appreciate the beauty and diversity of Georgia's natural and cultural treasure, plan a short vacation before or after the wedding. So you can immerse into the atmosphere of the hospitality of the locals, try the world-famous Georgian cuisine and see the real miracle of the unique nature of different regions of this country. We promise that after meeting Georgia a piece of your heart will stay here forever. And we will make sure that these days are filled for you only with the most beautiful and warm impressions!